Warnock Wins Georgia Runoff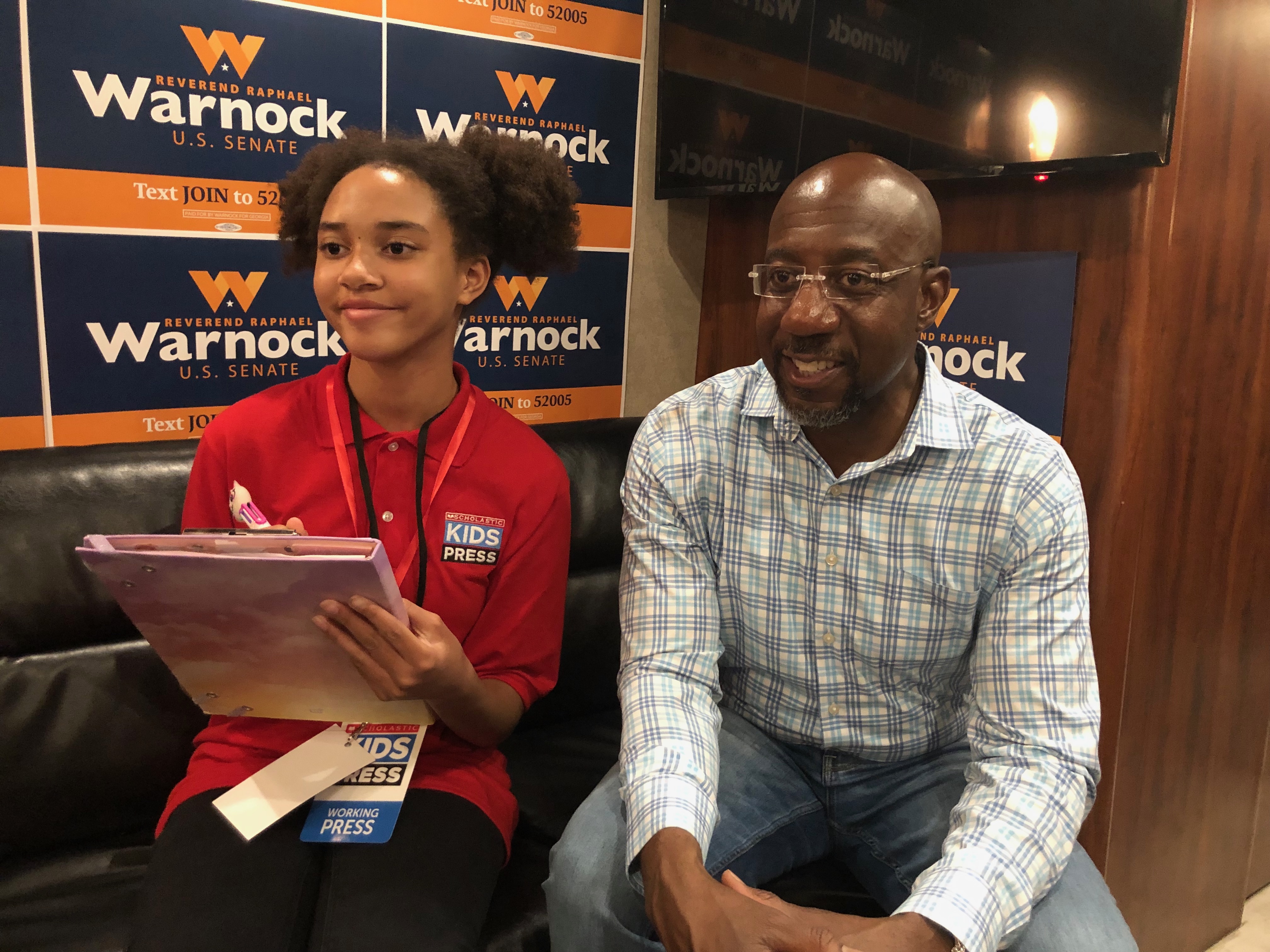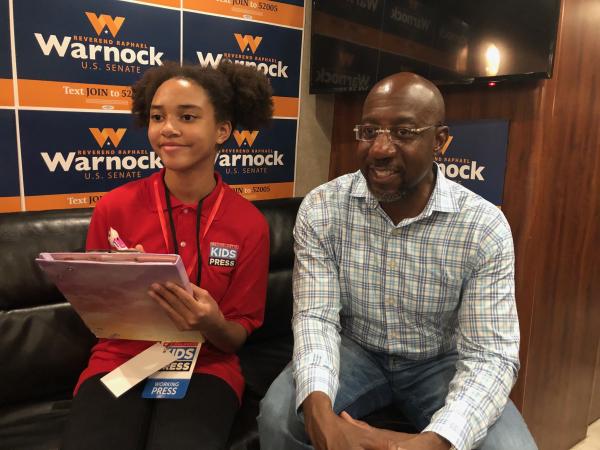 "I am grateful that my mother, Pastor Verlene Warnock, is here tonight," said United States Senator Raphael Warnock of Georgia. "She used to pick somebody else's cotton and tobacco. Tonight, she helped pick her youngest son to be a United States Senator."
Warnock was addressing a crowd of supporters on December 6, after winning re-election to the Senate. The Democrat defeated his Republican challenger, Herschel Walker, a former football star, in a contest that riveted the nation.
Warnock's victory means that the Democratic Party will now control the Senate by a narrow margin, 51-49. Warnock, who was born and raised in Georgia, will serve a six-year term in the legislative body, having already served two years. He is the first Black American from Georgia ever elected to the Senate.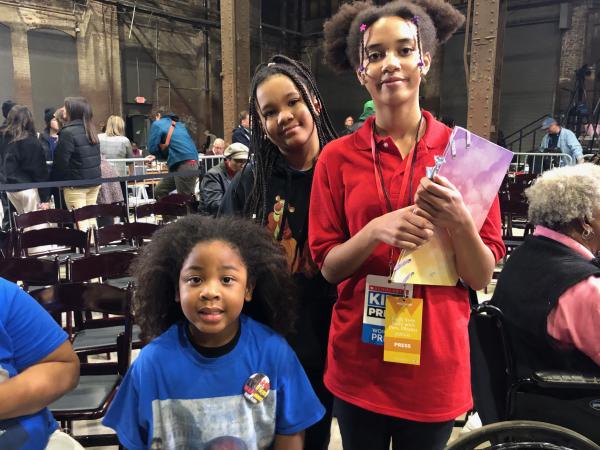 "LET'S FINISH THE JOB"
A week before the runoff, I attended a campaign rally in Atlanta. It was headlined by former President Barack Obama.
"I'm here today for the same reason that I was here the last time," the Democratic leader said, "to vote one last time for my friend and your outstanding Senator, Raphael Warnock."
In the November 8 midterm elections, both Warnock and Walker fell short of 50% of the vote, forcing a runoff in December.
"We can't let up," President Obama told voters in Atlanta. "Let's finish the job."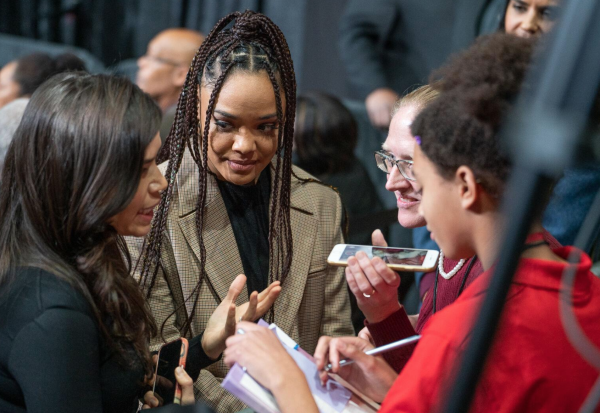 NATIONAL IMPLICATIONS
At the rally, I caught up with actresses America Ferrera and Tessa Thompson. They had traveled to Georgia to help get out the vote for Senator Warnock.
"Georgia deserves a Senator who can represent them with dignity and who will fight for the right things," Ferrera said. Noting that a victory by Warnock would give Democrats a boost in the Senate, she added, "What happens in this election will impact the entire country."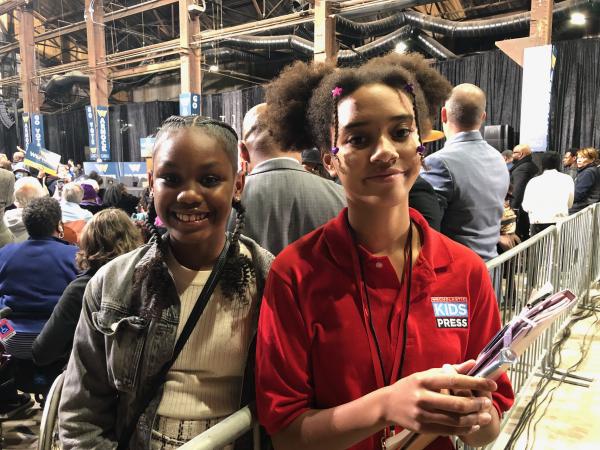 FAITH IN THE FUTURE
On the day of the runoff, it was cold and rainy. Several voters said that they anticipated a smaller turnout than usual because of the weather.
"I don't think people like to come out in the rain," said voter Kameron Stevens. Indeed, many Republicans stayed home after relatively high turnout in the midterm elections. But hundreds of thousands of Democrats had taken advantage of early voting in the runoff, giving Warnock an advantage.
The second-youngest of 12 children, Warnock grew up in public housing in Savannah and earned college and graduate degrees with financial assistance. "While money was short," he told supporters after the election, "Mom's love was always long. She was always telling us that we could do anything we put our minds to."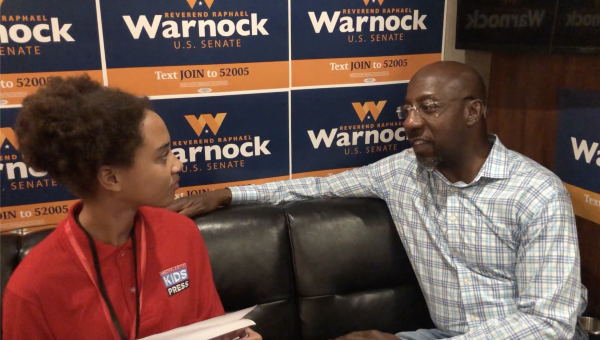 PUTTING COUNTRY FIRST
In his concession speech, Walker referred to recent Republican efforts, led by former President Donald J. Trump, to dispute election results and disregard the U.S. Constitution. "I want you to believe in America and continue to believe in the Constitution," Walker said. To date, few Republican lawmakers have been willing to stand up to Trump's attacks on the Constitution.
The night after the election, U.S. Senator Cory Booker, a Democrat from New Jersey, spoke about Warnock's success as both a legislator and a pastor. Like Warnock, Booker is African American, one of the few ever to be elected to the U.S. Senate.
"I am so happy that Raphael Warnock is one of these people that does not [put politics] first," Booker told an MSNBC news anchor. "He speaks justice, grace, mercy, and redemption first, values that are just as much American values as they are human values."
Editor's note: On December 9, U.S. Senator Kyrsten Sinema of Arizona announced that she was leaving the Democratic Party and registering as a political independent. According to experts, the move is unlikely to affect the balance of power in the Senate. 
Photo of Ferrera and Thompson: Sidney Chansamone / The Red & Black; other photos courtesy of the author