Wild About Conservation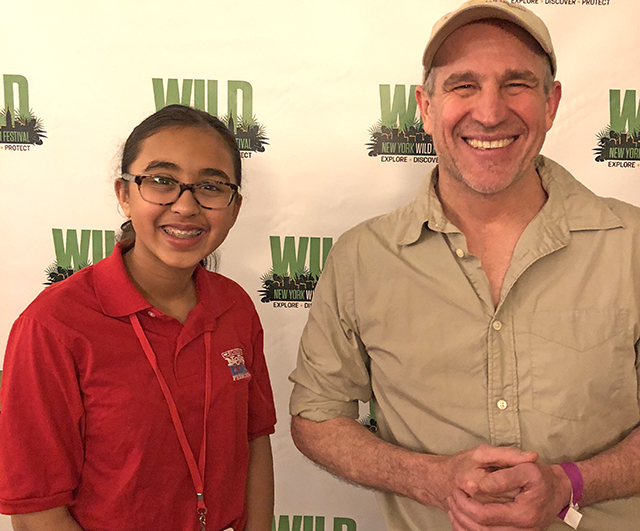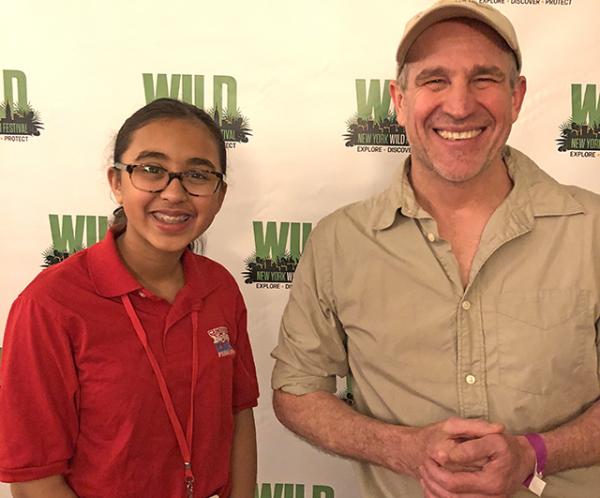 On February 24, a crowd at the fifth annual New York Wild Film Festival got to see Brett Morgan's extraordinary documentary, Jane. The 2017 National Geographic film, which was shown at the historic Explorers Club in New York City, uses more than 100 hours of forgotten footage of a young Jane Goodall at Gombe National Park in Tanzania. The late Hugo Van Lawick, a Dutch wildlife filmmaker and photographer, filmed Goodall in the 1960s.
A British primatologist and anthropologist, Goodall is the world's leading expert on chimpanzees. She became famous when, as an untrained 26-year-old, she lived among chimpanzees in Tanzania and documented their lives. She made the groundbreaking discovery that, like humans, chimpanzees use and make tools.
Now 83, Goodall travels the world to talk about the urgency of conservation. In 1977, she founded the Jane Goodall Institute, a global wildlife and conservation organization. Her Roots & Shoots program encourages young people to get involved in environmental and humanitarian issues.
INSPIRING OTHERS
Goodall's mentee, wildlife videographer Bill Wallauer, represented her at the film festival. He greeted the crowd in the same way that Goodall begins each of her lectures, with a hooting chimpanzee hello.
Wallauer, who works at the Jane Goodall Institute, lived among the chimpanzees at Gombe National Park for 15 years. He met Goodall while on an assignment for the Peace Corps in Tanzania. Wallauer was so inspired by Goodall's dream of responsible environmentalism that he made it his own mission.
At the festival, I had a chance to talk with Wallauer. Here are excerpts from our conversation:
What is it like to represent Goodall at the film festival?
It's fantastic to be here and to talk about Jane and her fantastic life, studying chimps and coming out of the forest and trying to instill that sense of stewardship and responsibility in the next generation. Jane is a mentor and a fantastic role model for my generation and the next generation—your generation.
What do you want young people to know about the Jane Goodall Institute and Goodall?
Most people know Goodall as the woman who went to Africa when she was in her twenties and made that breakthrough that brought us together and tore down the bridges between humans and wildlife. That was with her discovery about toolmaking. She saw chimps making and using tools. That was groundbreaking from a scientific perspective.
She is also dedicated to making the world a better place for people, animals, and the environment. She came out of the forest, doing what she loves, to create the Jane Goodall Institute. Through the support of donors and our incredibly dedicated staff all over the world, we are passing along Jane's message of hope, stewardship, and responsibility to everyone we can get to.
In our program in Tanzania, for instance, it is Tanzanian staff on the ground working with Tanzanians. It is not foreigners coming in and saying, "You have done everything wrong, and this is how to do it right." It is professional Tanzanians who work with every village around Gombe National Park. They talk about women's issues, gender rights, and the importance of education, forests, and buffer areas between national parks and villages. All of these things that are important for conservation are new, grassroots, innovative ways of thinking about the management of our lands and natural resources, and Jane is the inspiration behind all of that.
Can you tell me a highlight of your life filming chimpanzees?
I picked up my first video camera in 1992. My highlight moment came in 1993, when I was able to film Gaia being born. Nobody had ever seen or filmed any of the great apes being born in the wild. On Valentine's Day in 1993, I saw Gremlin give birth to Gaia, and that was probably the highlight of my career. I have seen a lot of amazing things since, but when I look back at the memories, that has got to be the number one.
How has Goodall changed the face of science?
She is one of the most famous scientists on the planet, but she still loves those things that you cannot study. I love her joy of knowledge. She is one of the most brilliant scientists, from a behavioral and observational point of view, but there is also this childlike curiosity. Like me, she has maintained her inner child to this day. She is 83 years old but has a curiosity for everything around her. I think that makes for a great scientist. That is something that Jane has given to me, that curiosity and open mindedness.
What can young people do to help preserve the environment?
Start and join a Roots & Shoots group in your community. Roots & Shoots is all about getting kids of all ages involved to make the world a better place for people, animals, and the environment.
One of the messages in this film [Jane] is mentorship. We as adults all have a role to play. We are handing over a broken world to the next generation. There's no doubt about it—politically, environmentally, and racially. We aren't treating the environment very well, and we aren't treating each other very well. If we want to survive as a species, we have to change and be mentors to the next generation, giving them hope and doing things locally that inspire them. I have traveled all over the world and met so many kids who are so many light years ahead of me when I was their age, who are doing things that are helping local people. There are so many reasons for hope.
Photo courtesy of the author