Seeds of Hope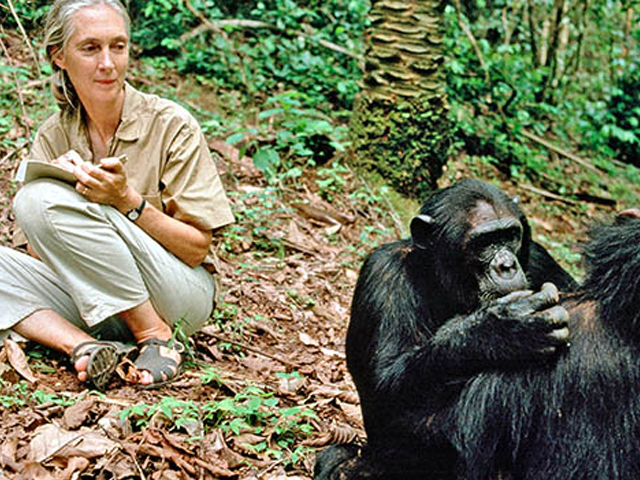 In 1991, conservationist Jane Goodall sat down with a dozen frustrated teenagers in Tanzania, a country in East Africa. Goodall recalls the teenagers saying to her, "Your generation has compromised our future, and there's nothing we can do about it." These teenagers inspired her, and together they created a program that is still making the world a better place 26 years later.
Goodall, who is one of the world's most famous naturalists, is known for her unique method of living in the wild while conducting research. Her work has changed the way we view animals. For example, when Goodall began studying chimpanzees in Tanzania's Gombe Stream National Park in 1960, she discovered that chimps make and use tools, just like humans.
Eventually, Goodall saw how human activity was harming chimpanzees, other animals, and their habitats. She made it her mission "to foster respect and compassion for all living things."
ROOTS & SHOOTS
Goodall, who is now 82, travels around the world 300 days of the year. She shares her story with young people and encourages them to "make the world a better place for people, animals, and the environment."
On March 16, Goodall visited with young people, including this reporter, in New Orleans, Louisiana. The conservationist addressed elementary, middle, and high school students at the Academy of the Sacred Heart. Later, she spoke at Tulane University.
Goodall told students at Sacred Heart that it's not too late to save our planet. "Yes, we've harmed the world," she said. "No, it's not too late to do something about it. We can join hands, and start to heal . . . some of the scars we've inflicted."
Goodall explained why she and those 12 teenagers in Tanzania started a youth program in 1991 called Roots & Shoots. They wanted to demonstrate that "every single one of us matters and has some role to play" in healing the planet.
"ROLL UP YOUR SLEEVES"
After listening to Goodall speak, Sophia Schuler, a 12-year-old student at Sacred Heart, was inspired to act. "Just hearing about Dr. Goodall's life and her passion for chimpanzees makes me feel like a better person," Sophia said. "Now that I've heard about Roots & Shoots, I plan to get involved."
Goodall told me that her goal is to have "every child on the planet" participating in the Roots & Shoots program, which now has members in 97 countries.
"You might find some kids who want to help stray dogs," Goodall said. "You might find some kids who are horrified at the trash, or some who are really sorry for old people who've been abandoned by their families."
Once you find a problem that you're passionate about solving, Goodall added, "roll up your sleeves, and take action."
Photo by Michael Nichols/National Geographic Creative