Strike Affects Workers and Hollywood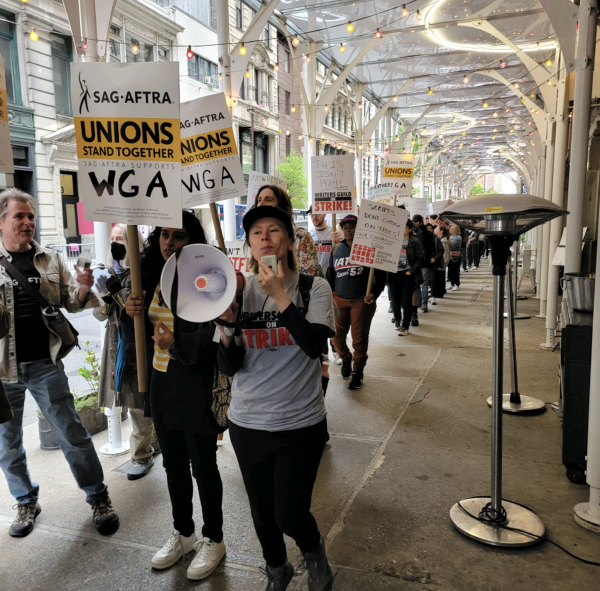 Screenwriter and playwright Micharne Cloughley became a writer to "try and make the world a better place." She has worked on several theatrical productions and television shows, including Law & Order: SVU. 
Today, Cloughley and fellow members of the Writers Guild of America (WGA) are on strike. The union represents thousands of writers who produce scripts for major television and film studios. Since early May, WGA members have been calling for higher compensation and improved working conditions.
"We're all out here fighting to create change that's going to make this industry a sustainable career for the generations that come after us," Cloughley told me in a recent video interview. 
After members of the WGA walked off the job, members of SAG-Aftra (the Screen Actors Guild and American Federation of Television and Radio Artists) joined them. SAG-Aftra represents about 160,000 workers. Many television shows and films in Hollywood and elsewhere have ceased production. In July alone, 17,000 writers and actors lost their jobs due to the shutdown. 
"As a kid growing up in Flushing, Queens, I dreamed about being a professional actor someday," Fran Drescher told The New York Times. "But I never imagined that the show business that was so romanticized in the old movies . . . would actually be led by such greed." Drescher, who starred in The Nanny, a popular TV show in the 1990s, is president of SAG-Aftra. 
Over the summer, Bob Iger, the chief executive officer of Disney, told CNBC that the writers and actors weren't being "realistic" with their demands. Direct negotiations between WGA leaders and TV and film executives are now taking place. Progress has reportedly been made. But so far, no agreement has been reached. 
Cloughley and her fellow strikers aren't planning to give in. Cloughley has been at the forefront of protests, serving as a strike captain. Below are highlights from our conversation, which has been edited for length and clarity.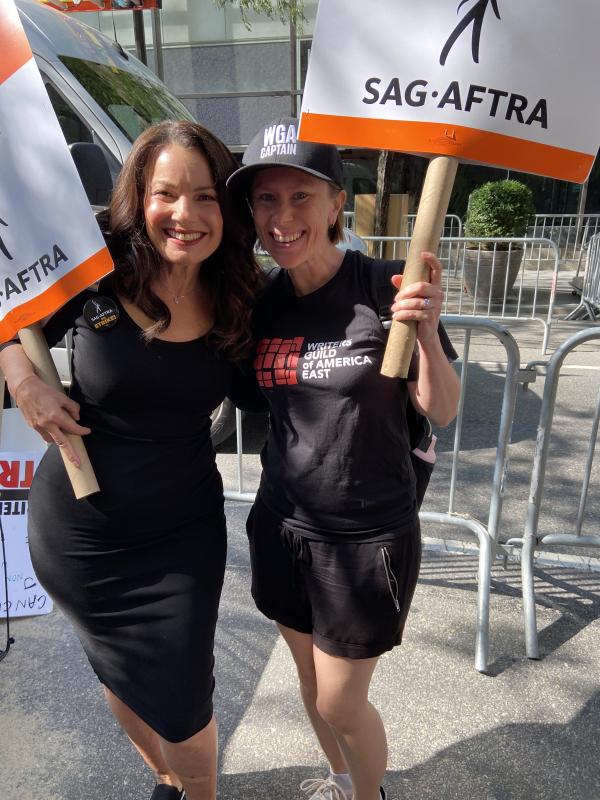 How long do you anticipate the strike will last, and how do you plan to continue your career as a writer?
We'll be on strike until we receive a fair contract. We have a lot of solidarity within the union and so much amazing support from people in and outside of the industry. I'm fortunate that I do different kinds of writing like playwriting, so I have focused on those at the moment.
How do you hope media companies will improve the quality of life for striking workers?
In terms of streaming platforms [Netflix, Hulu, and Prime Video, for example], we need to get the data on how many times our episodes are watched. We currently don't have access to that information. We're proposing that we be fairly compensated for each time people watch our work. So, if you work on a successful series that is viewed by millions of people, you know how much you should be making. If we receive everything we're proposing, it would cost the producers less than 2% of the profits they make from our work. Even though we're trying to address many issues in these negotiations, the cost is tiny in terms of the billions of dollars these companies are making from our ideas.
How do you think striking today will benefit future generations of actors and writers?
A strike in the 1960s had an enormous generational impact that granted writers access to healthcare, pensions, and residuals [royalty payments]. I hope that the precedent we achieve in this contract protects the career of writers and the possibility of sustaining yourself being a writer or actor in terms of new technology. [There are growing concerns that an increasing reliance on Artificial Intelligence (AI) could lead to job losses.]
How has the strike fostered a sense of community among the writers and actors?
Actors and writers have always had a lot of respect for each other, but certainly to be out there together during a historical moment is just wow. 
Top photo: Kathy Dobie; bottom photo: Mike Scollins