"A Squash and a Squeeze"
WATCH THE VIDEO
Click below to see clips from Skylar's interview with Julia Donaldson.
In author Julia Donaldson's imagination, any animal is ripe for fiction, whether it's a rat, a cat, or a make-believe gruffalo!
Donaldson frequently visits schools to share her stories with young children. The British author's rhyming, rhythmic picture books include The Gruffalo, A Squash and a Squeeze, Superworm, and A Gold Star for Zog (Arthur A. Levine/Scholastic). A sequel to the latter title is due out in the United States in October.
On April 27, Donaldson performed for local students at the Scholastic headquarters in New York City. Afterwards, I sat down with the author, who is the former Children's Laureate of the United Kingdom. Here are highlights from our conversation: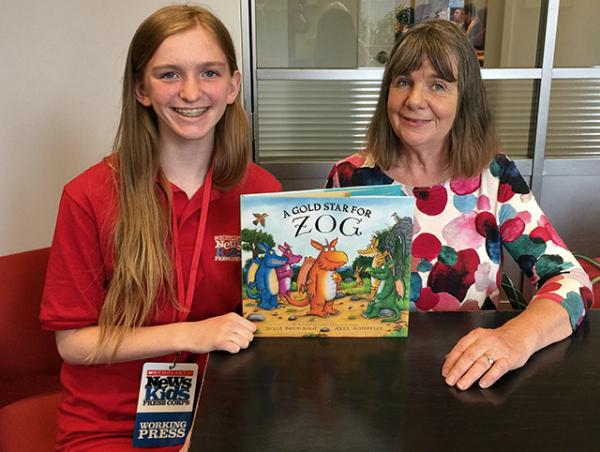 How did you get your start writing children's books?
I was quite lucky because I wrote songs for a long time. I wrote songs for television. Then, out of the blue, I got a phone call from a publisher, asking if they could turn one of my songs into a picture book.
What is your favorite book to perform?
I really like doing the Superworm song. I enjoy that a lot. I still do like doing The Gruffalo, even though I must have done that literally thousands of times.
Which book was your favorite to write?
The books I most enjoyed writing are these chapter books about a character called Princess Mirror-Belle. She comes out of the mirror. She's not at all princess-y. She's just very boastful and cheeky, really. She spins all these stories about life in the mirror, and she gets the real-life girl—who's her, sort of, reflection—into lots of trouble. But they have fun together, as well.
I loved writing those stories because Princess Mirror-Belle is quite naughty, and I'm normally quite well-behaved. So it was just fun. I think it brought out the inner hidden naughty streak in me.
Where do you draw inspiration when you're writing your books?
It can be just anything, you know. An example is, recently, I was on a safari in Africa. We were looking at these animals. [In the UK], we call them wildebeests. I think you call them gnus. They're quite ugly animals. The ranger we were with said, 'Did you know that these animals are one of the Ugly Five?' And I said, 'Who are the other Ugly Five?' And he said, the warthog, the hyena, and a couple of ugly birds. Immediately, I just got the idea for a book called The Ugly Five, so that's going to be my next book. But that's just one example. You never know when the ideas are going to come or where from.
Do you draw inspiration from other writers?
I'm sure I draw inspiration from writers that I enjoyed, that are kind of in my blood, really, from when I was a child. There's a poet Edward Lear who wrote nonsense verse [about 150 years ago]. My granny used to read me his poems. [I also loved] Alice in Wonderland. And Shakespeare, actually, because when I was a child, I was lucky enough to understudy—have an understudy part—in a Shakespeare play in a professional theater. I sat in the wings every night listening to A Midsummer Night's Dream, and I knew it all by heart. So I think that's in my blood, as well.
How do you think your performances enhance the books for your audiences?
I think that for some children—especially children who don't have many books, who aren't very good at reading, who think that reading is something a bit boring—it can be a way into books. Not so much the big shows. I do lots of visits where I'm just working with a class of children. Often, I'll give them roles to play. By just taking on a role and sympathizing with that character and feeling their entry into the story, I hope that might encourage them to read the book.
Have you taken any characters or plots from your life?
Not really in the picture books, but in some of my fiction. I've written a book called The Giants and the Joneses—which is available in the U.S. It's about a family of children who get captured by a girl giant. The reason she captures them is because she likes collecting things. She's got all sorts of collections, and she decides to have a little collection of humans. One of my sons, he used to collect everything. You'd trip over marbles. He would collect acorns, stamps, you name it. So, yes, he was probably the inspiration for that book.