The Olympic Torch Relay Begins in Japan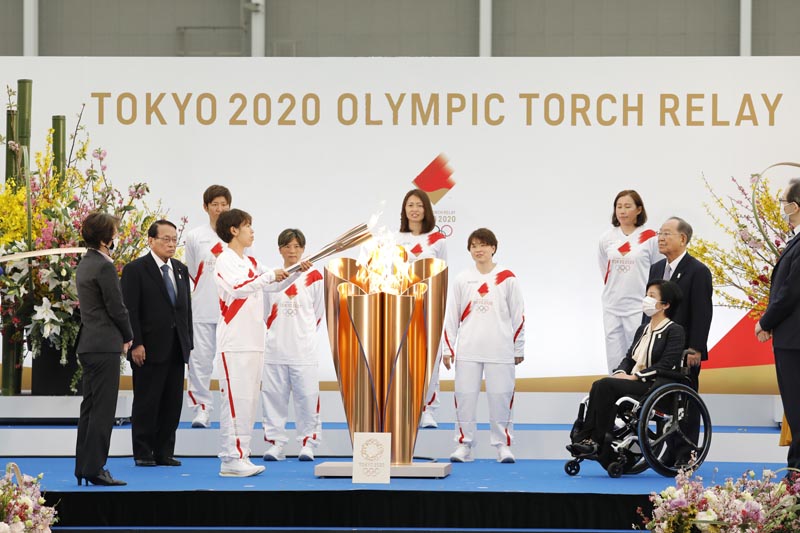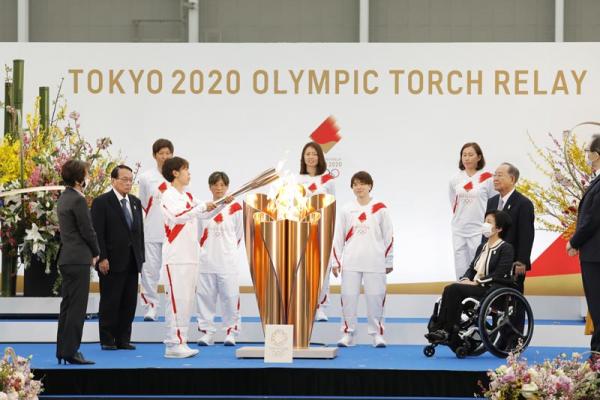 The Tokyo 2020 Olympic Torch Relay began on March 25 in Fukushima Prefecture. The torch, which weighs a little less than three pounds, will be carried across Japan for 121 days by a total of 10,000 torchbearers. The final leg of the relay will bring the torch to Tokyo's Olympic Stadium on July 23 for the Opening Ceremonies of the Summer Games. The Games were postponed last year due to the coronavirus pandemic. 
Fukushima Prefecture is still recovering from a devastating earthquake that took place in 2011, triggering a tsunami and a series of nuclear power plant meltdowns. The disaster claimed more than 15,000 lives. Entire areas were washed away or contaminated. 
The Torch Relay celebration took place at J-Village, a national training center for soccer. The arena was used as a recovery site after the 2011 tragedy. "I'd like to thank all of the people, both domestic and international, who have worked hard on reconstruction for the past 10 years," said Tamayo Marukawa, Japan's Olympic Minister. "I want to make this Olympics a safe event and bring hope and courage to the world." 
The number of attendees was limited due to the pandemic. During the ceremony, local students sang "Flowers Will Bloom," a song that was written to show support for the battered region. "We'd like to use the power of song," said one student, "to bring smiles to people's faces and make the Olympics more exciting."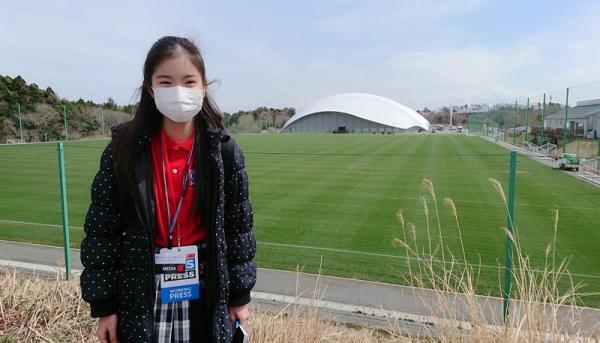 ONGOING CONCERNS ABOUT THE PANDEMIC
The torch was designed to resemble a cherry blossom, which is Japan's national flower. About 30% of the material comes from recycled aluminum used in the construction of temporary housing units after the 2011 disaster. 
Members of Japan's women's soccer team carried the torch for the first few hundred yards of the relay. Known as Nadeshiko Japan, the team won the 2011 FIFA Women's World Cup, defeating the United States in the finals. 
"The 2011 disaster totally changed our lives," said Masao Uchibori, the governor of Fukushima Prefecture. "But Nadeshiko's victory gave us the courage to move forward." 
There is still great concern about holding the Olympic Games during the pandemic. According to NHK, Japan's public broadcasting company, about 80% of people here believe that the Games should be canceled, or postponed again, to ensure everyone's safety. As of now, all Olympic events will be closed to international spectators. 
Top photo: @Tokyo2020; bottom photo courtesy of the author