Kendra Leigh Timmins Takes the Reins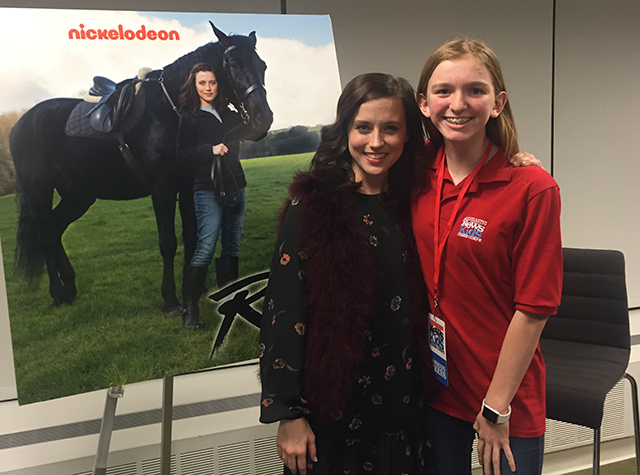 WATCH THE VIDEO
Click below to see clips of Skylar's interview with Kendra Leigh Timmins.
Many girls dream of riding horses, starring in a TV show, and spending time in a royal castle when they grow up.
Kendra Leigh Timmins, an actress from Ontario, Canada, has gotten to do all three. Timmins stars in Nickelodeon's Ride, which premieres on January 30.
Ride introduces viewers to an American girl named Katherine "Kit" Bridges. Kit moves to England with her father to attend an elite equestrian school, Covington Academy, where he has gotten a job. The only problem: Kit has to overcome her fear of horses.
Timmins, on the other hand, was ecstatic when she learned that she would be working with equines. "I thought horses were awesome," she said in a recent interview in New York City.
As a young girl, Timmins rode horses at summer camp. But she gave up her hobby in order to pursue acting. Her role on Ride is a dream come true. "The fact that the show combines horses and acting," she said, "is really amazing."
FIGURING THINGS OUT TOGETHER
Because Timmins already felt comfortable with horses, "getting to act scared was much easier," she said. "I had a lot of fun portraying that, and then also getting to portray Kit overcoming those fears."
Kit conquers her fears with help from her fellow students and an unruly horse named T.K. Kit and T.K. "don't really belong" at the school, Timmins explained, "so they're going to figure it out together."
T.K. is played by a disciplined horse named Tornado. "T.K. and Tornado were complete opposites," Timmins said. "[The director] would even have to come in and say, 'No, it needs to be wilder. It has to be crazier.'"
To prepare for her role, Timmins spent time with Tornado and got to know him. On set, a horse whisperer took care of the animals' behavior, making them go crazy or keeping them calm.
"The horses were so well-behaved and so well-trained, that it didn't take long before we were all comfortable," Timmins said.
The actress developed even stronger ties with her co-stars. "We bonded really quickly," Timmins said. "You create a bond when you're filming because you work such long hours."
After filming together in Toronto, Canada, and at the Glenarm Castle in Northern Ireland, the cast formed a deep connection. Now they have a long-distance relationship, Timmins said. The rest of the cast is in England, while she is in Canada.
"I love being different people and telling different stories," Timmins said.
Photo courtesy of Nickelodeon