Juneteenth Jubilees in Louisiana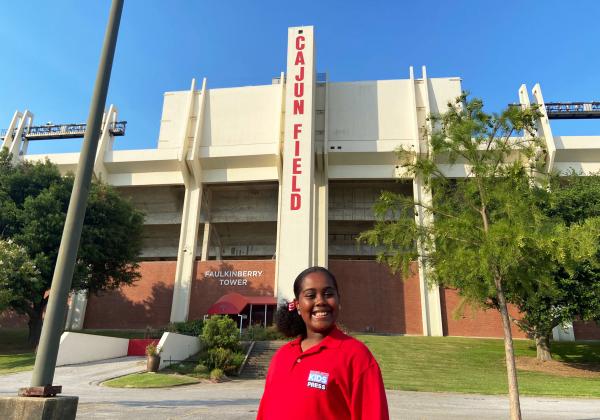 On January 1, 1863, the Emancipation Proclamation went into effect. The executive order from United States President Abraham Lincoln declared that "all persons held as slaves" in the Confederate States of America "are, and henceforward, shall be free."
The Civil War did not end until April 9, 1865, more than two years later. As the war dragged on, the Texas government continued to support the Confederacy and enslave people. Finally, in June of 1865, Union Army Leader Gordon Granger and thousands of Union troops arrived in the port of Galveston. On June 19, 1865, Granger proclaimed from a balcony that "all slaves are free."
As word spread, people in Galveston who had been enslaved began to celebrate. A year later, June 19 was named "Jubilee Day" in Texas. Families gathered for music, dancing, food, and strawberry soda, which had been denied to enslaved people. In the decades to follow, celebrations there and across the South had to be confined to homes, backyards, and rented spaces because laws barred Black people from using parks and other public facilities.
FREEDOM DAY
Jubilee Day, also called Freedom Day and Liberation Day, is now known widely as Juneteenth. It has been celebrated for 155 years.
Celebrations promise to be bigger than ever this year, with parties and racial justice rallies planned around the country. In Lafayette, Louisiana, where I live, an annual Juneteenth Freedom Celebration is slated to take place. Activities will include family look-alike contests, a drive-in concert, and an essay contest. At Cajun Field, the bell will toll 19 times to commemorate the holiday.
Abram Freeman is founder and vice chairman of the Southwest Louisiana Juneteenth Committee, which sponsors the Lafayette event. Freeman learned about Juneteenth when he was a child. "Every year, we would celebrate the holiday as a family," he told me. "But I wanted to learn more and started doing research."
Freeman now wants Juneteenth to go beyond the annual celebrations. "My goal is that we would teach Black history in all the schools starting with pre-K," he said. 
JUNETEENTH AND BLACK LIVES MATTER
Devon Norman will participate in the Lafayette event because he sees it as an opportunity "to understand the culture and history of African Americans beyond slavery." Norman is young adult committee chairman of the Lafayette chapter of the NAACP, a civil rights organization founded in 1909.
Most states and the District of Columbia celebrate Juneteenth, but the holiday is likely to grow in nationwide significance. The Black Lives Matter movement is raising increasing awareness about systemic racism and police brutality, and ushering in changes to American life. Legislation was recently proposed in the U.S. Congress to make Juneteenth a federal holiday. 
Norman believes that we should celebrate Juneteenth as much as we celebrate the Fourth of July, which commemorates the Declaration of Independence. Signed in 1776, the document granted the Thirteen Colonies official independence from British monarch George III, declaring that "all men are created equal." But the system of government created by the Founders denied Black Americans equality from the start. 
A CELEBRATION IN JEANERETTE
This year, an annual Juneteenth event in Jeanerette, a small city in Louisiana's Iberia Parish, will incorporate Black Lives Matter. "It's important for us to acknowledge our liberation and celebrate Black history," said Lady Brown, a councilmember and co-organizer. 
The event will feature a Black Lives Matter rally, a trail ride caravan with horses, and zydeco music. The Black American dance music, which features the accordian and guitar, originated in Southern Louisiana.
"We included Black Lives Matter due to the current situation in the U.S.," said co-organizer Sasha Balboa. She and Brown hope that attendees will be able to experience and show appreciation for Black lives and our rich African American culture. 
Photo courtesy of the author