Inside Comic-Con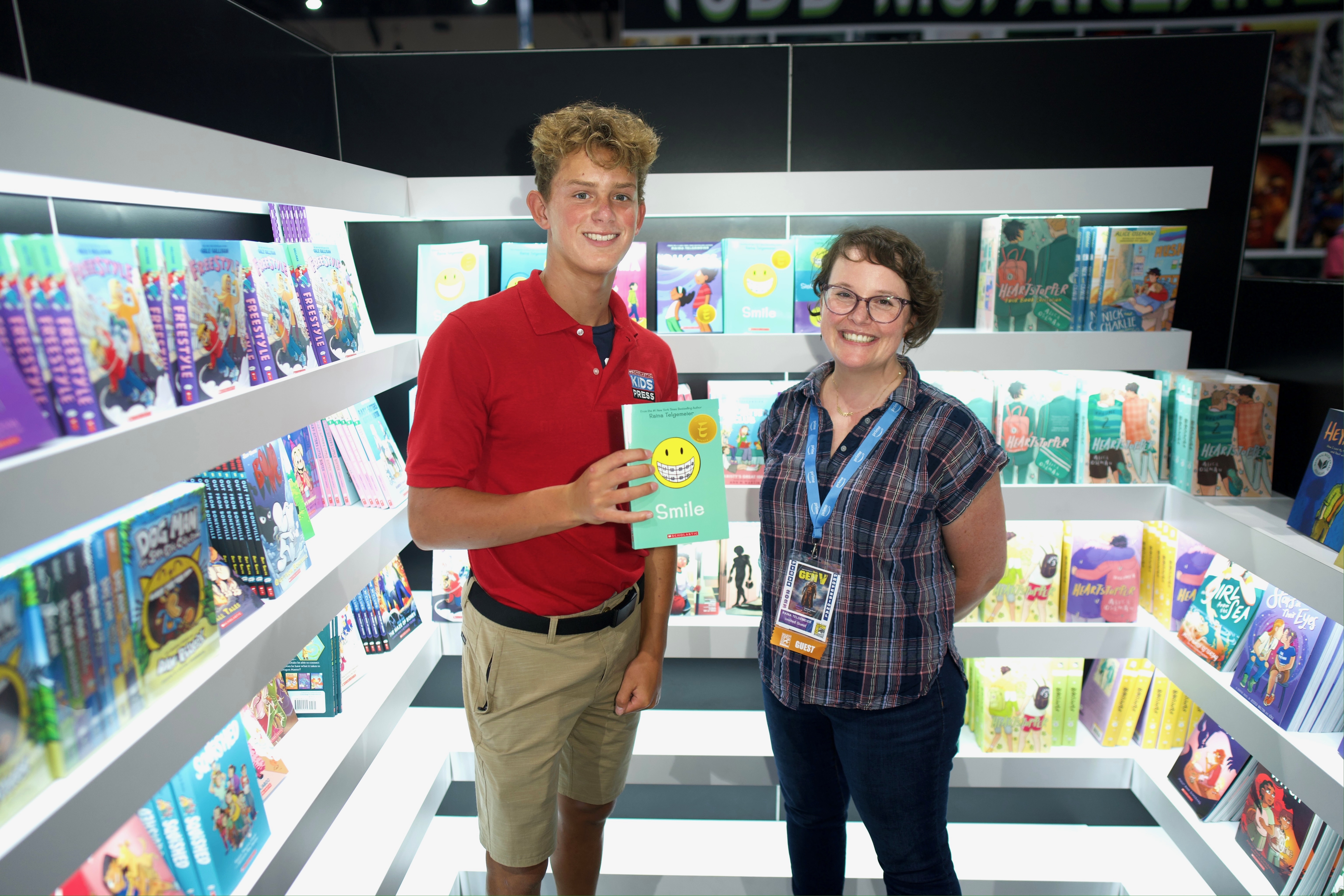 Do you love comic books, movies, and superheroes? If so, San Diego Comic-Con International is the place for you. The annual event in Southern California brings the world of comics to life, spotlighting books, movies, TV shows, creators, cosplayers, and more.
This year, Comic-Con took place from July 20 - 23 at the San Diego Convention Center. During the event, the surrounding area was given over to superheroes and their fans.
"This is where a lot of the comic culture that we know started," said Kazu Kibuishi, the creator of the Amulet graphic novel series. "This is the original Comic-Con from the 1970s. When you see others, they're inspired by this one."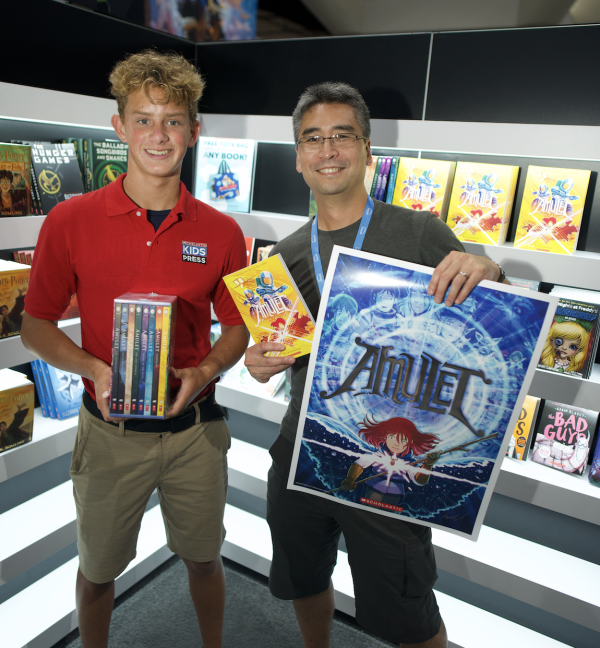 THE RISE OF AI
There were a few notable differences at this year's Comic-Con. Members of the Writers Guild of America (WGA) and SAG-AFTRA (Screen Actors Guild-American Federation of Television and Radio Artists) did not attend because they're on strike. The unions are fighting for better pay for their members.  
The growing influence of AI (artificial intelligence) in the entertainment industry and elsewhere was also on many people's minds. Will a computer be able to write scripts, create images, and do other complex tasks once done by humans? "Technology is expanding so quickly," said Amy Kim Kibuishi, when asked about AI. It's a good time to stop and reflect and protect everybody's identity and their voices." Kibuishi, who is married to Kazu, is the creator of the Rema Chronicles, a graphic novel series.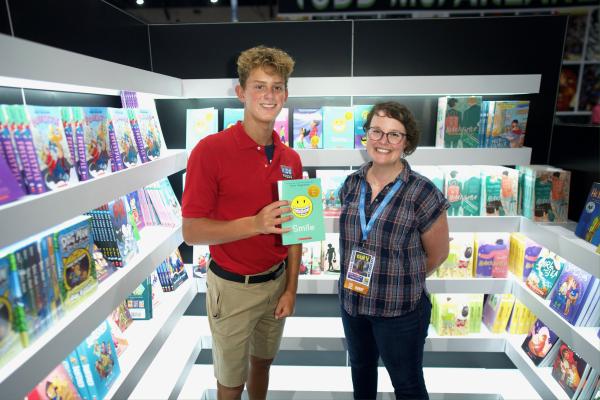 "A LOT OF FUN"
I asked many Comic-Con attendees what kept them returning year after year. "We have a lot of fun," said Raina Telgemeier, the New York Times bestselling author and illustrator of several award-winning graphic novels (Scholastic). "There's something for everybody." Telgemeier received the 2023 Inkpot Award from Comic-Con. The honor is presented to individuals who have made outstanding contributions to the field. 
"The people, of course," said Amy Kim Kibuishi. "Seeing my friends and the costumes are awesome. The energy is really great. It's a great place to be." 
Here are some of the other responses I received:
"Tradition. My Grandmother was one of the ladies who started Comic Con, so I started coming when I was five. Even after she passed away, we carried the tradition down." —Ariana Goulart, Hamfort, CA
"Meeting people who are fans of LEGO and costumes. I just saw all of the Indiana Jones [characters] lined up together, and someone was dressed up as a rock. Then they all ran, and the rock chased them. It was so fun." —Amy Corbett, Senior Design Manager and Product Lead at the LEGO Group / Judge, LEGO Masters USA
"I've been coming here since I was 12. My mom used to take me. I would line up to meet my favorite creators and get a bunch of comic books, meet friends and make new friends. I love Comic-Con." —Brian Crosby, Director of Development for Marvel Themed Entertainment
"Getting to see the people who love these comics and hear how excited they are keeps me going" —Gale Galligan. bestselling cartoonist of The Baby-Sitters Club graphic novels, 5 through 8; creator of Freestyle, a graphic novel (Scholastic)
"The costumes. Whenever everyone dresses up, its just really cool to see everyone's personality and what they like." —Annie Schwent, 12, San Luis Obispo, CA
"All the Spider-Mans. I think they're all unique." Mia, 13, San Diego
"I love comic books. When I meet people with that passion, we can enjoy it, share it, geek out, brainstorm, and do these great things together." —Ralph Ellis Miley, retired minister and creator of the Street Fury comic book series (independently published) 
"People and the costumes and the effort that everybody puts in."  —Cosplayer dressed as a Star Wars stormtrooper
"San Diego is a time for fans to come together." —Dave Beré, vice president, POP! Yourself and Retail at Funko
Read more articles by Kid Reporter Quade Kelley.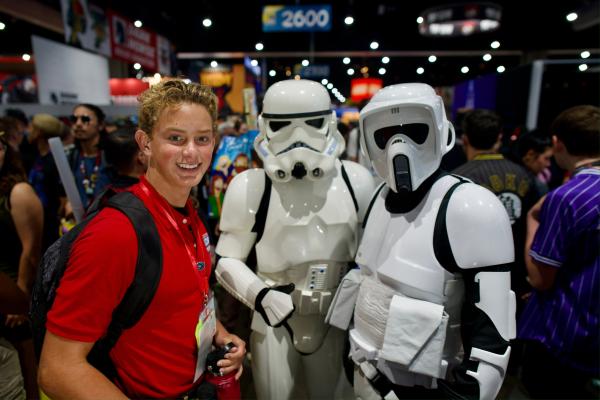 Photos courtesy of Jedediah Woods