A Conversation With the New York Governor
"My job is to make sure that I'm so successful, no one will ever think it's a male-dominated position ever again," says New York Governor Kathy Hochul.
The Democratic leader, who was elected Governor in 2022, grew up in a large family in Buffalo, New York. She made history with her victory, becoming the first woman ever elected to lead the state. 
Before starting a new term as Governor in early 2023, Hochul took over the role when then-Governor Andrew Cuomo left office. Facing serious allegations of misconduct, Cuomo was forced to resign.
Hochul has served in a variety of positions in public life, including as a political advisor, a town board member, and the state's lieutenant governor. She earned a law degree at the Catholic University of America Columbus School of Law. 
I recently spoke with Governor Hochul at her office in New York City. She is passionate, she said, about helping to improve the lives of ordinary New Yorkers, especially those in marginalized communities. Below are highlights from our conversation, which has been edited for length and clarity.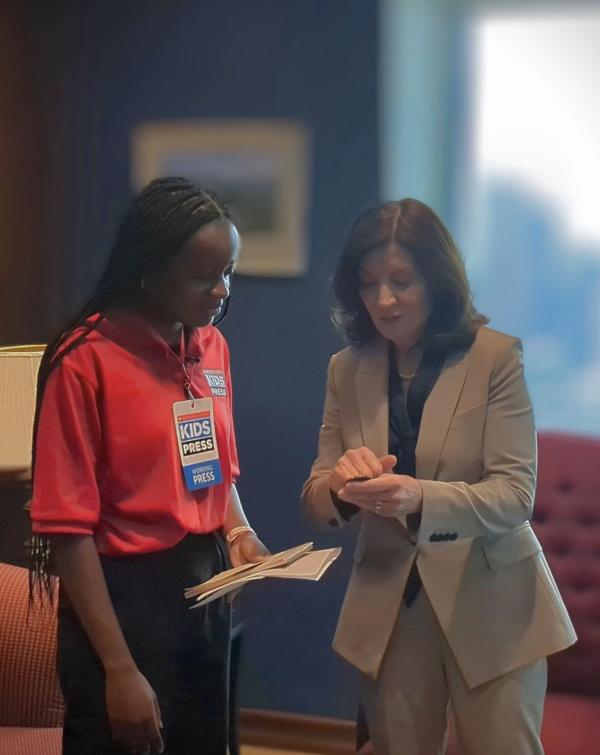 What obstacles do you face in your efforts to improve the quality of public education in the state?    
A big obstacle is the growing number of demands placed on teachers. They're now called upon to be the social worker and the mental health therapist, as well as someone who is having to deal with crisis management in the classroom. It's really hard for basic teaching to be going on, and we're starting to see the effects of that. The outcomes are not as good as they used to be in terms of performances on Math and English tests and standardized tests. We used to think that when the pandemic was over, everything would get back to normal, but that didn't happen. We're still trying to deal with the effects of that stress on society. 
People across the country are concerned about the rise in mass shootings, especially at schools and places of worship. How do you think we should honor the rights of gun owners while also ensuring public safety? 
It's something that I work on every day of the week. We have too many illegal guns on the streets. If someone wants to use a musket [a weapon that dates back to the 16th century], that's great. But to think the Second Amendment [to the Constitution] means that an 18-year-old should be able to buy a military-style assault weapon, that's not right. The rights of legal gun owners are protected. We're not taking away their guns, but we have different ideas about what the Second Amendment means.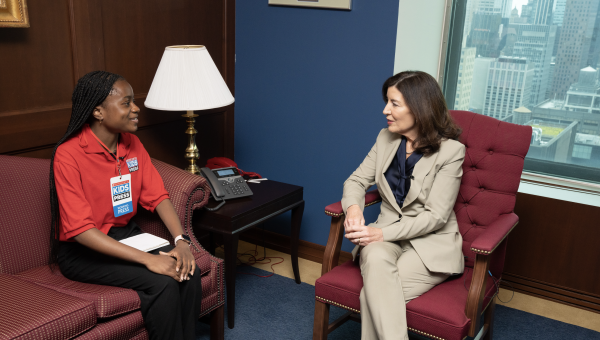 How does hiring a diverse group of people to government positions improve how New York functions?
A diverse group of people brings different life experiences. That includes someone who's coming from a household with a single mom, for example, who has to work one or two jobs, and her biggest concern is who's taking care of my kids when I'm trying to bring in enough money to keep them alive. Someone who has been through that is going to be more empathetic and help us make sure we're confronting the challenges and the problems in a way that's going to drive results for the people.
As the first woman to serve as Governor of New York, how does it feel to be in a field dominated by men?
Every woman in an executive role has a responsibility to be successful, but also to open the door for other women. We need to let girls and teenagers and young women see that there are no barriers anymore. I stood up to create more opportunities for women in New York.  I was very intentional about making sure we had the most diverse administration in the history of New York, and we do. My entire senior team, except for one man, is composed of women. It's an honor to be in this role, and what makes me most proud is when I see little girls and their moms come up to me and say, "This means you can be anything you want to be."
Who are your role models, and why?
When I was in the eighth grade, Shirley Chisholm had just run for President. She was the first woman to run for a major party and the first Black woman. Chisholm was one person who put herself out there and was really strong. She was an inspiration to many of us who were interested in a career in public service. Today, we have a woman serving as Vice President—the first in history—which is extraordinary. We have more women Governors leading our states. Although fewer than 20% of Governors are women, it's a greater number than we've ever had before.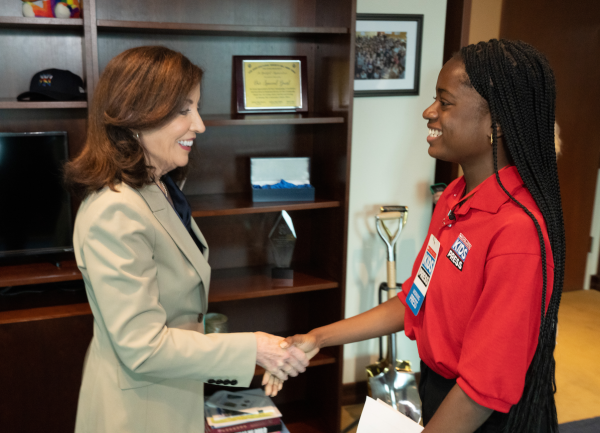 Photos courtesy of Scholastic Kids Press