A Young Crowd Turns Out for Trump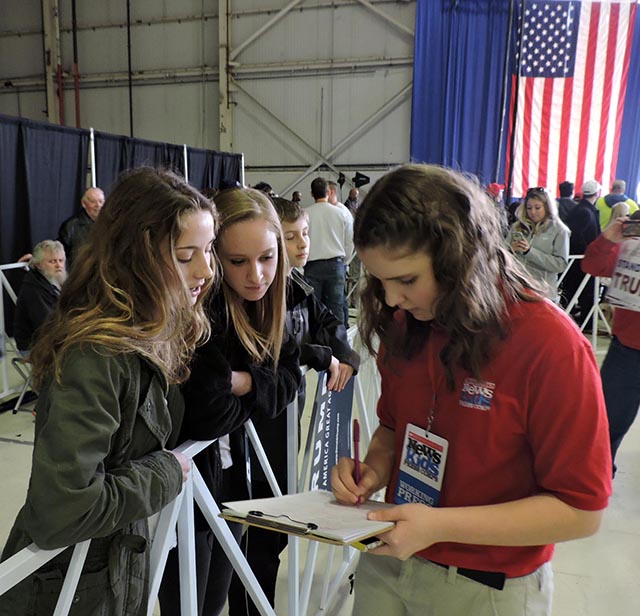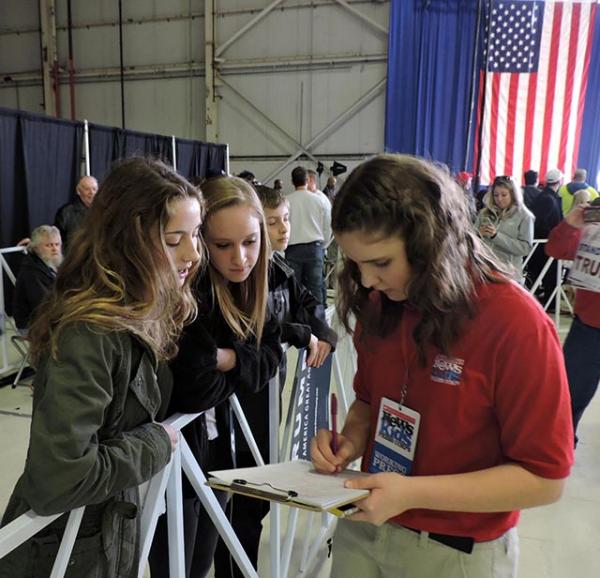 According to 13-year-old Nick Landolfo, a good presidential candidate should be "fair but firm on decisions, [as well as] someone who doesn't waste time, someone who addresses things that need to be done."
Nick was one of several young people who attended a rally for Donald Trump on March 1—also known as "Super Tuesday"—at Port Columbus International Airport in Columbus, Ohio. Trump, a businessman from New York City, is currently the front-runner for the Republican nomination for president. On Super Tuesday, he won in seven of the 11 states that held primary elections or caucuses.
Nick's 11-year-old sister, Emma, said that she likes Trump because "he is better than [President Barack] Obama and is not like any other presidential candidate."
Nick and Emma agreed that the best part about Trump's candidacy was his promise to do away with the Common Core State Standards, academic standards that are in place in several states around the country. Their mother, Cathy, now homeschools the pair. She said that they are happy being homeschooled: "They read more and are much more independent."
NEW VOTERS
Tyler Stevens, 8, said that he is glad that Trump wants to make the country great again. Trump's campaign slogan is: "Make America Great Again."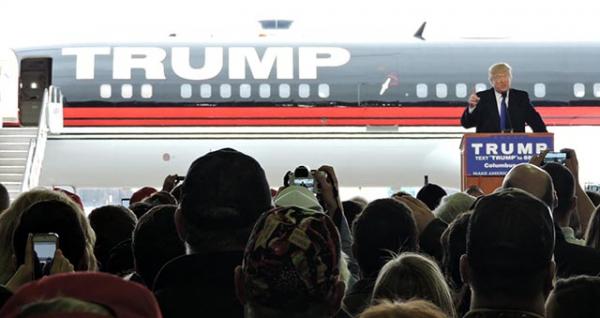 Tyler hopes that Trump will grow the economy if he's elected president so that more people can get jobs. "He's willing to stand up for what he believes in and tells the truth," Tyler added.
Four students at the rally, DeShawn Marbury-White, 19, Kourtney Marcun, 18, Christian Steinker, 18, and Henry Lin, 18, are old enough to vote for the first time. The group attended Trump's rally to further educate themselves about who to vote for in Ohio's primary election on March 15.
A popular topic of discussion throughout the day was Trump's promise to build a wall between the United States and Mexico, in order to curb illegal immigration. Kourtney, a Trump supporter, said, "You have to offend people to keep people safe." But she admits that "the wall won't completely do the job" that Trump says it will.
SEEING THE CANDIDATE "IN PERSON"
Christian said that he dislikes Trump because he "pushes questions off, [not answering them], and doesn't do what he says he will." Henry, who went into the rally as an undecided voter, was hoping to learn more about Trump. "It's better to [see the candidate] in person," Henry said.
Louis Fairfield, a retired U.S. Army veteran and an entrepreneur, commented on immigration after listening to the teens debate the issue. "People can come in and work as long as [we] know who they are," he said.
The rally itself lasted nearly two hours. Among other topics, Trump discussed his idea of building a wall between the U.S. and Mexico, getting rid of the Common Core Standards, his opponents in the presidential race, and his dislike of the media.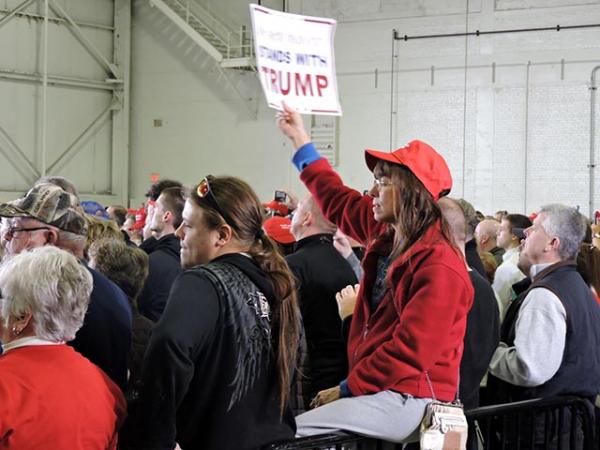 Photos courtesy of the author