Young Chefs Dine at the White House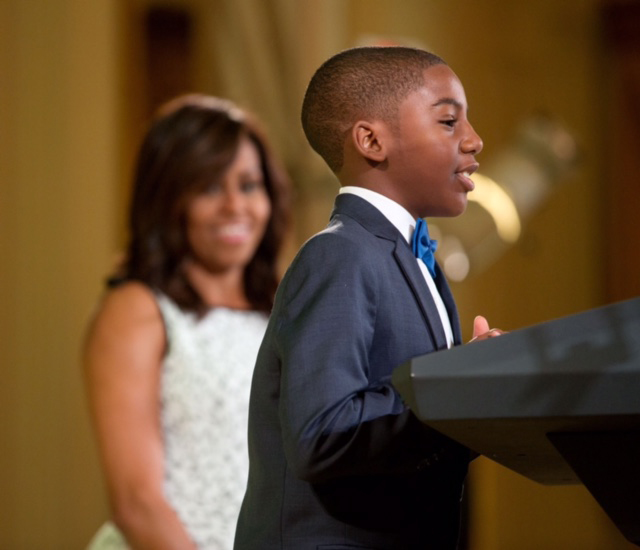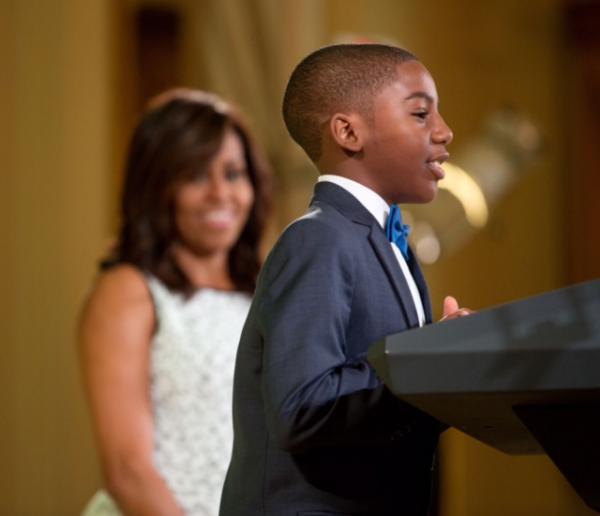 An annual Kids' "State Dinner" at the White House celebrates fresh produce and the value of healthy eating. Initiated by First Lady Michelle Obama as part of her "Let's Move" initiative, the event is the culmination of a contest open to 8- to 12-year-olds in all 50 states, 5 U.S. territories, and Washington, D.C.
Entrants to the Healthy Lunchtime Challenge create a dish that is nutritious, fresh, affordable, and tasty. After regional competitions, winners chosen from each state and territory are invited to dine with the First Lady at the White House. Winning dishes are prepared by the White House staff.
In 2015, Samuel Davis, a former Scholastic News Kid Reporter, won the Louisiana competition with "Sam's Southern Savoring Salmon Supreme (S to the 5th Power)." Sam created his own recipe and prepared his dish with produce from his family's garden. It was a hit with the First Lady. "If you can dream it, you can do it," Sam said.
At this year's dinner, Sam, who is now 12, was selected to introduce the First Lady. He was "amazed and honored," as well as "a little nervous," as he stood next to Mrs. Obama during the introduction. "I was beyond excited," Sam says, "because she remembered me from last year."
AN INSPIRATION TO KIDS

Samuel hasn't always thought about nutrition and exercise. He says that he would often sit inside "playing video games" before he heard about and got involved in the Let's Move program. He hopes that his experiences in the kitchen—and at the White House—will inspire other kids "to learn about, serve, and be creative with healthy meals." The Let's Move campaign, he adds, "helps kids get outside and do some exercise and eat healthy."
During her term as First Lady, Mrs. Obama has established herself as a role model for today's young people. Her Let's Move initiative has drawn attention to and provided solutions for the childhood obesity epidemic.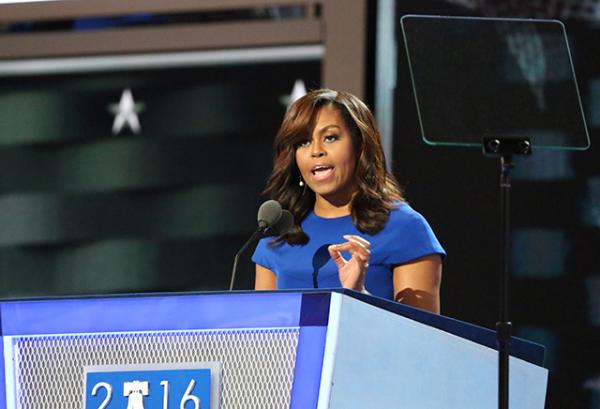 At the Democratic National Convention in Philadelphia in July, the First Lady spoke passionately about raising her children in the White House and her hopes for future generations growing up in the United States. She also talked about how one of the jobs of the President and First Lady is to guide tomorrow's leaders.
"With every word we utter, with every action we take, we know our kids are watching us," Mrs. Obama said. She added that she has taught her daughters to always take the higher road when someone tries to ruin their day. The audience erupted in applause when the First Lady said, "Our motto is: When they go low, we go high." 
Top photo: Official White House Photo by Amanda Lucidon: Bottom photo: Ali Shaker/VOA