Where Champions Play
WATCH THE VIDEO
Click below to see clips from Ben's interview with Bethanie Mattek-Sands, a top doubles player.
The BNP Paribas Open in Indian Wells, California, is the world's largest two-week professional tennis tournament. The beautiful venue, great weather, and more than $10 million dollars in prize money attract the world's top tennis players every year.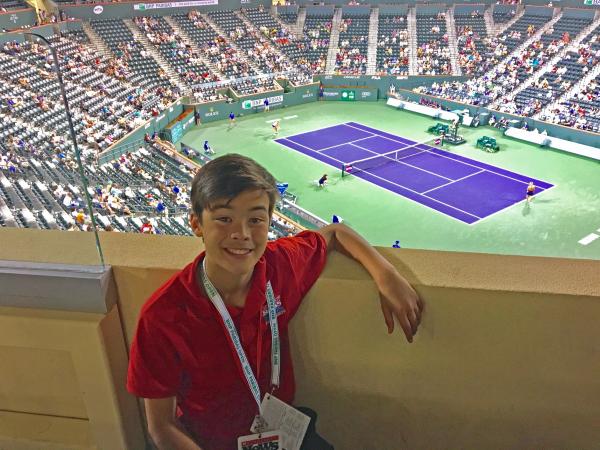 The annual tournament is also a fan favorite, with the largest attendance of any tournament besides the four Grand Slams.
This year, the tournament was held from March 6-19. Roger Federer of Switzerland and Elena Vesnina of Russia captured the men's and women's singles titles, respectively.
"OUR PASSION"
While at the tournament, I sat down with some of the top players to get their thoughts on life as a professional athlete. France's Caroline Garcia, who is ranked Number 25 in women's singles, described the best and worst parts of playing competitive tennis.
"We are really lucky," she said. "We can travel around the world. It's our passion."
What is the worst part about life on the road? "The wait at the airport and packing and unpacking my clothes," Garcia said.
Karolina Pliskova of the Czech Republic is ranked Number 3 in women's singles. She neatly summed up the best and worst aspects of being a professional athlete: "There are two things: I love winning, and I hate losing."
"KEEP THINGS SIMPLE"
At a press conference after his second-round victory, Novak Djokovic of Serbia explained his strategy for staying focused in tense moments. "You try to keep things simple," said Djokovic, who is currently ranked Number 2 in the world. "You stay with your patterns and what you do best and where you feel most comfortable."
The players also offered advice for kids who are starting to play competitive tennis. "Realize that it's going to be really hard," said Svetlana Kuznetsova of Russia, who is ranked Number 9 in women's singles. "But everything is possible, and you must really believe in yourself."
Garcia noted that it was important to "keep listening to the people around you, and find yourself a great team."
When asked what she looks for in a coach, Bethanie Mattek-Sands of the United States said: "It's important that they really know your personality, to get you feeling really good and confident in yourself."
Mattek-Sands, who is ranked Number 1 in women's doubles, encouraged competitive young players to enjoy themselves. "When you're starting out, you should still have fun," she said. "The wins and the losses don't really matter. You're just working on improving. You can still be a kid and play tennis."