Walking on Icicles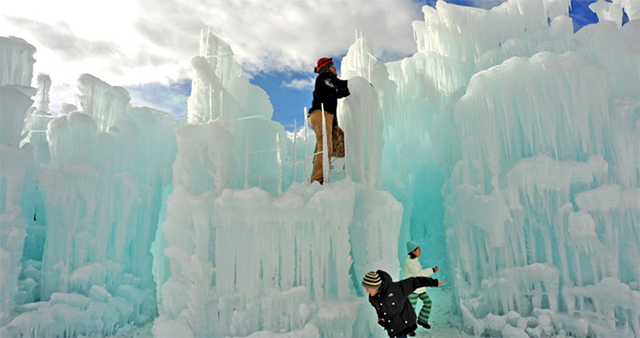 Since the 2013 debut of the movie Frozen, all things icy have become intriguing to kids. But for Brent Christensen, creating winter wonderlands is nothing new. Christensen has been building ice castles for eight years. After moving from California to Utah, he started to build structures in his backyard out of ice and snow.
What started as a hobby to entertain neighbors has turned into a full-time job. Christensen now builds ice castles across the United States, drawing hundreds of thousands of visitors.
This year, ice castles have been created in Minnesota and New Hampshire, among other states. Since building and operating ice castles depends on the cooperation of Mother Nature, it's best to check Christensen's website before planning a visit. Still, with much of the country in a deep freeze this winter, the castles may stay open longer than expected.
A NARNIA-LIKE EXPERIENCE
Every ice castle that Christensen builds has a unique configuration based on its location. "Each design is different, and it depends on the topography [geographical features] of the land," Christensen says. "We also take into consideration which way the sun comes up, where the sun shines on it, and where people can come in and out of it."
The castle this reporter visited in Eden Prairie, Minnesota, is illuminated by more than 100 LED lights and has a waterfall, slot canyon, slide, maze, and tunnels. It is situated among several tall trees near a frozen lake.
"This is more like a Narnia-like, glacier-like experience," Christensen told me. "The ice palaces are beautiful. But this, we hope, is a little more interactive."
"SURPRISINGLY STRONG"
Each design starts with the laying down of more than 10,000 feet of tubing to supply water throughout the structure. There are about 60 sprinkler heads installed to help form the ice. In a single night, more than 5,000 icicles can be created. From the icicles, Christensen creates magical formations.
"Ice castles are surprisingly strong," Christensen says. "We can even walk on some icicles. In fact, sometimes it's even hard for a bulldozer to knock it down when we are done with it for the season."
Christensen's unusual business venture has led him to develop expertise in several areas. "There has been a lot of problem-solving involved in this because it's something that no one has ever done before," he says. "You have to be a good communicator and know how to find solutions. I was just fortunate to discover how to build ice castles this way."

Visitors are lucky to discover these winter wonderlands.
Photo by Helen H. Richardson / The Denver Post / Getty Images