A Visit With Lunch Lady—and Her Creator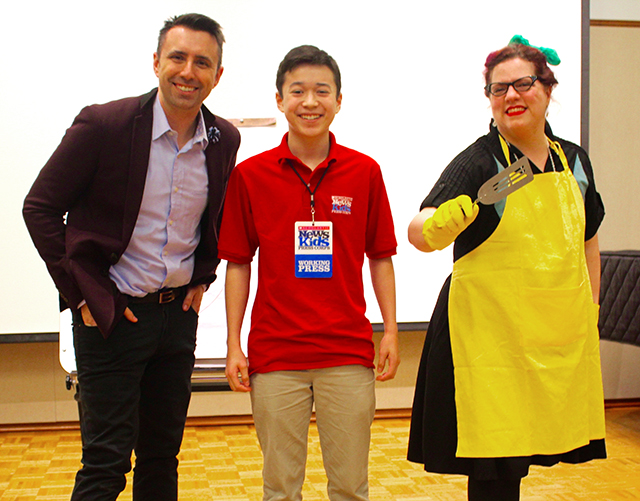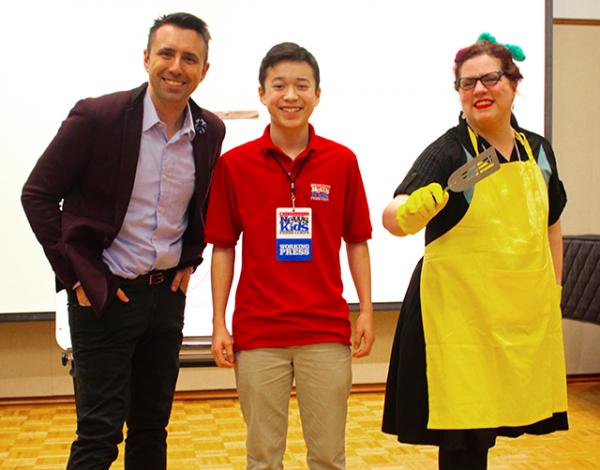 Author and illustrator Jarrett J. Krosoczka has focused much of his career on graphic novels, a format that he finds inviting for all kids, especially struggling readers.
"Graphic novels offer stories with a strong picture-to-text connection that benefits both emerging and experienced readers," said the New York Times bestselling author. "For some kids, these are the only books that they're latching on to, and it's important to empower young readers with material that will excite them."
Growing up, Krosoczka loved to draw. Raised by his grandparents in Worcester, Massachusetts, he graduated from the Rhode Island School of Design. Soon afterwards, he created Lunch Lady (Knopf Books for Young Readers), a graphic novel book series that is a runaway hit with kids.
"After learning that my childhood lunch lady had grandkids and therefore a life outside of the lunch line, I began to daydream about the secret lives that lunch ladies might lead," Krosoczka said. His imaginary character came to life as a cafeteria worker who morphs into a crime-fighting superhero, keeping the school safe from nefarious villians.
MIDDLE SCHOOL MEETS JEDI ACADEMY
Krosoczka also writes and illustrates the Jedi Academy series for Scholastic. He is currently working on the sixth book, Jedi Academy: The Principal Strikes Back, which is due out in July.
"I love that I get to create my own little world embedded in the Star Wars universe," Krosoczka said. "These books —middle school problems mixed with Jedi training—are a ton of fun to make."
Krosoczka is also preparing to publish Hey, Kiddo (Scholastic, September 2018), a graphic memoir about coping with family addiction. "That one is for a slightly older audience than my other work," Krosoczka said. "It's for students in middle and high school."
Recently, Krosoczka presented a graphic novel workshop at the Public Library of Brookline in Massachusetts. While there, I had the opportunity to ask him a few questions. Here are highlights from our conversation:
What were you like as a kid? Did you enjoy reading?
I was a shy and introverted kid who read a lot of comics. I didn't think I was much of a reader when I was young, but that's only because adults didn't validate that kind of reading back then. I was reading comic strips in the newspaper every single day, and I was also making monthly trips to the comic book shop. If I wasn't able to get a ride to that comic book shop, I would walk. It was a mile and a half each way. So not only was I reading, I was walking three miles to get more reading material.
What are the most rewarding—and challenging—parts of your career?
The most rewarding part is hearing from my readers. I love knowing that my work has connected with people. The most challenging part is getting all of the work finished on time. I typically have a few books in progress at the same time, so between that and my very busy family life with my three children, it gets crazy.
What is your favorite food?
I'm a sucker for peanut butter and chocolate in any shape or form.
Photo courtesy of the author