A Visit to the Anne Frank Center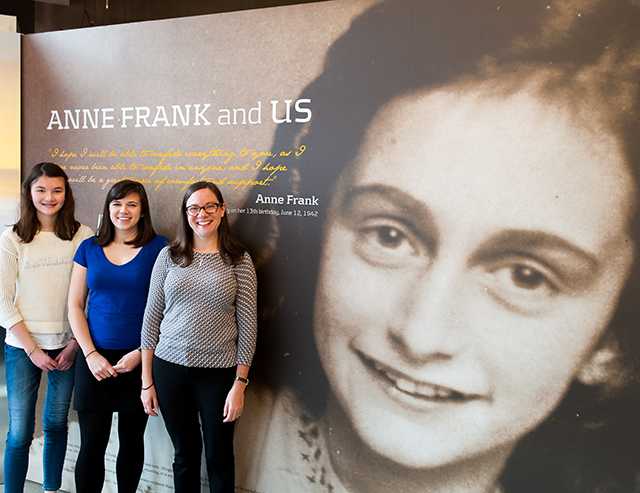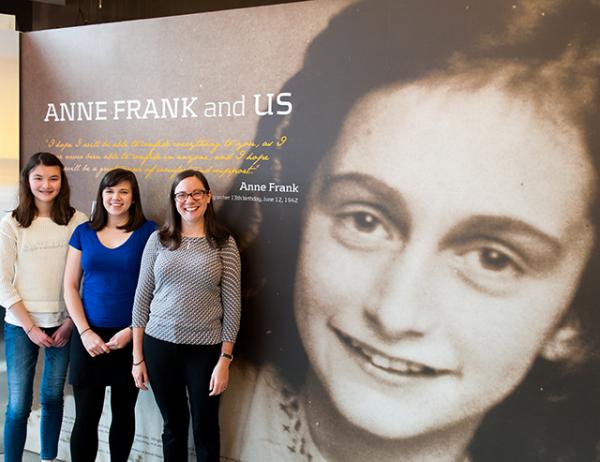 The Anne Frank Center in New York City honors a Jewish girl whose diary is one of the world's most famous books. During World War II, Anne and her family were forced into hiding to escape Nazi persecution. For more than two years, Anne chronicled their lives. Their story ended tragically in 1945, when Anne and her mother and sister died at a concentration camp in Germany. Anne was 15. An estimated 6 million Jews were killed during the Holocaust.
Anne's father, Otto, found her diary after her death and, in 1947, had it published. The Diary of a Young Girl has since been translated into more than 60 languages.
I recently visited the Anne Frank Center in Lower Manhattan to learn more about the German-born teen's legacy. Here are excerpts from my conversation with Beth Slepian, Director of Education, and Hannah Vaughn, Program Associate.
KIDS PRESS: What makes Anne Frank's story different from other stories about the Holocaust?
BETH SLEPIAN: Other people were writing as grownups looking back on their lives. But Anne is writing as a teenager. So, while she's writing about how horrible the war is and how terrible it is to have such fierce discrimination and injustice, she's also writing about how much she hates her mom and how much she's in love with the boy who lives with them. Real teenage stuff.
KIDS PRESS: How is Anne's story still relevant?
BETH SLEPIAN: Even though Anne lived in a different country at a different time, there is so much we have in common with her. People relate to her, and then use that as a vehicle to understand this terrible chapter of our past and then learn how to do something about it today. 
Generations of young people grew up reading her diary. We use her story as an inspiration to teach about the dangers of prejudice and intolerance and promote a world based on mutual respect.
Once students see that prejudice is still happening, they often make connections to bullying within their school community and also in the larger world. Everyone can acknowledge that prejudice still exists today.
KIDS PRESS: Is there anything going on in the world that kids should be paying attention to?
BETH SLEPIAN: Yes, definitely. The European refugee crisis. Anne and her family were refugees who were denied entry into the United States. There are many parallels, including police brutality and racism in the U.S. Around the world, the mass murder of people because of perceived differences is still happening.
HANNAH VAUGHN: Also, issues around equality for women. Anne was writing about this in the 1940s, and it's still a huge problem today. Look at everything that is happening around the world, and find the thing that really makes you want to make a change. Start small.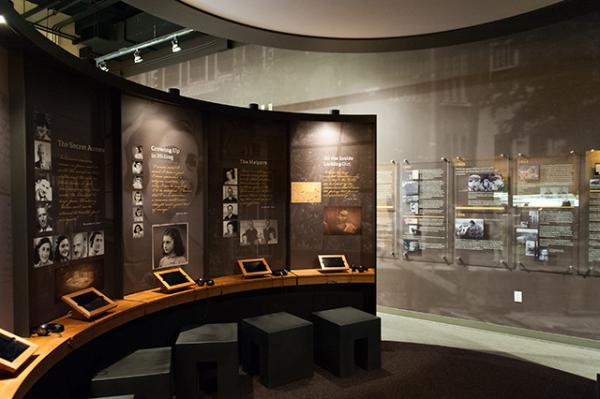 KIDS PRESS: What is the Sapling Project, and how does it help carry out the mission of the Anne Frank Center?
HANNAH VAUGHN: A chestnut tree grew outside Anne's window at the Secret Annex [the attic in Amsterdam where Anne's family hid]. Anne writes about the tree in her diary as something that made her reflect on nature. The tree served as an inspiration to her when she couldn't go outside for two years—it gave her hope. The tree died in 2010, but the staff took saplings from it and distributed them around the world. We got 11 saplings and distributed them to organizations that reflect on past acts of intolerance and try to build a better future [including the Holocaust Memorial Center and the Children's Museum of Indianapolis].
KIDS PRESS: Can you talk about your drama programs?
HANNAH VAUGHN: "Conversations with Anne" is a one-woman show. The text is taken directly from Anne's diary. Afterwards, there is an in-character Q&A with the audience.
We expanded that to a second performance piece called "Letters from Anne & Martin." It pairs Anne Frank with Martin Luther King, Jr., and uses primary sources [Anne's diary and King's Letter From Birmingham Jail] as the means of building a script. It's like a conversation between the two of them. There are a lot of parallels in their messages— standing up for what's right, not remaining silent, and writing from a place of confinement. Anne and King were born in the same year.
KIDS PRESS: What is your favorite part about working with young people?
BETH SLEPIAN: It's great to watch young people be active in the learning process and watch the gears turn. To watch them change and have this transformation. Then we know we're doing our jobs. We're asking you to take this conversation further. That to me is the real joy.
HANNAH VAUGHN: I love finding out from kids who have read Anne's diary what struck them most. I love how Anne was trying to become her true self out in the world. That is an important part of her story. Getting to hear what each person connects to about the diary—I really like hearing what lets people into her story in that way.
KIDS PRESS: What can kids do to help end intolerance?
BETH SLEPIAN: Start by being nice to people. It sounds simple, but don't judge people. Get to know someone who's different from you. You'll have more in common than you think. Be open to people who have differing opinions. Challenge yourself to recognize prejudice, and speak up against it. There's power in numbers.
Photos courtesy of the author