The Unsung Heroes of the U.S. Open
One of the most popular sports in the world, tennis draws hundreds of millions of spectators who root for their favorite players. Each year, there are four major professional tennis tournaments, known as Grand Slams. One of those Grand Slams is the U.S. Open. It takes place each summer at the Billie Jean King National Tennis Center in Queens, New York. This year, the tournament was held from August 22 to September 10.
Grand Slams are extremely important in professional tennis. They offer players the most ranking points per win and the most prize money. As a result, such tournaments attract top competitors from around the world.
"BEING AROUND TENNIS"
It's easy for fans to recognize the intense training and hard work that players put in during the tournament. But many spectators don't know about the work that goes on behind the scenes.
Robert Pollack, for example, is responsible for greeting fans and making sure that they can find their way around the vast tennis complex.
"This year, a lot more people are showing up," Pollack said. "I have to be on my feet, and when there are lots of people, getting to everyone can be hard."
Despite the demands of his job, Pollack also enjoys it immensely. "I get to meet new people and make a lot of new friends," he said. "I also love being around tennis."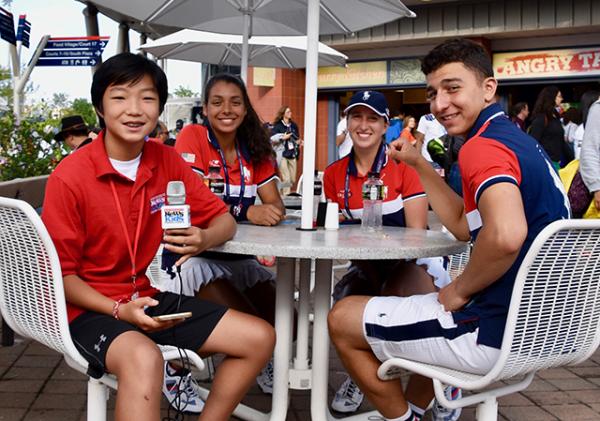 BEING A BALL KID

Kids also play an important role at this global event. During the matches, ball boys and girls are put in charge of meeting a player's every need at the blink of an eye. Ball kids take on such tasks as getting towels, water, and other necessities to ensure that players can focus on the game.
"Taking care of the players on the court is very demanding," one ball girl said. "I have to remember to always be attentive to what the players need, and sometimes I can forget."
Ball kids must go through tryouts to get the job. "My grandmother saw a flyer somewhere and showed it to me," the ball girl continued. When I went to the tryouts, I did many rigorous exercises, such as running long distances and catching a ball over and over again."
Ball kids and other staff members at the Open are not always recognized for the crucial role they play in maintaining peace and order at the busy event. But they enjoy the game of tennis so much that the sacrifices are more than worth it.
Photos courtesy of the author