Turning Classics Into Graphic Novels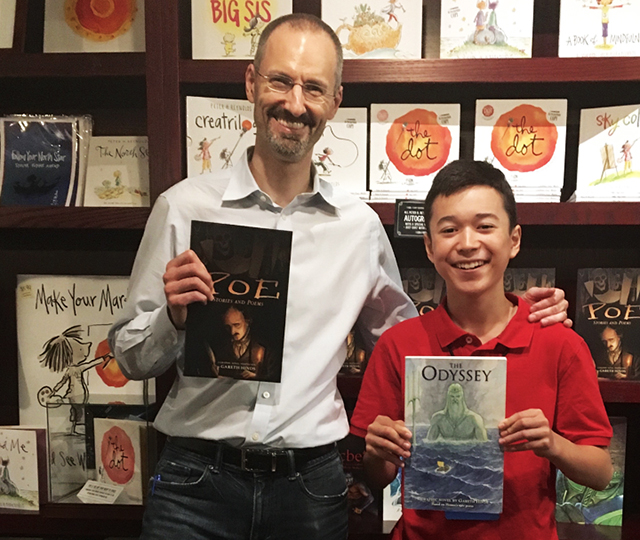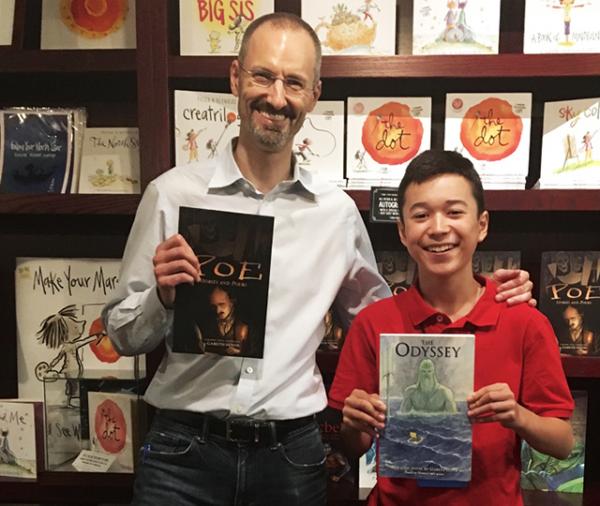 Gareth Hinds loved to draw as a kid. These days, he has a thriving career turning classic tales into graphic novels.
"It's become a passion for me to share what I love about these old stories to a new generation," Hinds recently told me at Blue Bunny Books in Dedham, Massachusetts.
The artist was in Dedham to talk about his latest graphic novel, Poe: Stories and Poems (Candlewick, 2017). For the book, Hinds drew on the works of 19th-century poet Edgar Allan Poe, who is considered a master of horror.
Hinds's other adapted classics include Bearskin: A Grimm Tale (1998), King Lear (2007), and The Odyssey (2010). During his presentation, he demonstrated how he creates his books and took questions from an enthusiastic audience of kids, parents, and teachers. Here are highlights from my conversation with Hinds:
What is the biggest challenge you face making your books?
Every novel is over 100 pages, and each page has about 10 panels. That's a lot of drawings. It's important to keep the characters looking consistent. Also, I actually find covers challenging because you have to find one image to sum it all up. I'll draw 50 to 80 sketches for the cover before I pick the best ones to show to my editor.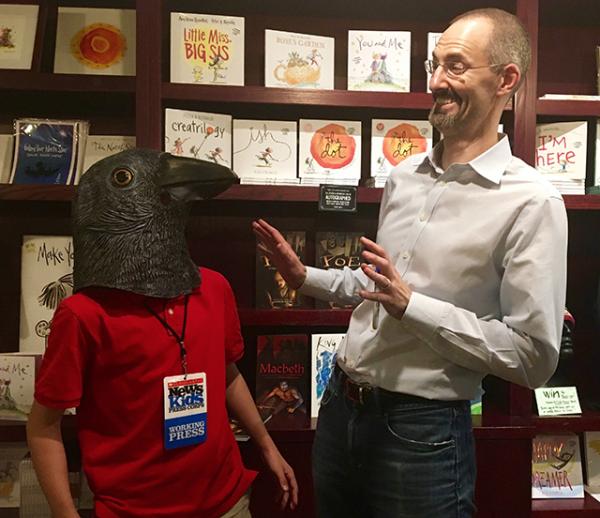 Who is your favorite character?
I like Odysseus [the hero of Homer's Odyssey]. He's such a fun character who can creatively solve problems. He's an unreliable narrator. Think about it—he's telling a story to an audience that he's trying to impress.
What is your favorite monster?
I like the Cyclops [from The Odyssey]. I also love all the monsters in Beowulf.
How do you draw people?
Starting with a stick figure is a perfectly legitimate exercise. Once you add hands, feet, clothes, and facial expressions, then it's not a stick figure anymore.
What were you like as a kid?
I was nerdy, studious, and a good kid most of the time. I loved drawing. I loved fantasy, dragons, and knights. I was an only child. My parents had it pretty easy.
Did you have a special teacher or mentor?
I had some good teachers in high school and college. When I was thinking of going to art school, my parents found some local artists for me to talk to. Also, I admire Bill Sienkiewicz's work. I consider him a mentor even though I've only met him a few times. [Sienkiewicz is an award-winning comic book artist.]
What are you working on now?
I'm lining up some picture book projects. I'm also developing some original ideas for my graphic novels. As far as adaptations, I would like to do Hamlet and more Gulliver's Travels.
What is your advice for young illustrators?
Have a sketchbook. That goes for writers and musicians, too. It's not only where you jot your ideas, but also where you practice. Drawing with simple materials limits the variables. You can use the computer later. But in the beginning, it can be distracting.
I recommend drawing from life and drawing things that are challenging, like people's likenesses. Study art history. Go to museums, and look at how the old masters painted. Having a rich art background makes your art more interesting.
Photos courtesy of the author