Trump's Victory Sparks Several Protests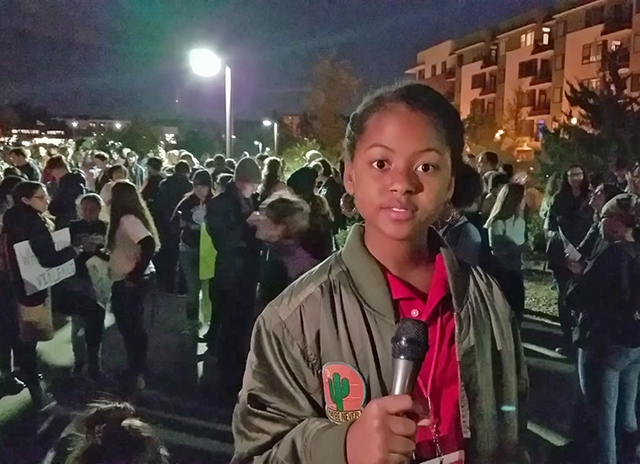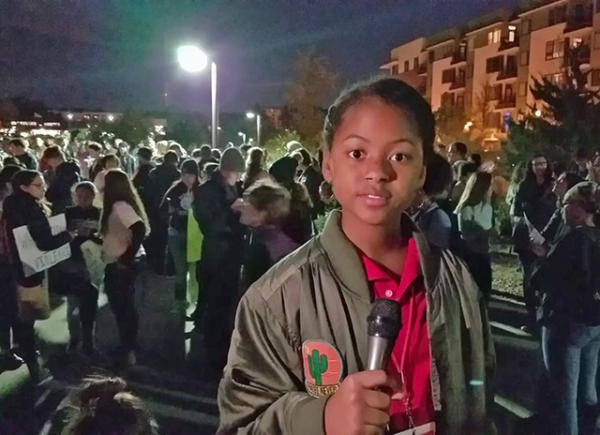 Genesis covers a demonstration at Old Fourth Ward Park in Atlanta, Georgia.
When Republican Donald Trump was declared the winner over Democrat Hillary Clinton in the presidential election, many Americans celebrated the unexpected victory. They expressed hope that Trump, who was a political outsider, would shake up the system and listen to people who have lost their jobs and have no say in Washington, D.C.
Many political experts had predicted that Clinton would win the White House. Although she did win the popular vote, Trump put together a stunning victory in the electoral college, amassing more than the 270 electoral votes needed to become president.
After Clinton's loss, many of her supporters expressed shock, sadness, and even fear about Trump's rise. In at least 10 cities, people poured into the streets to protest the controversial statements that Trump had made about Mexicans, Muslims, women, and others.
"A lot of people are really, really upset with what happened, that someone so overtly racist and sexist could have been voted President," said Sauda, who led a protest in Old Fourth Ward Park in Atlanta, Georgia. "It's not OK what Trump has said about different people. And we're going to protest that." Like many protesters at the rally, Sauda did not want to give her full name for fear of retaliation.
SORE LOSERS?
Several observers have dismissed the demonstrators as sore losers and troublemakers. But organizers of the rallies, now labeled the "Not My President" movement, say that this is more about character than it is about Trump's election victory.
"We're out here to show our support for all of the disadvantaged and marginalized groups that Donald Trump has insulted," said Fatima.
People at the rally urged other concerned voters to speak out against the sometimes hurtful language used during the campaign. One sign read, "Silence Is Violence."
Demonstrators want to correct the idea that Americans don't care about the groups that Trump has insulted. "I think it's really time to get out of this sense of complacency," said Frankie. "Trump has done nothing but slander the American people who make this country what it is."
While protests in some cities took a destructive turn, the mood in Atlanta was solemn. Leaders criticized destructive behavior and urged protesters to not have their message muddled by violence.
Rally leaders also said that they were prepared to continue their protests until they get the point across that all law-abiding groups should feel welcome in the United States.
Photo courtesy of the author