Travel Ban Elicits Mixed Response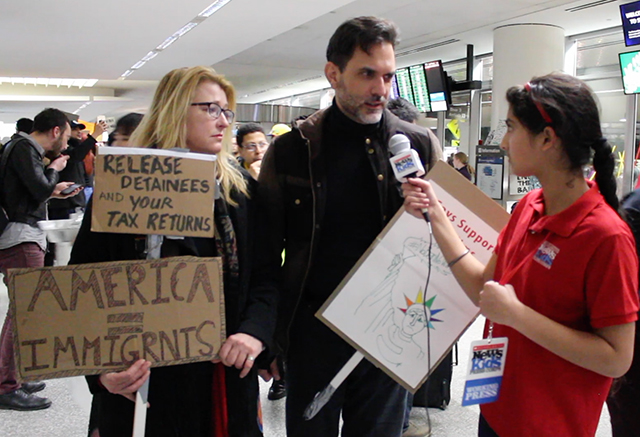 WATCH THE VIDEO
Click below to see Manat's interviews with protesters at San Francisco International Airport.
On January 27, President Donald Trump signed an executive order that banned people from seven Muslim-majority countries from entering the United States for 90 days. Refugees from one of those countries, war-torn Syria, will not be allowed to enter the U.S. indefinitely.
The ban caused chaos and confusion at U.S. airports. Hundreds of people were detained. Others were sent back to their countries of origin. People around the world protested the ban, which many critics argue is a threat to religious freedom.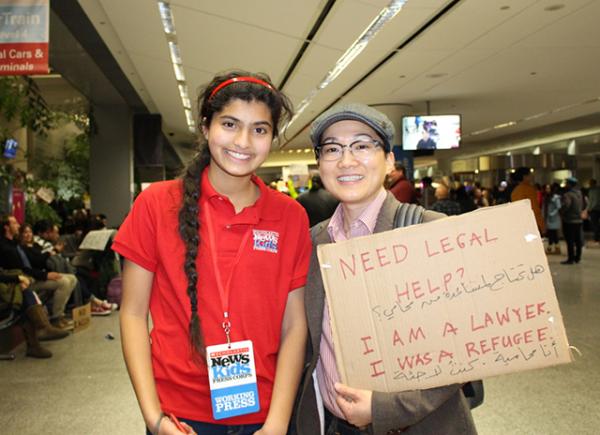 U.S. airports were flooded with protesters. Lawyers offered to help travelers who had been denied entry to the U.S. or were being detained by law-enforcement officials. Many of those officials were unsure how to enforce the directive, which came with little notice.
No one born in the banned countries is thought to have committed a terrorist attack inside the U.S. Strict rules are already in place to vet people who want to enter the country.

SAFETY FIRST
Still, Trump and members of his administration defended the order. They said that it was designed to minimize the threat of terrrorism. "Keeping the country safe is the president's first obligation," White House counselor Kellyanne Conway told CNBC.
A poll conducted by Reuters/Ipsos found that 49 percent of Americans support the ban, while 41 percent disagree with it. Roughly 38 percent of Americans say that that they feel safer with the ban in place.
"Pausing the intake of refugees from terror hot spots is the right call to keep America safe," said U.S. Representative Ed Royce, a Republican from California.

"NO BAN, NO WALL"
At San Francisco International Airport, protesters of all ages cheered arriving passengers. The protesters chanted such slogans as: "No Hate. No Fear. Immigrants are welcome here." and "No Ban. No Wall. Sanctuary for All." The wall referred to Trump's controversial plan to erect a wall on the border between the U.S. and Mexico in an effort to prevent Mexicans and others from entering the country illegally.
Information booths at the airport were transformed into free food stalls, with volunteers serving pizza, sandwiches, and beverages. "People are so generous [in donating food]," said Kristen Vacca of Oakland, California, who was handing out sandwiches at one of the booths. "The amount of food we've gotten is overwhelming."
The executive order is affecting many people who currently live in the U.S. Several have reported that family members who were abroad when the ban took effect were unable to return. Others, including university students, don't know if they will be able to travel outside the U.S.
Ahmed Salam of Fremont, California, said that the ban may affect his sister, even though she is a permanent resident of the U.S. "She is worried about whether or not she will be able to come back if she leaves the country," Salam said. He was holding a sign that read "Immigrants Made America Great."
The American Civil Liberties Union, Washington State, and others have filed lawsuits against the Trump administration, arguing that the ban is unconstitutional and that it unfairly targets Muslims. Trump and members of his administration insist that the order, with some modifications, will remain in effect.