On Top of the World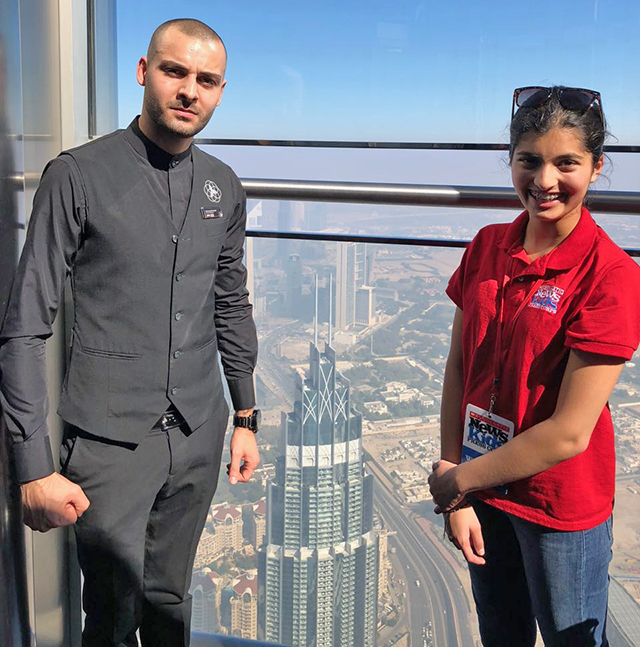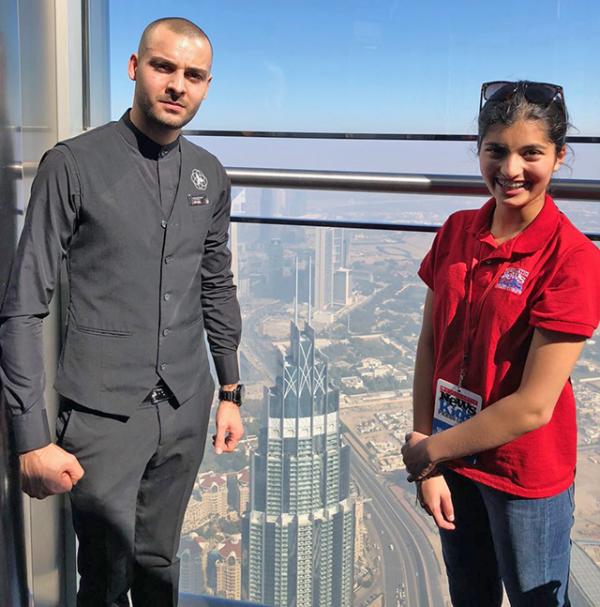 In recent decades, cranes have dotted the skyline in Dubai, the largest and most-populous city in the United Arab Emirates (UAE). The city's building boom has attracted global attention.
The UAE, which is located in the Middle East, is one of the world's top oil-producing countries. It is a monarchy with seven emirates (states) and a population of eight million.
Once a desert, Dubai now has a string of artificial islands, the world's tallest Ferris wheel, and the world's only seven-star hotel. Amid these wonders stands the Burj Khalifa (the name is Arabic for "Khalifa Tower"), the world's tallest building.
The tower, which opened in 2010, is 2,717 feet tall. During a recent visit to Dubai, I toured the building with Mohammed Kitabi, the Burj Khalifa's guest ambassador.
"A NEW STANDARD"
The massive building has 160 floors, the second-highest swimming pool in the world, and 900 residences that are home to such stars as David Beckham.
Thousands of tourists flock to the tower daily. "We've seen the Shard [Europe's tallest building] in London, but this is just so impressive," said Nicholav S., 18, who was visiting with his family from the United Kingdom.
Neeru Singh, who is from India, agreed "Everyone should visit the Burj Khalifa," he said. "It was the highlight of my trip."
Everything about the building is noteworthy, even its entrance. Visitors enter through the Dubai Mall, which is the world's largest mall with more than 1,200 stores. One can reach the 124th floor in 60 seconds by riding a double-decker elevator.
The tower is a source of pride for the people of Dubai. "We wanted to have the tallest building because it sets a new standard," Kitabi said. "It attracts people from around the world so that they can learn more about the Arab world."
Dubai is about to eclipse its own achievement with the Dubai Creek Tower, an observation tower that is currently under construction. When it is completed in 2020, the new tower will be about 320 feet taller than the Burj Khalifa.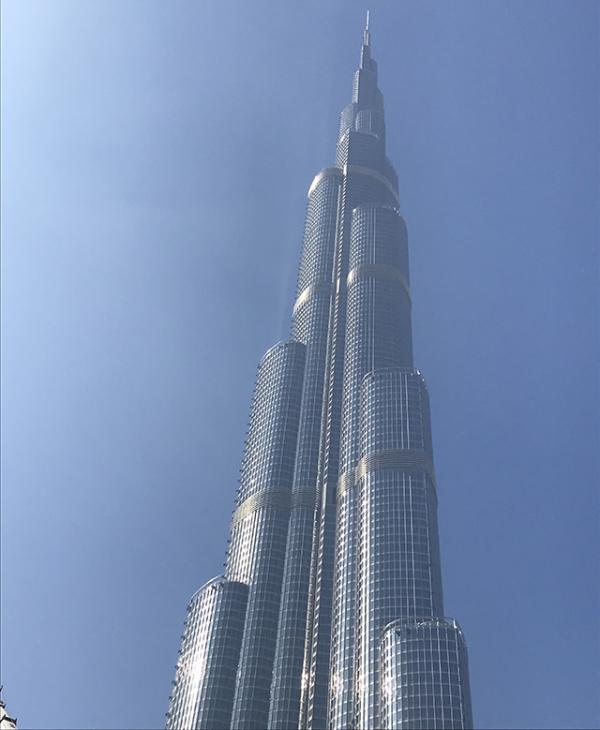 TOWERING FACTS

Here are some fun facts about Dubai's famous tower:
• At the Burj Khalifa, you can see the same sunset twice. First, you watch it on the ground floor. Then, after riding an elevator to the top of the building in less than three minutes, you can see it again.
•  The tower has 58 functional elevators and 2,957 parking spaces.
• The amount of concrete used to build the Burj Khalifa weighs the same as 100,000 elephants.
• More than 12,000 people were involved in the construction of the tower, which took more than 22 million hours of labor to complete.
Photos courtesy of the author