Top Dog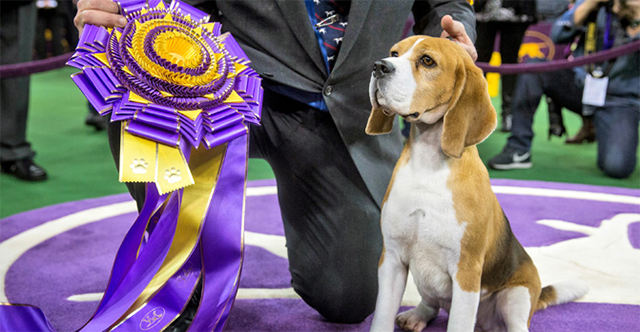 For many dog lovers at this year's Westminster Kennel Club Show in New York City, the "Best in Show" announcement came as a surprise. During the competition on Tuesday night at Madison Square Garden, most of the cheers were for Matisse, a Portuguese water dog, and Swagger, an Old English sheepdog. But in the end, it was a beagle named Miss P that was draped in purple-and-gold ribbons.
After keeping the crowd in suspense, the judge, David Merriman, said that Miss P had a "wonderful head," and he could tell that she is a great dog in and out of the ring. Miss P is the grandniece of Uno, the winner of the 2008 Westminster show.
If Miss P was proud of her victory, she kept her emotions to herself. She didn't even bark. But her handler, Will Alexander, said that Miss P always thinks she is the star.
"She is a princess," Alexander told USA TODAY. "It's all about her. She thinks she's the biggest dog in the show."
THE JUNIOR COMPETITION
This year, 192 dog breeds were represented at the Westminster show, which was first held in 1877 and is the second-oldest continuous sporting event in the United States, after the Kentucky Derby.
Since 1934, the show has included a Junior Showmanship competition for young handlers. Entrants must be ages 9 to 17. This year, handler Lydia Frey won with her Bedlington terrier, Tony. I asked Lydia, who is from Hume, Virginia, how she became interested in the Westminster competition.
"I saw it on TV and told my mom I wanted a show dog," she said. "We found a local breeder, and the rest is history."
"I LOVE DOGS"
The Westminster show has appeal for people of all ages.
"I love dogs," said a sixth-grader from New York City, when asked why he was attending the show. "We have a Bernese mountain dog at home, and my mom and I are looking for a new one."
There's no better place to shop around than at the Westminster dog show.

WATCH THE VIDEO
Click here for an on-site video from this year's show in Madison Square Garden.
Photo by Andrew Burton / Getty Images