Telling Stories Through Art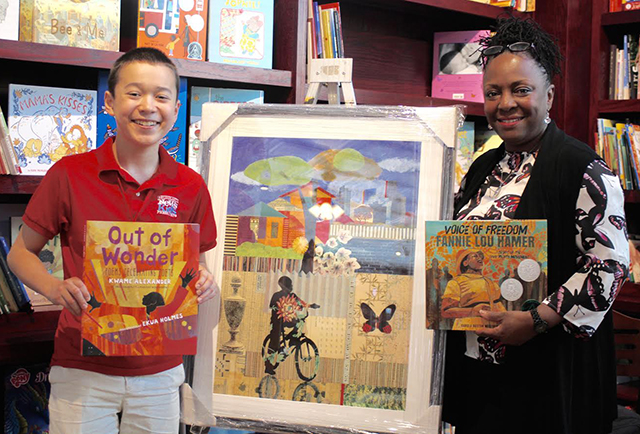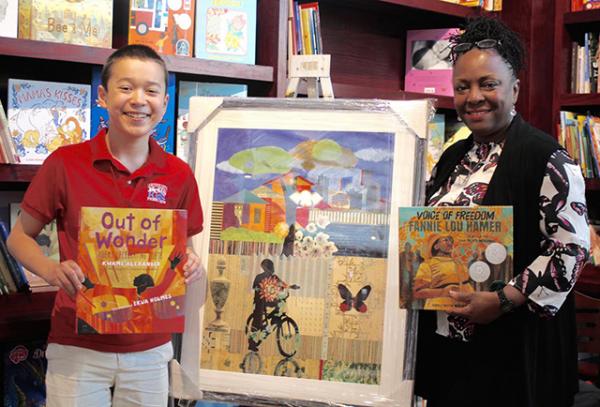 "Somehow, the universe has made me a children's illustrator," said Ekua Holmes. In 2016, the Massachusetts-based illustrator won a Caldecott Honor for her illustrations in Voice of Freedom, Fannie Lou Hamer: Spirit of the Civil Rights Movement by Carole Boston Weatherford.
Holmes recently illustrated Out of Wonder: Poems Celebrating Poets. The new collection of original poems by Kwame Alexander, Chris Colderley, and Marjory Wentworth celebrates 20 famous poets, including Langston Hughes and Maya Angelou.
Holmes uses mixed media for her illustrations. "Every piece starts differently," she told me recently at Blue Bunny Books in Dedham, Massachusetts. "When you do collage, you have a lot of scraps. I try and let the pieces tell me what to do."
Holmes's work celebrates family, relationships, faith, and hope. She has devoted much of her career to sustaining contemporary Black Art traditions in Boston. She also serves on the Boston Art Commission, which oversees public art in city spaces.
"THEY WILL FIND THE SUN"
Candlewick Press in Somerville, Massachusetts, discovered Holmes's art and asked her to illustrate Voice of Freedom. The book is about Fannie Lou Hamer, the daughter of Mississippi sharecroppers who became a civil rights champion. "It was an important and timely story that needed to be told," Holmes said.
Holmes was given a lot of liberty with the assignment: "It was very freeing because I could present what I wanted, but it was also a great responsibility. I felt the weight of history."
Holmes also won the John Steptoe New Talent Illustrator Award for Voice of Freedom. The illustration of sunflowers is one of her favorites. "I love them," she said. "They are survivors, and they will find the sun and find a way to grow."
"LEARN FROM THE BEST"

Holmes grew up in Roxbury, Massachusetts, where she still lives. "In Roxbury, you can always see the Boston backdrop," she said.
Holmes recalled her childhood, playing outside with the neighborhood kids until it got dark. "We were more free and independent," she said.
Holmes decided that she wanted to become an artist at the age of 5. She and her cousin would make their own books. Her cousin was the writer, and Holmes was the illustrator. "I remember having a box of Crayola Crayons with a built-in sharpener," Holmes recalled.
Holmes's mother was a librarian. She offered Holmes wise words, "Just do the next thing." The advice helps Holmes overcome obstacles and get through anything. "My mother was not here to see me get awards," Holmes said, "but I like to think that she's there watching me."
Holmes has advice of her own to share with aspiring artists: "Explore. Exercise. You have to train every day. Go out every day, and find something to draw. Look at other art, and learn from the best. Being an artist is not an easy profession. It requires inventiveness."  
Photo courtesy of the author