Team USA Dominates at the Games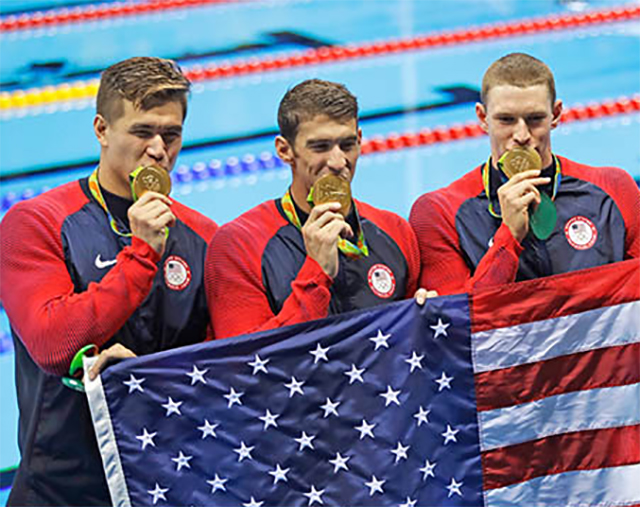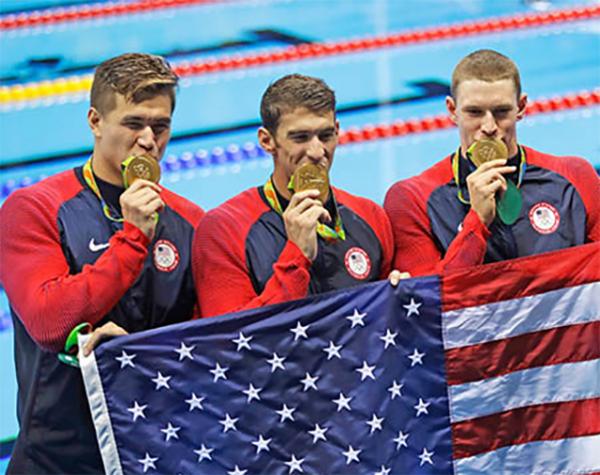 More than one week into the Summer Olympic Games in Rio de Janeiro, you can feel the excitement across the city. On the busy sidewalks outside Rio's athletic arenas, tourists are sporting everything from socks with stars to flags around their necks that flow in the breeze like capes.
In the first week of competition, the United States Olympic Team dominated in swimming and women's gymnastics. The U.S. has collected 77 medals so far, 27 of them gold. After American swimmers won 33 medals—23 more than second-place Australia—NBC commentator Rowdy Gaines said that the U.S. has the "greatest Olympic swim team in the modern era."
A HISTORIC NIGHT
Spectators have carried the energy of Rio's streets into the competitions. The Olympic Aquatic Stadium, which is decorated on the outside with loops and swirls to make it look like the ocean, is small enough so that any seat in the house offers an incredible view of each race.
While the swimmers warmed up Thursday evening, spectators could walk around the venue, close enough to be splashed by the athletes' kicks and dives. People in the crowd cheered in dozens of languages. While there was an air of friendly competition, it was clear that everybody wanted to see their own country be the best.
Team USA won gold in three of four swimming finals on Thursday night. Michael Phelps, who competed in his fifth Olympics, is now the most decorated Olympian of all time, with a total of 28 medals. In Rio, he won five gold medals and one silver.
"Done, done, done," Phelps said today about his Olympic career. "I wanted to come back and finish my career how I wanted. This was the cherry on top of the cake."
Swimmer Simone Manuel, from Houston, Texas, also won gold on Thursday. Her win was historic because she is the first African-American woman win a medal in an individual swimming event. The Stanford University swimmer will leave Rio with two gold medals and two silvers.
A FEELING OF UNITY
The Olympic Games are a time for people around the world to come together. There is a huge sense of pride for each nation that participates. But there is also a sense of community, with athletic officials from across the globe working together on a huge global competition held in one place.
A woman named Gretchen from Chicago has been traveling to the Olympic Games for more than 30 years. "You get to meet people," she said, "and see great performances. It's a wonderful way to see the world."
Editor's Note: Michelle Sheena, a recent graduate of Tulane University, is a former Scholastic News Kid Reporter. Her sisters, Brittney and Erin, also former Kid Reporters, contributed to this story. To see more work by the Scholastic News Kids Press Corps, go to scholastic.com/kidspress.
Photo by AP Photo/Julio Cortez