Swimming With Sharks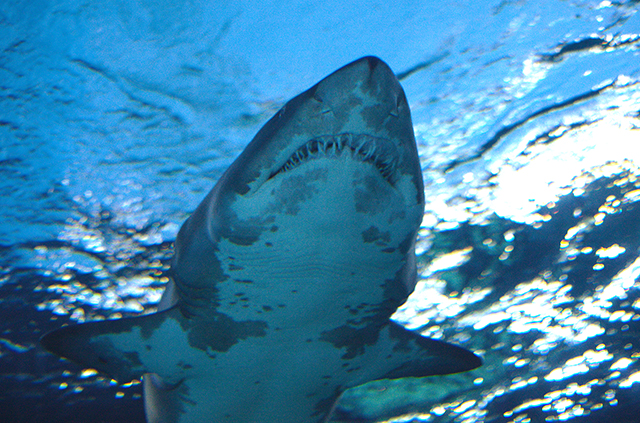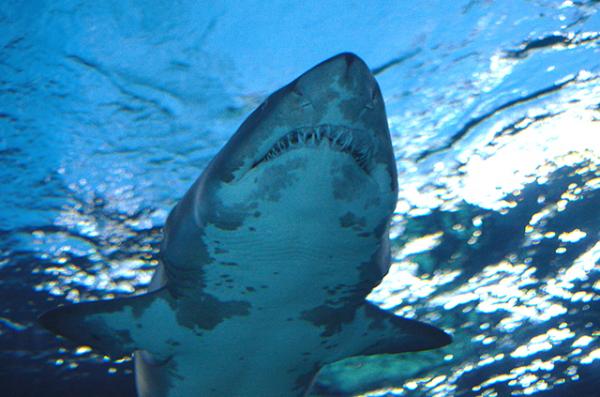 "Sharks are magnificent and misunderstood," says children's book author Heather Lang. The author, who was terrified of sharks growing up, now cares about them deeply.
Lang overcame her fear of sharks while researching her latest book, Swimming with Sharks: The Daring Discoveries of Eugenie Clark (Albert Whitman & Company, 2016). The biography is illustrated by Jordi Solano.
In the book, Lang tells the story of Eugenie Clark, a marine biologist who became the first person to study sharks in their natural habitat. Clark was mesmerized by sharks when she visited the New York Aquarium as a child. She resolved to become an ichthyologist (fish scientist), even though there were few women in the field.
FEMALE PIONEERS
Lang's book series focuses on pioneering women. Her other titles include The Original Cowgirl: The Wild Adventures of Lucille Mulhall and Fearless Flyer: Ruth Law and Her Flying Machine.
"I always look for women who are brave and resourceful and inspiring," Lang told me during a recent appearance at Barnes & Noble in Framingham, Massachusetts. "They make mistakes and accept failure and keep going."
Here are other highlights from our interview, which has been lightly edited.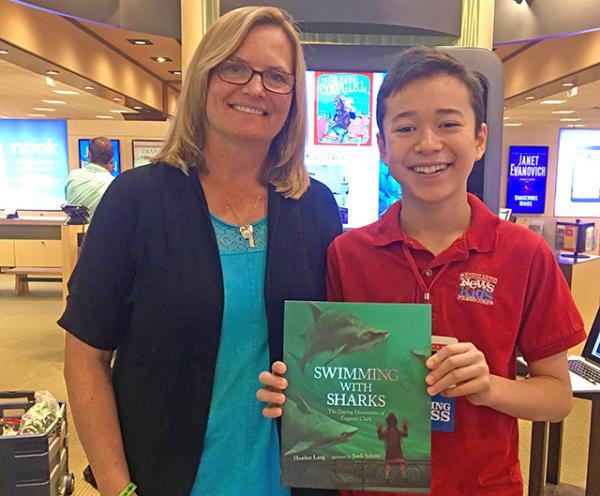 Can you tell us about your research for the book? 
I learned so much about sharks, first of all, just from going to the library and reading other books. But I decided early on that I needed to get in the water and see what it was like to swim underwater, which I had avoided for so long. I got certified to scuba dive, and I did some snorkeling. Now I've been swimming with sharks myself. I would say the highlight, though, was meeting Eugenie Clark. I went down and met her at the Mote Marine Laboratory [in Sarasota, Florida], which is the lab that she founded. I got to spend a lot of time with her and interview her, and she helped me with the book. [Clark passed away in 2015 at the age of 92.]
What are some of the things you discovered about sharks?
I didn't know that much about sharks when I started, and I did not realize that most sharks are timid. I didn't realize how much in trouble sharks are. A hundred million sharks are killed on average every year, which is a huge number. Many are killed because of the shark fin trade. Others are killed because of poor fishing practices and out of fear.
What did you want to be when you grew up?
I loved Harriet The Spy and the Nancy Drew series. I read all of the Nancy Drew books. My dream was to become a spy. I didn't get to work for the CIA [Central Intelligence Agency] or anything like that, but as a children's book author who writes nonfiction, I get to do a lot of detective work. In a way, I was able to incorporate my childhood dream into my work as an author.
How has grit helped you in your writing career?
I get stuck a lot, especially in the revision process, so I've learned to develop grit in the process of becoming an author. You have to keep working at it, and working through rejection. I don't really view rejection the same way that I used to. I used to really take it hard, but now I just view it as a step along the way in my journey.