A Superhero Gymnast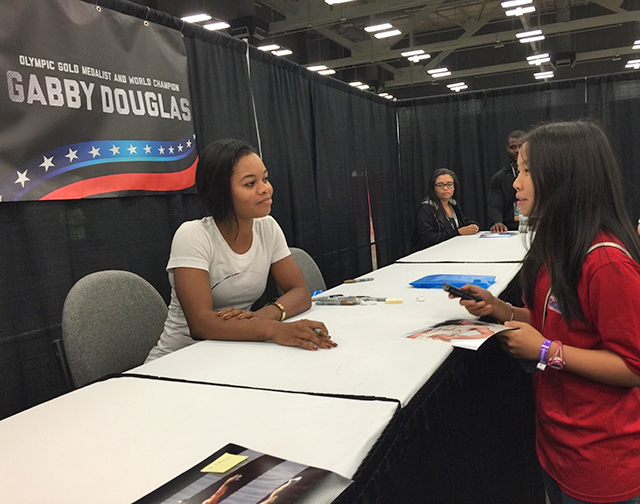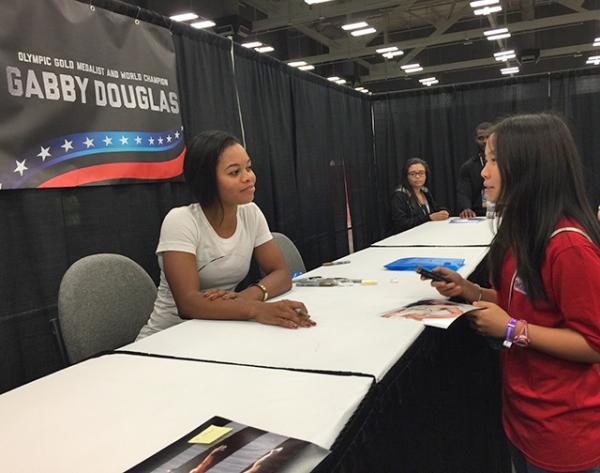 On September 23, thousands of pop culture enthusiasts gathered in Austin, Texas, for a Wizard World Comic Con. Fans dressed as their favorite fictional characters from video games, books, and movies during the weekend-long extravaganza.
Wizard World conventions are held in cities across the United States each year. People of all ages take part in gaming competitions and costume contests. Artists and exhibitors showcase their work and try to attract new customers, while celebrities pose for pictures and sign autographs.
A TRUE HERO
At the Austin event, actors who play superheroes in movies, including Sebastian Stan from Captain America, made appearances. A real-life American superhero was also in attendance: Olympic gymnast Gabby Douglas. This reporter had the chance to interview her briefly.
A resident of Columbus, Ohio, Douglas began taking gymnastics lessons at the age of six. "Dominique Dawes [a member of the gold-medal-winning U.S. team at the 1996 Summer Olympics] was definitely one of my role models growing up," Douglas said. "First of all, I loved her tumbling passes. Next, I loved her spirit, her joy, and the way she represented herself out on the floor. That drew me in."
Douglas has since become one of the most decorated American gymnasts of all time. She was chosen for the U.S. women's gymnastics team at both the 2012 London Olympics and the 2016 Rio Olympics, winning a total of three gold medals.
Douglas is often called the "Flying Squirrel" for her aerial abilities. She earned the title after winning a gold medal in the uneven bars at the 2012 U.S. National Championships. "I think of bars as [being like] beautiful music," Gabby said. "It's all about swinging. It has to flow."
SPEAKING TO FANS
At Comic Con, Douglas hosted a fan Q&A, focusing mainly on the 2016 Summer Olympic Games. She told fans that since her Olympic victories, she has been traveling almost continually and that airplanes are her "home right now." She is performing in the 2016 Kellogg's Tour of Gymnastics Champions, along with other past and present Olympic gymnasts. The tour, which began on September 15, will 36 cities across the nation.
Despite being a world-renowned gymnast, Douglas is still a fun-loving 20-year-old. She said that she loves to goof around with her Olympic teammates, especially Laurie Hernandez and Simone Biles. She also talked about meeting Zac Efron, saying that "he was awesome and super-sweet."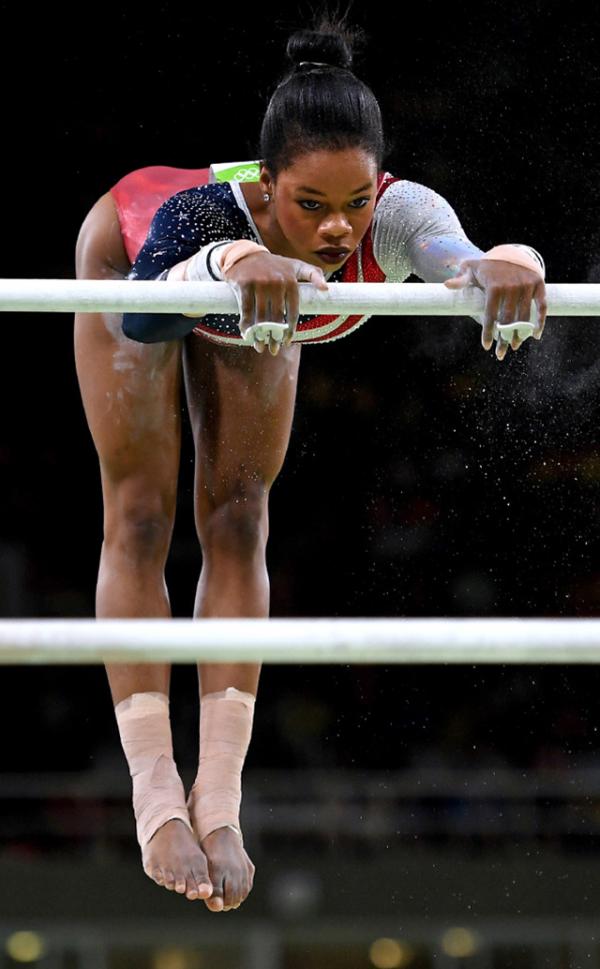 Gabby ended her talk by offering a piece of advice to aspiring young athletes. "Always believe in your talent," she said. "Don't let anybody determine your ability. Don't let them say, 'You can't do it,' when you really can do it. Just always believe in yourself."
Photos by Laurence Griffiths/Getty Images