Stanford Athletes Win NCAA Championship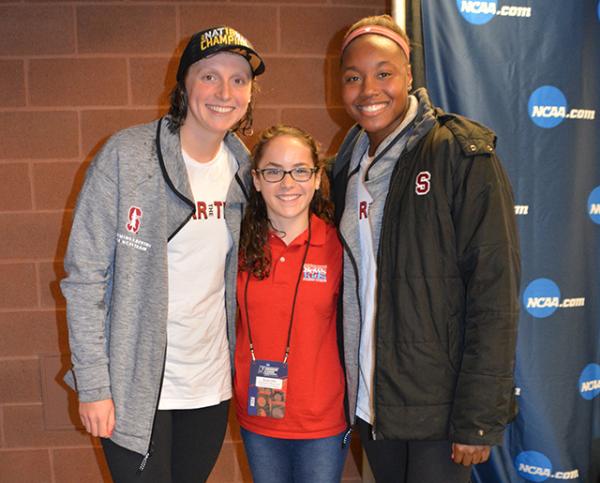 Earlier this month, at the 2018 NCAA Division I Women's Swimming and Diving Championships, Stanford University won their second consecutive title. The Stanford Cardinal dominated the competition, which was held in Columbus, Ohio. The team earned a total of 593 points, 220 points ahead of second-place Cal (the University of California, Berkeley).
The NCAA, which is short for the National Collegiate Athletic Association, organizes athletic competitions among colleges and universities in the United States.
Last year, the Stanford women's team won the championship for the first time since 1998. They wanted to return as "the best version of ourselves," said sophomore standout Katie Ledecky. The six-time Olympic medalist was crowned this year's NCAA Champion in the 500- and 1,650-yard freestyle events, as well as a relay.
Stanford junior Ella Eastin stunned the crowd with her performance in the 400-yard Individual Medley (IM), a combination of butterfly, backstroke, breaststroke, and freestyle. With a time of 3:54.60, Eastin smashed Ledecky's previous U.S. and NCAA records. Eastin became the NCAA champion in the 200-yard IM, the 400-yard IM, the 200-yard butterfly, and two relays.
Senior Simone Manuel charged from behind to give Stanford the win in the 400-yard freestyle relay. This allowed the Cardinal to claim victory in all five of the meet's relays.
Manuel, a four-time Olympic medalist, ended her college career as NCAA champion in the 50- and 100-yard freestyle events, as well as 4 relays. She and her team broke U.S. records in three of those races.
Manuel said that she wants to use what she has learned at Stanford to continue "to enjoy the process of getting better with people who push me to be the swimmer that I am today."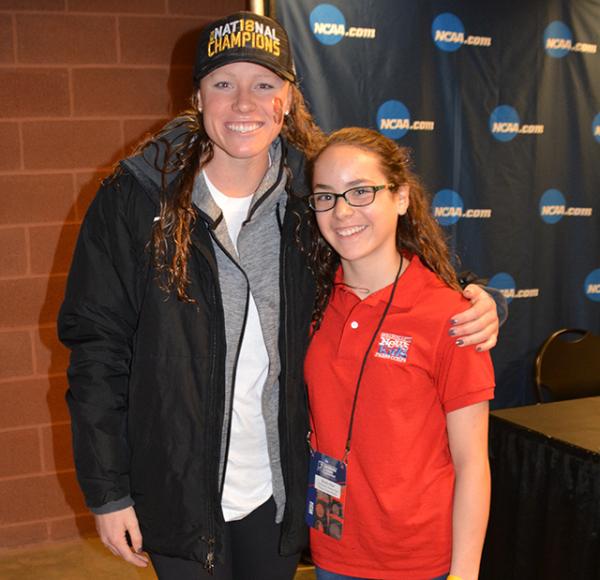 A SURPRISE FROM LEDECKY

At the end of the meet, Eastin was named Swimmer of the Year. Her grandfather, James Lewis, was there to cheer her on.
"I'm so happy for her, and I know the hard work that she's put into doing this," Lewis said. "I couldn't be more thrilled with her achievements."
Eastin credits her teammates with pushing her to be a better swimmer. "It makes it so much easier to stay motivated, knowing that every single person on our team is working so hard," she said. "Because this meet is all about swimming for your team, it's really easy to find confidence in everyone around you."
The Cardinal hope to build on this experience for future successes. "There's always something I'm working towards," Ledecky said.
Indeed, on March 26, Ledecky announced that she would become a professional, which means that she will no longer compete on the collegiate level. She will continue her studies and athletic training at Stanford to prepare for the 2020 Summer Olympic Games in Tokyo, Japan.
Photos courtesy of the author