Sports and Fitness Day at the White House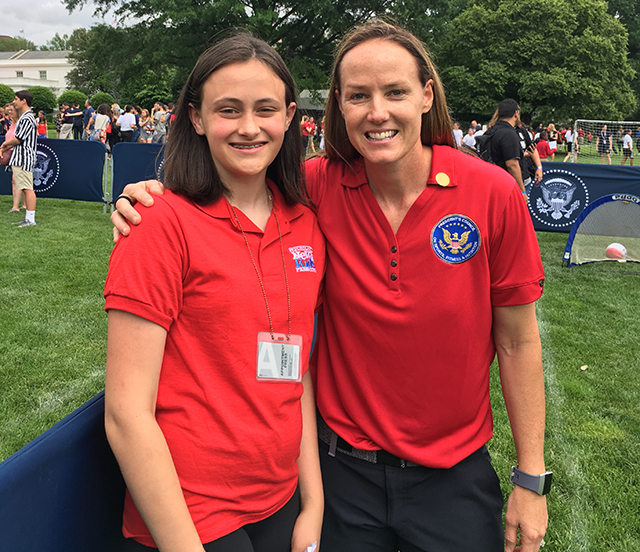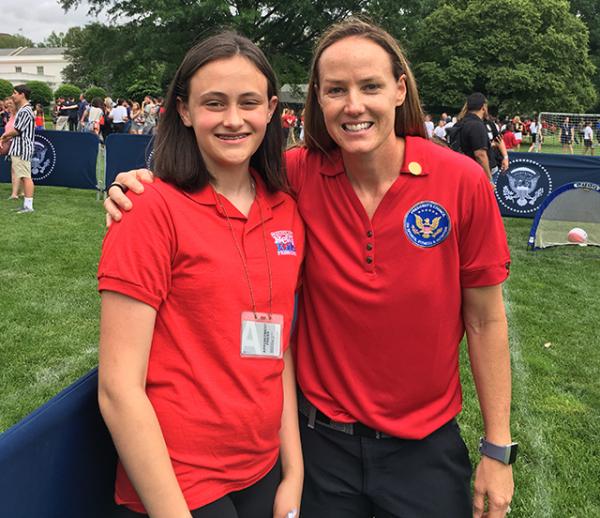 On May 30, the White House opened its doors to budding young athletes from around the country. The annual White House Sports and Fitness Day, which was hosted by President Donald J. Trump, got its start in 1956 during the presidency of Dwight D. Eisenhower.
During his opening remarks, President Trump emphasized the importance of youth sports and activities, especially for young people with disabilities and from low-income communities.
"In recent years, youth participation in sports has been declining," the president said. "In 2016, only 37 percent of young kids played team sports on a regular basis, down from 45 percent from 10 years ago. And the decline has been even worse among students from low-income families. We must reverse these trends, and we will." 
TIPS FROM THE PROS

The South Lawn of the White House was set up with athletic stations in baseball, flag football, track, volleyball, soccer, and golf, which is President Trump's area of expertise. The professional athletes in attendance gave students tips on throwing, catching, and other sports techniques.
Retired NFL star Herschel Walker, who won the Heisman Trophy in 1982; former New York Yankee Mariano Rivera, a 13-time All-Star pitcher; and Misty May-Treanor, a three-time Olympic gold medalist in volleyball, were among the athletes offering tips. They are co-chairs of the President's Council on Fitness, Sports, and Nutrition.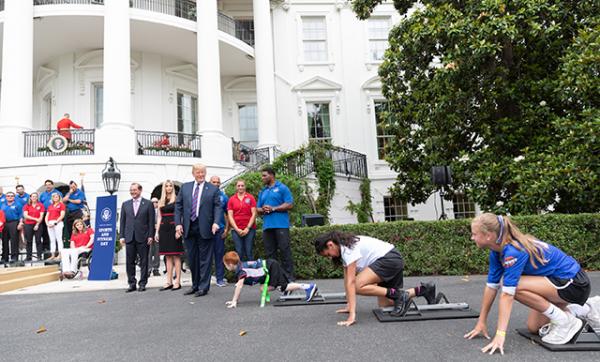 "TRY SOMETHING NEW"
At the soccer station, Shauna Rohbock was one of two athletes leading drills. Rohbock is a former professional soccer player who won a silver medal in the 2006 Winter Olympics in bobsled. She now serves in the United States Army National Guard.
Rohbock talked about the value of sports, creding her athletic background with helping her become the person she is today. Sports gave her "a lot of self-esteem," she said, and helped her "be a lot more resilient in life."
Rohbock believes that athletics can help young people get out of their shells and learn to work more cooperatively in daily life. She wants kids to know that even if they're not good at a particular sport, they shouldn't give up.
"Don't feel badly," Rohbock said. "There are other sports out there. Try something new."
"VALUABLE LESSONS"
President Trump and his eldest daughter and senior adviser, Ivanka Trump, also participated in the sporting events. Ivanka threw a spiral pass to Walker. The president, meanwhile, could be seen hitting baseballs in the batting cage and striking golf balls in the designated area.
"Many of life's most valuable lessons are learned on the field of competition," the president said, including "teamwork and social skills." He added, to laughter: "Do I have social skills? I don't know. I have social media. That's for sure." The president often makes inflammatory and inaccurate statements on Twitter.
Trump vowed that the Council would study the reasons for the decline in youth sports and offer ways for more kids to participate in athletic competition.
Top photo courtesy of the author; bottom: Official White House photo by Shealah Craighead