Smack Dab in the Middle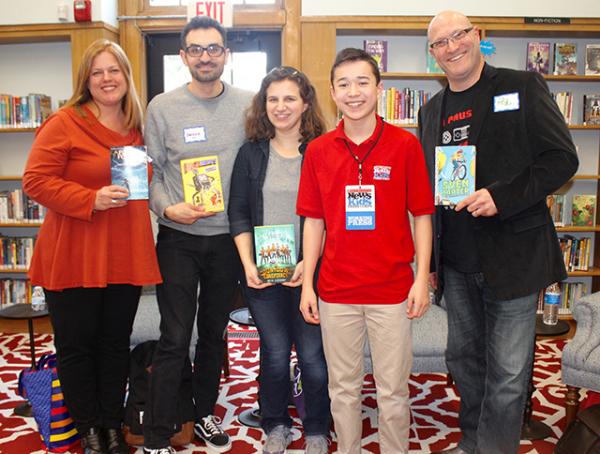 On March 3, middle-grade authors from the Boston area shared their stories at "Smack Dab in the Middle," a literary festival at the Dedham Public Library in Massachusetts. The event, which was sponsored by the Dedham Library Innovation Team and Blue Bunny Books, brought together more than 100 enthusiastic kids, parents, and educators.
Authors were grouped into three panels based on genre: fantasy, contemporary fiction, and science fiction. The first group talked about why they love writing fantasy—a chance to escape from reality and the freedom to write anything. "I can do the most suprising things and never get bored," Tui Sutherland said about writing her Wings of Fire series.
Authors of contemporary fiction discussed the characters in their books. Susan Tan, who wrote Cilla Lee-Jenkins: Future Author Extrordinaire, said that Cilla is semi-autographical. "I was an outspoken kid, and I didn't have hair until I was four years old," Tan said, smiling.
Anna Staniszewski (The Dirt Diary series and Once Upon a Cruise) said that her characters are completely made up. "They're based on middle-school drama," Staniszewski said. "It's balanced by humor and a little bit of magic."
Victoria Coe, who is the author of the Fenway and Hattie series, conveys her stories from the point of view of a dog. "If a dog could share its perspective, it's pretty realistic," she said. "Exploring different points of view makes you a better friend and listener."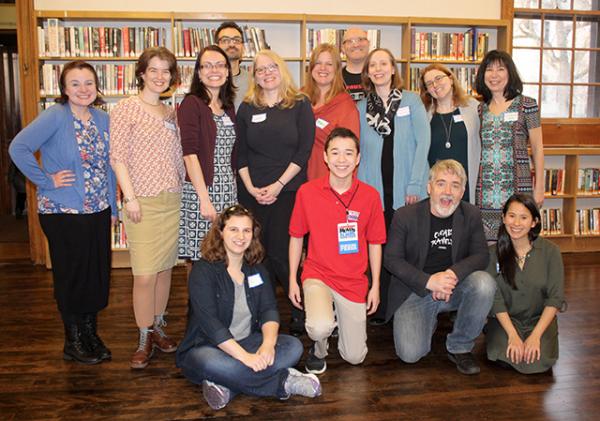 "CURIOUS AND DESTRUCTIVE"
Science fiction writers discussed some of their favorite books and movies, including the Harry Potter and Percy Jackson series, A Wrinkle in Time (now a movie starring Storm Reid), and Beauty and the Beast.
The authors also described what they were like as kids and the influence their parents had on them. "My father said that I could do anything, which instilled a lot of confidence in me," said Monica Tesler, the author of the Bounders series.
Growing up, Jarrett Lerner (EngiNerds) loved to create comic books. He also loved baseball and skateboarding. "My parents encouraged me to be passionate," he said. "They were my biggest supporters."
Rob Vlock, who is the author of the Sven Carter series, described himself as a "curious and destructive" child who enjoyed taking things apart around the house.
Vlock told the audience about one of his favorite childhood memories. One day, his father drove three hours with him so that they could explore a pond. "My father is 90 years old and still shares with me the things that he's read," Vlock said. "It's pretty cool that he's still learning."
Photos courtesy of the author