A Roller Coaster Ride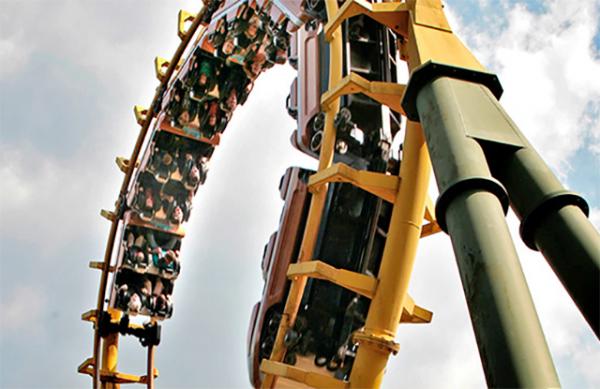 What thrills do you seek when you visit an amusement park? "People come into the parks, and they want something different and unique," says Joel Kornbluth, Vice President of Totally Bananas, a Florida-based company that manufactures treats made from frozen bananas.
This year's International Association of Amusement Parks and Attractions (IAAPA) trade show began on November 16 in Orlando, Florida. More than 1,000 exhibitors took advantage of the "nine miles of aisles" to showcase everything from "Ninjago," an interactive 3-D ride that lets visitors throw snowballs at a digital screen, to "Honolulu Hot Dogs," which are topped with tropical fruit.
"New technology and new innovations always fill the trade show floor," said Colleen Mangone, Director of Media Relations for IAAPA. "That makes the show exciting and fresh each year."
"X-TREME" FUN
Throughout the week, industry representatives from 120 countries toured the show. Some people even brought their kids to try out the rides and sample the food. For this reporter, the ultimate thrill came on the "Kuka Coaster," a robot-based ride that had me swiveling in wild rotations, wondering what would happen next as I hung upside down. The coaster, which seats two people, lets passengers customize their experience from "gentle" to "x-treme." I chose the latter.
Other highlights included testing my sports skills with interactive games and simulating the experience of falling 500 stories on the "Finger Coaster" designed by SMAAASH Entertainment, a company based in India. The coaster lets you make your own ride by drawing it out with your finger, which is how it gets its name. A virtual-reality headset allows you to choose the setting for the experience, like a beach or a lake.
This year's show, Mangone said, "was all about how rides are incorporating new technology, specifically virtual reality, to add a new dimension to the visitor experience." Whether you were twisting and turning or getting frozen treats, there was something for everyone!
Watch Bobby ride the Kuka coaster at the IAAPA Attractions Expo.
Photo by Stijn Rademaker/HH/Redux Picture