Republicans Focus on Terror—and Trump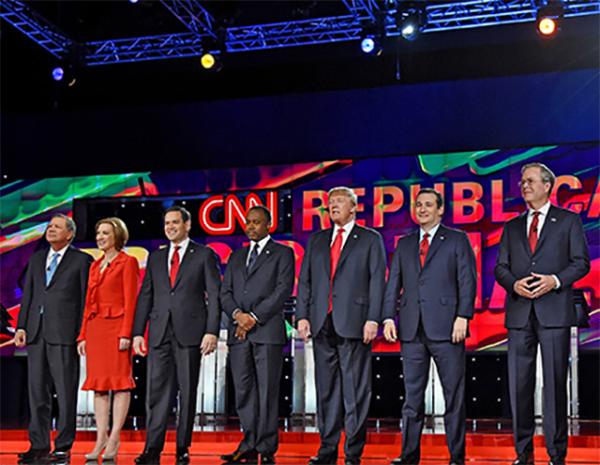 On December 15, as students across the United States awaited winter break or studied for exams, 13 Republican presidential candidates prepared to debate at The Venetian in Las Vegas, Nevada. Two debates were held to accommodate the 13 candidates. The prime-time debate featured the top nine candidates: business executive and television personality Donald Trump, Texas Senator Ted Cruz, former neurosurgeon Ben Carson, Florida Senator Marco Rubio, former Florida Governor Jeb Bush, former business executive Carly Fiorina, New Jersey Governor Chris Christie, Ohio Governor John Kasich, and Kentucky Senator Rand Paul.
A lot was at stake. "Every debate can be a game changer for a candidate running for president," said CNN's Kate Bolduan. "But tonight's debate, when you look at the calendar, is unique."
The debate offered one of the final opportunities for the candidates to express their views on a national stage before the primary elections begin in February. "That's really putting the pressure on for these candidates," Bolduan added.
The first primary election in the U.S., the Iowa Caucus, will take place on February 1, 2016. The following week, on February 9, New Hampshire voters will go to the polls. The results of the primary elections across the country will determine the Republican and Democratic nominees for president.
ADDRESSING THE TERROR THREAT
In the wake of the December 2 terrorist attacks in San Bernardino, California, which killed 14 people and seriously injured 22, and an email threat that closed the Los Angeles public school district on December 9, national security was a key topic for the candidates.
"How do we keep America safe from terrorism?" Senator Paul said in his opening statement. "I think we defeat terrorism by showing them that we do not fear them."
Trump said that he would respond to the threat of terrorism with "toughness" and "strength," which might include blocking access to the Internet in areas of the Middle East where terrorists operate.
TALKING ABOUT TRUMP
Another big topic at the debate was Trump himself, who is the frontrunner among Republicans. Several candidates, including Jeb Bush, sought to portray Trump as an individual who is not qualified to be president.
"[Trump] is great at—at the one-liners," Bush said. "But he's a chaos candidate. And he'd be a chaos president. He would not be the commander-in-chief that we need to keep our country safe."
Trump's bid to become president has been controversial, partly because he has no political experience. He has also made inflammatory statements about immigrants, Muslims, and others.
But Trump's candidacy has brought increased attention to the presidential campaign, with record numbers of viewers tuning in to the debates. "If Trump being in the race brings more attention to the debates and more viewership," said Aaron Kall, Dean of Students at the University of Michigan, "that means more people are involved and know about the campaign platforms."
Republicans will hold their next debate on January 14, 2016. Democrats will meet on December 19 in Manchester, New Hampshire: Former Secretary of State Hillary Clinton, Vermont Senator Bernie Sanders, and former Maryland Governor Martin O'Malley will share their views on national security and other issues important to voters. The Scholastic News Kids Press Corps will be there to cover the event.
Photo by Ethan Miller/Getty Images