Republicans Debate the Issues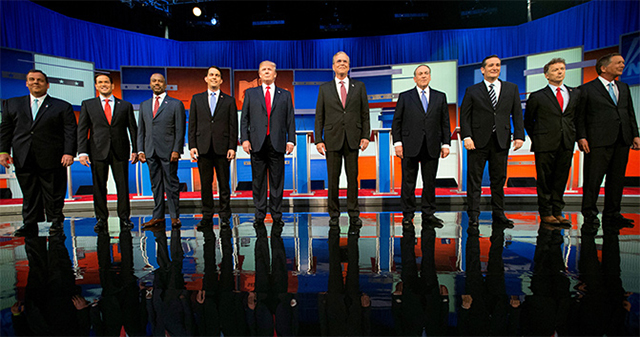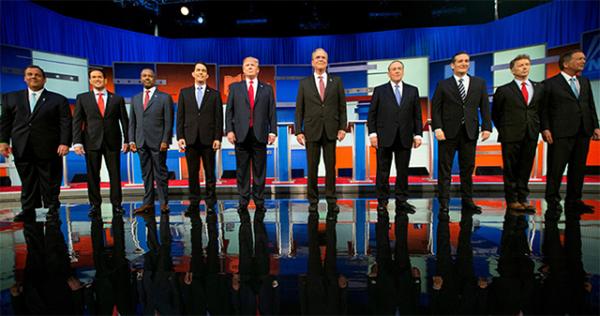 On August 6, the first big Republican debate of the 2016 presidential campaign took place in Cleveland, Ohio. Supporters of the candidates, as well as members of the media, filled the Quicken Loans Arena.
"I think it's interesting to see who's going to pop out of this in some way, whether it's good or bad," TV reporter Stacey Frey told me as the arena buzzed with excitement.
Two debates were held in order to accommodate the field of 17 candidates. But it was the second debate, which featured the top-10 hopefuls, that drew the most attention. A record 24 million viewers tuned in. Many wanted to see front runner Donald Trump, a successful real estate executive who is best known as the host of The Apprentice, a popular reality TV show.
"ABOUT THE FUTURE"
During the debate, Trump faced off against former Florida Governor Jeb Bush, Wisconsin Governor Scott Walker, former Arkansas Governor Mike Huckabee, retired neurosurgeon Ben Carson, Texas Senator Ted Cruz, Florida Senator Marco Rubio, Kentucky Senator Rand Paul, New Jersey Governor Chris Christie, and Ohio Governor John Kasich.
Senator Rubio, 44, is the youngest candidate in the race. Observers noted that he made a strong case for why he should be the next President. "This election better be about the future, not the past," he said. "It better be about the issues our nation and the world [face] today, not simply the issues we once faced."
Governor Kasich, the hometown favorite in the arena, drew cheers after promising to add jobs to the economy. "Once you have economic growth," he said, "it's important that we reach out to people who live in the shadows, the people who don't seem to ever think that they get a fair deal."
LISTENING TO KIDS
As for issues that matter most to kids, Governor Bush talked about education and the need for today's students to prepare to compete in a global economy. "I'm for higher standards," he said, adding that during his time as Governor of Florida, "We had rising student achievement across the board, [and] our graduation rate improved by 50 percent. "
When I asked Ben Carson about the challenges facing our generation, he cited the national debt, which is now more than $18 trillion.
"Thomas Jefferson [the chief author of the Declaration of Independence and the third U.S. President] said that it was immoral to pass debt on to the next generation," Carson said. "If we could bring him back in a time machine, and he could see what was going on now, he would [be horrified]."
TUNE IN
The next Republican debate is slated for September 16. Democratic candidates will face off on October 13. For now, all of the candidates have one thought in mind: winning the White House in 2016.
Photo by Andrew Harnik/AP Images