Record Breakers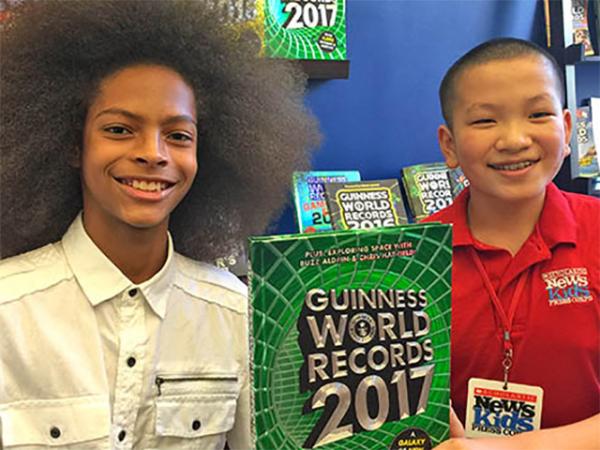 Where can you find the tallest, fastest, largest, and strongest? Check out Guinness World Records 2017. The new edition of the popular series is loaded with awe-inspiring people, places, and things. You'll find the fastest spinning supermassive black hole, the world's longest column of ants, and the man who holds the record for swallowing the most swords while atop a unicycle.
I recently visited the Guinness offices in New York City to meet a few record-holders, including Tyler Wright, 14, who has the world's largest male afro.
The title came with a few inconveniences. When the eighth-grader from St. Louis, Missouri, first started growing out his hair, he said, "I couldn't walk two steps without someone grabbing or putting something in it."
Tyler admitted that he grew out his afro, which is 10 inches high and 9 inches wide, to outdo his father, who also had an afro as a young man.
WALKING MUSEUMS
I also spoke with Charlotte Guttenberg and Chuck Helmke from Melbourne, Florida. They are the world's most tattooed senior citizens; 91.5 percent of Guttenberg's body surface and 93.75 percent of Helmke's are covered with tattoos.
Guttenberg and Helmke are walking museums of Japanese mythology. Each image on their bodies, from stuffed animals to a Japanese dragon, has a special meaning to them.
When asked if they would get more tattoos, Guttenberg said that she wouldn't stop until "all of my tattoos literally become one." Helmke said that he planned to link the tattoos on his head with waves or smoke.
JUGGLING ON A POGO STICK
Ashrita Furman of New York City holds a whopping 206 records. That makes him Guinness's most prolific record-holder. Among his records are the most balloons blown up with a nose in three minutes (29), and the most hops on a pogo stick in one minute (178).
Furman said that a healthy competition with other record holders motivated him to keep breaking records. I asked which record he hopes to break next. "Most bowling balls caught on the forehead in one minute," he said.
Furman also wants to create a new record category for next year's edition: "Longest time juggling three balls while on a pogo stick." Which Guinness record would you like to break or add?
WATCH THE VIDEO
See clips from Joshua's conversations with some of the record holders who made it into Guinness World Records 2017.
Photo courtesy of the Kids Press Corps.