A Rally for Immigrants' Rights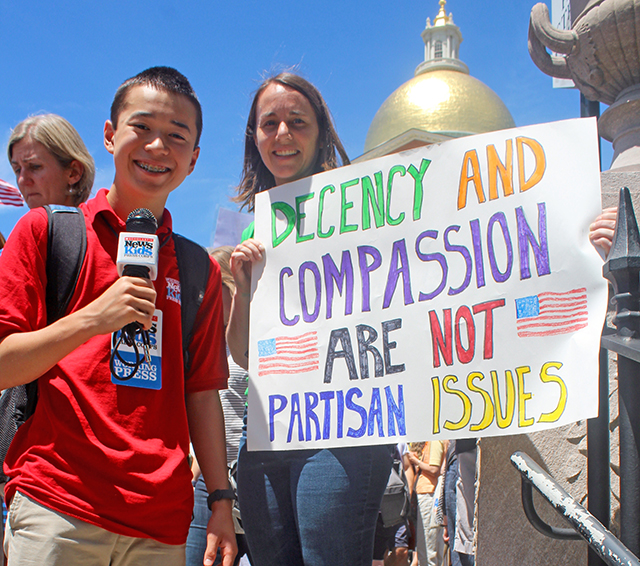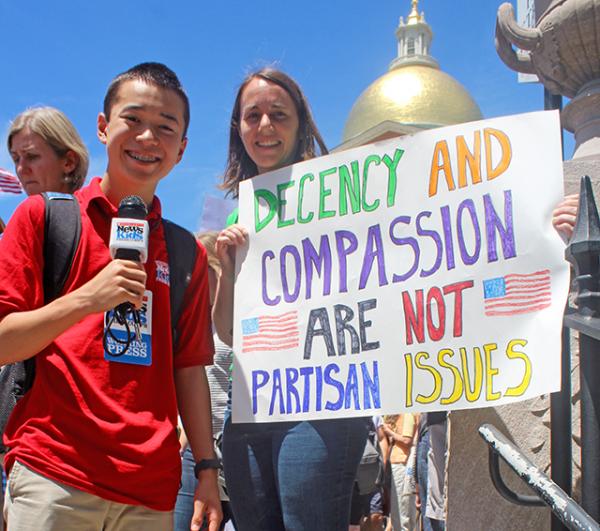 "It's important that we make our voices heard," said Brit Frerotte of Boston, Massachusetts. "If we all just stand by, nothing is going to change. We're talking about the most vulnerable people—kids. It says on the Statue of Liberty that we're supposed to welcome them." 
I spoke with Frerotte at a protest rally at the Massachusetts State House in Boston, where hundreds of people gathered on June 20 to speak out about immigrants' rights. The protesters held signs and chanted, "No hate, no fear, immigrants are welcome here." 
The rally was organized by local rights groups, including the American Civil Liberties Union of Massachusetts and the Massachusetts Immigrant and Refugee Advocacy Coalition.
Kids and adults spoke out against President Donald J. Trump's "zero tolerance" immigration policy. Specifically, they were upset about the provision that allowed more than 2,300 migrant children to be separated from their families at the border between the United States and Mexico. Many of the families are fleeing violence in other countries and seeking asylum (protection) in the U.S. 
"It's a human rights violation that the U.S. government should not stand for," said Brad Bolman, who lives in Cambridge. "It's also symptomatic of a broader failure of our politics that we've allowed greed and fear of others to overwhelm this welcoming ethos and care for people who aren't from inside the United States."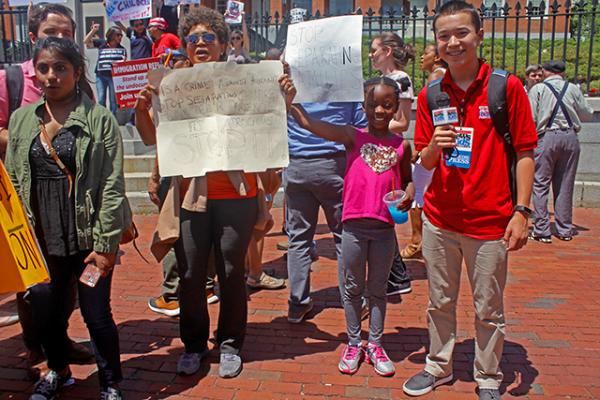 KIDS MAKE THEIR VOICES HEARD
There were several young people among the protesters. "It's not right. It's inhumane," said Quincy Birkenhead, 11, from Sharon, Massachusetts.
Quincy, a homeschooler, participated in the rally with his mother. As part of his curriculum, he has been studying civics and government and meeting with local politicians. 
Many kids reported that they are listening to the news and getting involved. "This rally is important because it's about standing up for justice," said Kartrik Pringle, 14, of Cambridge. "It makes me feel very empowered." 
"I want people to know that Donald Trump is not running the country right, and he's doing some unsafe things," said Destiny Okoye, 8, of Boston. "He wants to spread families apart, which I think is really bad. Being here [at the rally] makes me feel happy and proud of myself."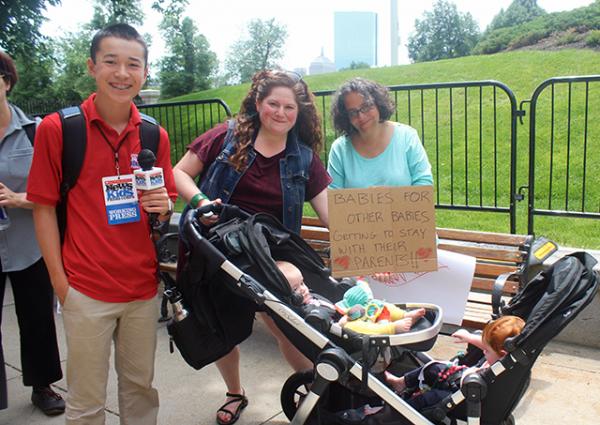 TRUMP BOWS TO PRESSURE
A few hours after the rally, President Trump responded to the outcry over his policy and signed an executive order stopping the enforced separation. Still, many people worry how and when hundreds of young children who are currently being held will be reunited with their families. 
Rabbi Margot Meitner, who lives in Boston, attended the rally with two young children. Meitner's grandparents survived the Holocaust.
"It's not only about separating babies from their families, but it's also about dehumanizing people seeking refuge, asylum, a better home, a safer home in this country," she said. "My family—we're refugees—I want to make sure that this country remains a place where refugees are welcome."
Photos courtesy of the author