Rain Adds Suspense to Nathan's Hot Dog Eating Contest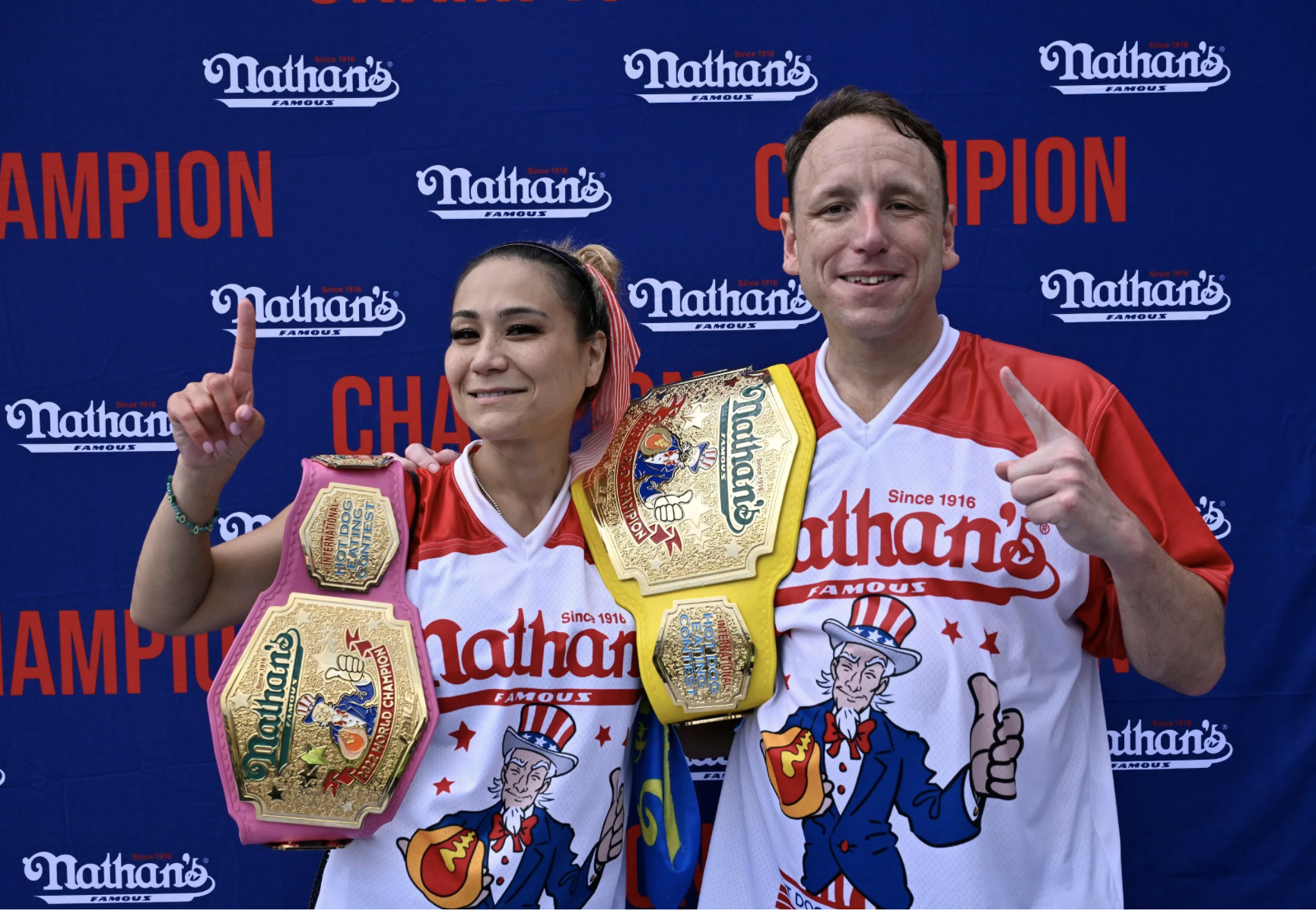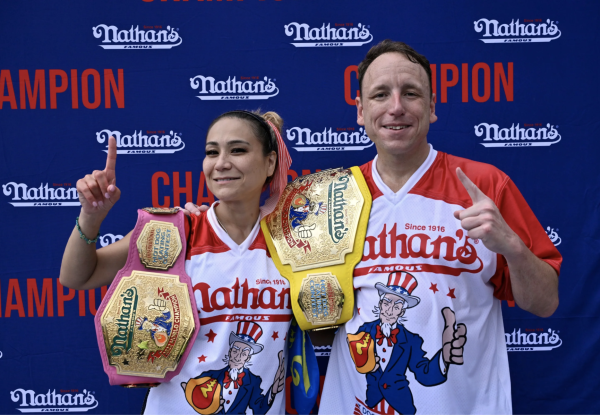 How many hot dogs do you think you could eat in 10 minutes? On July 4, an estimated 35,000 fans eagerly awaited Nathan's Famous Hot Dog Eating Contest. Millions of others watched the contest, which took place in Coney Island, New York, on television. Everyone wondered how many hot dogs the winner would be able to eat.
The contest has taken place every year since 1916, when Jim Mullen, an Irish immigrant, won after eating a total of 13 hot dogs and buns. The current world record is held by Joey Chestnut, who has consumed 76 hot dogs in 10 minutes.  
Coney Island is located about an hour by subway from the skyscrapers of Lower Manhattan. It is a popular beach getaway with historic roller coasters and a boardwalk often jammed with tourists. Each year on the Fourth of July, people line up early to claim a place in the "pit" before the contest begins. They wait hours to see top hot dog eaters compete for the grand prize, the Yellow Mustard Belt.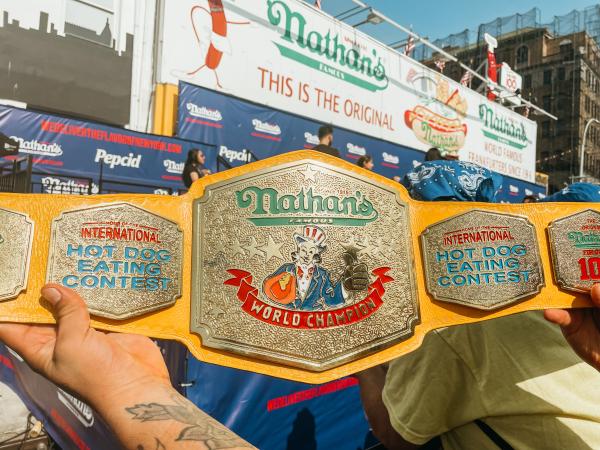 "THE CROWD IS GREAT"
As fans gathered around the makeshift stage this year, a carnival-like atmosphere unfolded. The master of ceremonies, George Shea, led the crowd in chants and songs in his signature straw hat. As he raised his arms on the stage, he yelled, "There may be three musketeers, two sides to every story, but there's only one Coney Island!" Then Amos Wegner, a local troubadour, sang his popular "Hot Dog Song."
People laughed and cheered. Many were wearing yellow foam hot dog hats. Some held signs with messages that included "I AM THE CHOSEN BUN."
At 11 a.m., the women contestants lined up at the table and the official timer started. The rules state that each contestant must eat the entire hot dog and bun for it to count. Defending champion Miki Sudo appeared to be in a close match with rookie competitor Mayoi Ebihara. After the judges reviewed the contest footage, Sudo was proclaimed the official winner with a total of 39 hot dogs consumed.
"The crowd is great," Sudo said after her victory. "I pushed hard."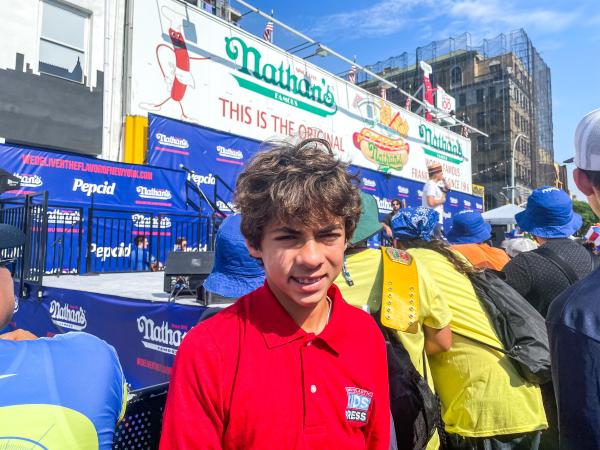 LIGHTNING STRIKES
As the stage was reset for the men's competition, ominous clouds rolled in. Lightning struck near the stage, and a torrential downpour followed, lasting about an hour. 
An announcer frantically yelled for everyone to take cover. After the skies cleared, spectators, contestants, and staff were given conflicting information about whether the contest would take place.
Hours later, though, the male contestants lined up on the stage to eat their hot dogs. Chestnut, 39, took the lead early. Soon he won his 16th Nathan's title with a final count of 62 hot dogs. When asked about the weather delay, Chestnut said, "It was a roller coaster emotionally. They told us it was canceled. We weren't sure we were going to eat today, and I'm just happy. It's the Fourth of July and I got to eat some hot dogs."
Top photo courtesy of Nathan's; other photos courtesy of the author