Queen Bee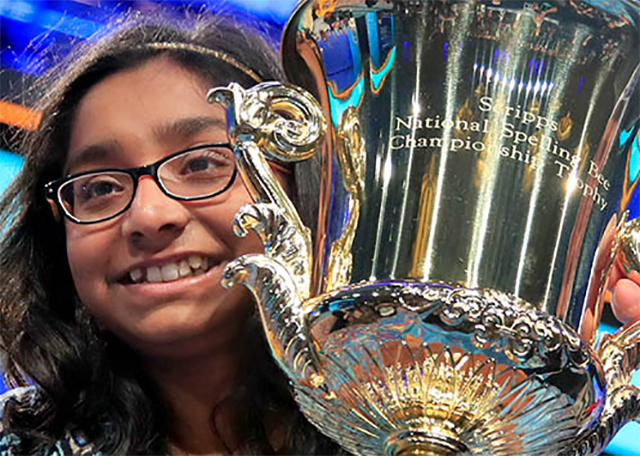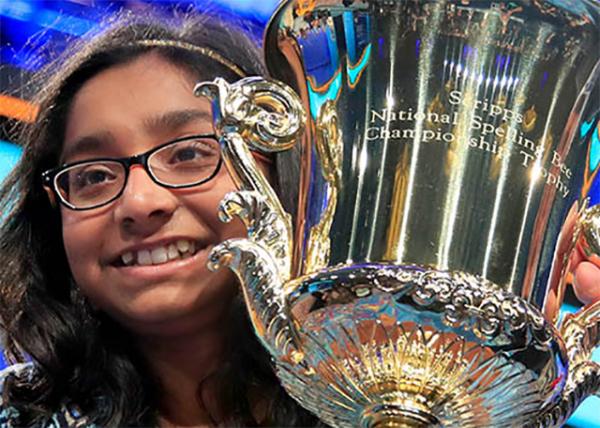 As the clock ran down on June 1, contestants at the 90th Scripps National Spelling Bee in Oxon Hill, Maryland, struggled to spell their assigned words. Some spellers "wrote" the word on their hands with their index fingers. Others "typed" on imaginary keyboards. Many of the elementary and middle school contestants asked about the word's language of origin or how the word could be used in a sentence.
Of the 291 contestants, Ananya Vinay was the last one standing. She won by correctly spelling the word marocain (MA-ruh-kayn), which is a dress fabric.
"I just focused on my word and tried to spell it right," Ananya said. In all, the 12-year-old from Fresno, California, spelled 35 words correctly. As the winner, she took home a trophy and $40,000 in prize money.
HOW DO YOU SPELL "HUMOR"?
Last year, for the third consecutive year, the competition ended in a tie. As a result, Scripps introduced a handwritten test this year that could be used to break ties.
A tiebreaker was not needed for this competition. Still, the atmosphere was tense. Some of the spellers used humor to put themselves at ease. Jashun Paluru, 12, from West Lafayette, Indiana, said that he had wanted to wear a shirt that read, "I speak fluent sarcasm." His mother thought better of it. Jacques Bailly, the official pronouncer, used words in humorous contexts, including first dates, spirit animals, and emojis.
Although the competition was fierce, the spelling bee was characterized by a culture of respect. Shrinidhi Gopal, 13, from San Ramon, California, spoke with awe about her fellow spellers. "Competing against such amazing spellers," she said, "[is] what makes me nervous."
When offering inspiration to other students who might want to participate, 14-year-old Alex Iyer from Texas said, "You're just as good as anybody else. Hard work will always win out."
Photo by AP Photo/Manuel Balce Ceneta