A Q&A With Jeff Kinney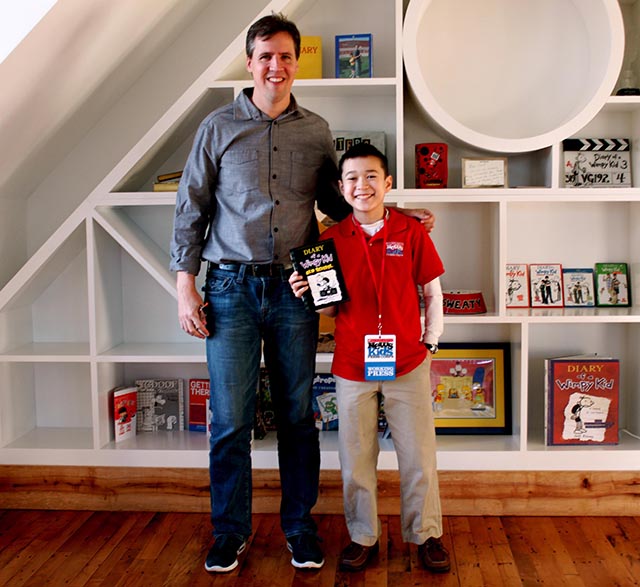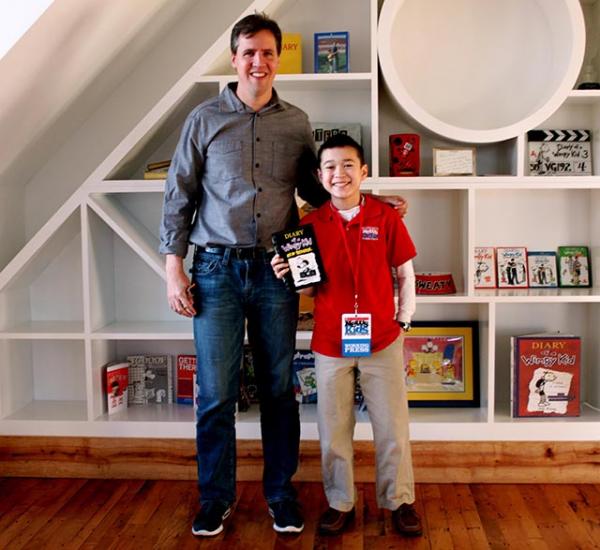 Author/illustrator Jeff Kinney is the creator of the best-selling Diary of a Wimpy Kidbook series, which is published by Harry N. Abrams. Kinney's latest book in the series, Diary of a Wimpy Kid: Old School, is funny and entertaining, with a story that kids can relate to. The main character, Greg Heffley, is a middle school student who wonders if the "good old days" were really so great.
I recently had the pleasure of meeting Kinney at his bookstore, An Unlikely Story, in Plainville, Massachusetts. He was fun to talk to and happy to answer my questions for the Scholastic News Kids Press Corps. Here are excerpts from our conversation:
How long have you been writing the Diary of a Wimpy Kid series?
I've been writing since 1998. That's 18 years. I've been a published author for 9 years.
Why did you start writing for kids?
It was by accident. When I first started writing Diary of a Wimpy Kid, I thought I was writing for grown-ups. My publisher told me that it was a children's series.
How do you come up with your ideas?
I take long walks. If I walk for a long time, then I'll come up with an idea. I come up with my characters from real life. I take something funny and true and turn it into fiction.
Is there a book in the series that you are most proud of?
The 10th book was a challenge for me because I was trying to write something funny when I had some serious things happening in my real life.
Is there a character who is most like you?
I can relate to Greg because he's an imperfect character like me.
What is your writing process like?
For five months, I walk and write jokes. Then I write the manuscript in my studio. I write 20 pages each day. I can write the book in 3 weeks. Then, for two months, I spend 13 to 15 hours per day drawing. I submit my book to my publisher in September, and the book comes out in November.
Do you ever experience writer's block? If so, how do you overcome it?
Yes, I always experience writer's block. No, I don't know how to overcome it. I wish I did.
Which children's book authors do you admire?
When I was little, I liked Judy Blume and Beverly Cleary. Now I like to read nonfiction, and I like sports writers.
Are there cartoonists whom you admire?
Yes, my heroes are Bill Watterson, the creator of Calvin and Hobbes, and Gary Larson, the creator of The Far Side.
What activities did you like to do as a kid?
I liked to read comics, and I liked to draw.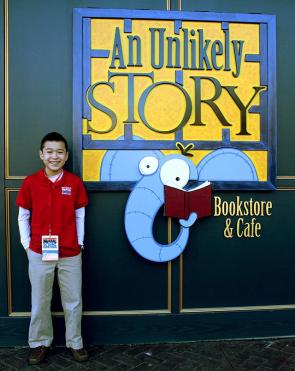 What is your best middle school memory?
I don't have good middle school memories. I'm surprised that my sons, ages 10 and 13, have good experiences.
What is your advice for aspiring author/illustrators?
The people who really work are most likely to succeed. It's too easy to watch TV and play video games.
Is there a new book coming out? If so, can you tell us about it?
The 11th book will come out next November. Greg thinks he's special and sets out to prove it.
Photos courtesy of the author