Putting a Twist on Van Gogh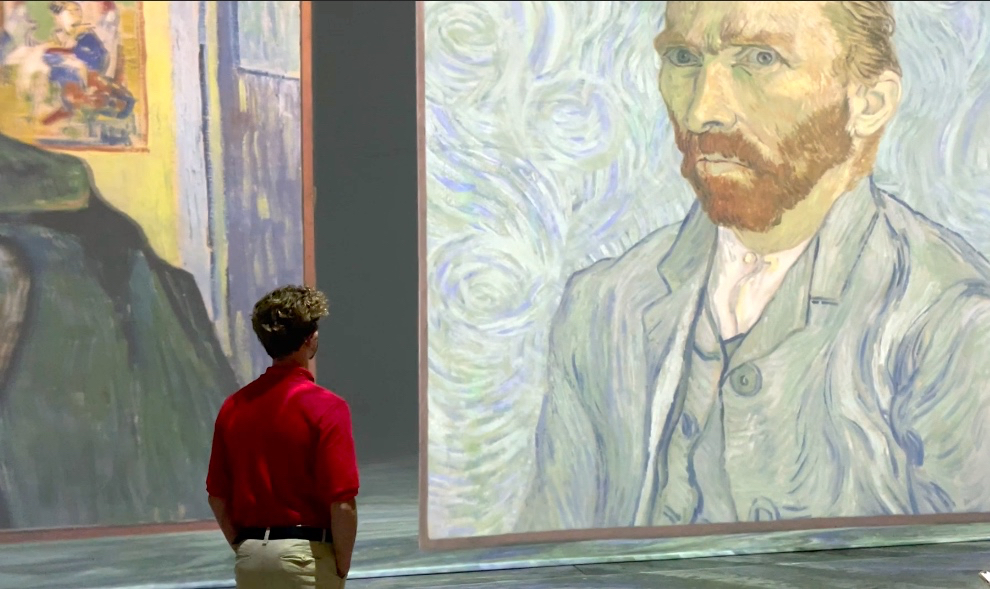 A self-portrait of Vincent van Gogh winked at me. The Dutch painter's life and Post-Impressionist art are the subjects of Beyond Van Gogh: An Immersive Experience. The interactive exhibition is currently open in San Diego, California. It will continue touring through North and South America later this year.
The unique show was created in 2020 by Mathieu St.-Arnaud, the creative director of Normal Studio in Montreal, Canada, and his team of artists. The self-guided tour includes pivotal moments in van Gogh's life and some of his correspondence with his younger brother, Theo, who served as his art dealer and protector.
More than 300 van Gogh paintings were digitally reproduced and edited into a 35-minute film that plays on a repeated loop. The film is presented on a large digital landscape using 360°-projection technology.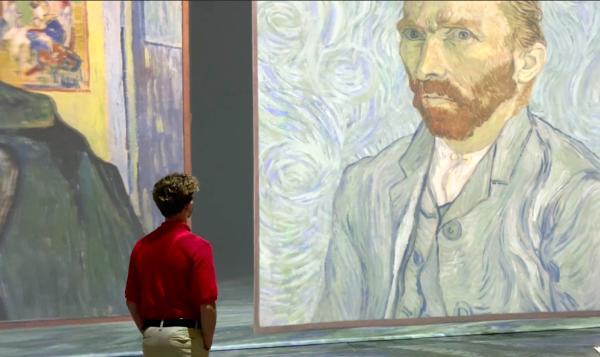 "A NEW WAY TO EXPERIENCE ART"
Now considered one of the most famous artists in history, van Gogh only sold one painting before his death in 1890 in France.
"Not everyone can go to a museum that owns a real van Gogh painting," said Samantha Kates, 14, who viewed the exhibition in Los Angeles. "This showed me a new way to experience art."
Like many visitors, Samantha was intrigued by the technology that allows viewers to interact with van Gogh's paintings. "There was a projector that was making all of these colors appear," Samantha said. "It would also appear on my own skin, and that really made me feel a part of the painting."
Samantha encouraged her younger sister to experience the exhibition in San Diego. "I didn't know anything about his life," said 11-year-old Abby Kates. "I only knew the Starry Night painting. Now I know a lot about van Gogh's life, and I'm really interested in it."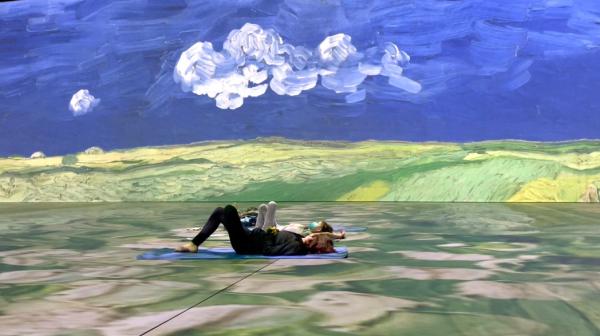 ENJOYING THE JOURNEY WITH A "TWIST"
Abby found yet another benefit to the exhibition. "My Beyond Van Gogh experience was different because I got to do yoga," she said. "It was peaceful, and we got to meditate while enjoying the art."
Local yoga instructors definitely put a "twist" into the experience of viewing van Gogh. Michael Caldwell is the founder of Yoga One San Diego. After teaching an hour-long class, he explained the benefits of mindfulness and creativity.
"Yoga is really a process," Caldwell said. "It brings awareness to the present moment. It cultivates mindfulness, flexibility, and strength."
Caldwell hopes that visitors to the exhibition and yoga practitioners will be changed by the experience. "Doing yoga in in an environment like the van Gogh show really helps you to focus on the constancy of change, which we can see through the exhibit with Van Gogh's progress over time. And seeing that process in ourselves, we can better appreciate it, knowing that it's about the journey versus the destination."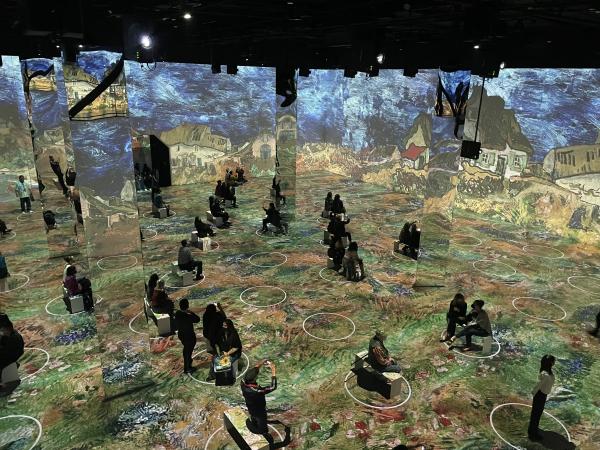 Photos courtesy of the author