A Night at the National Book Awards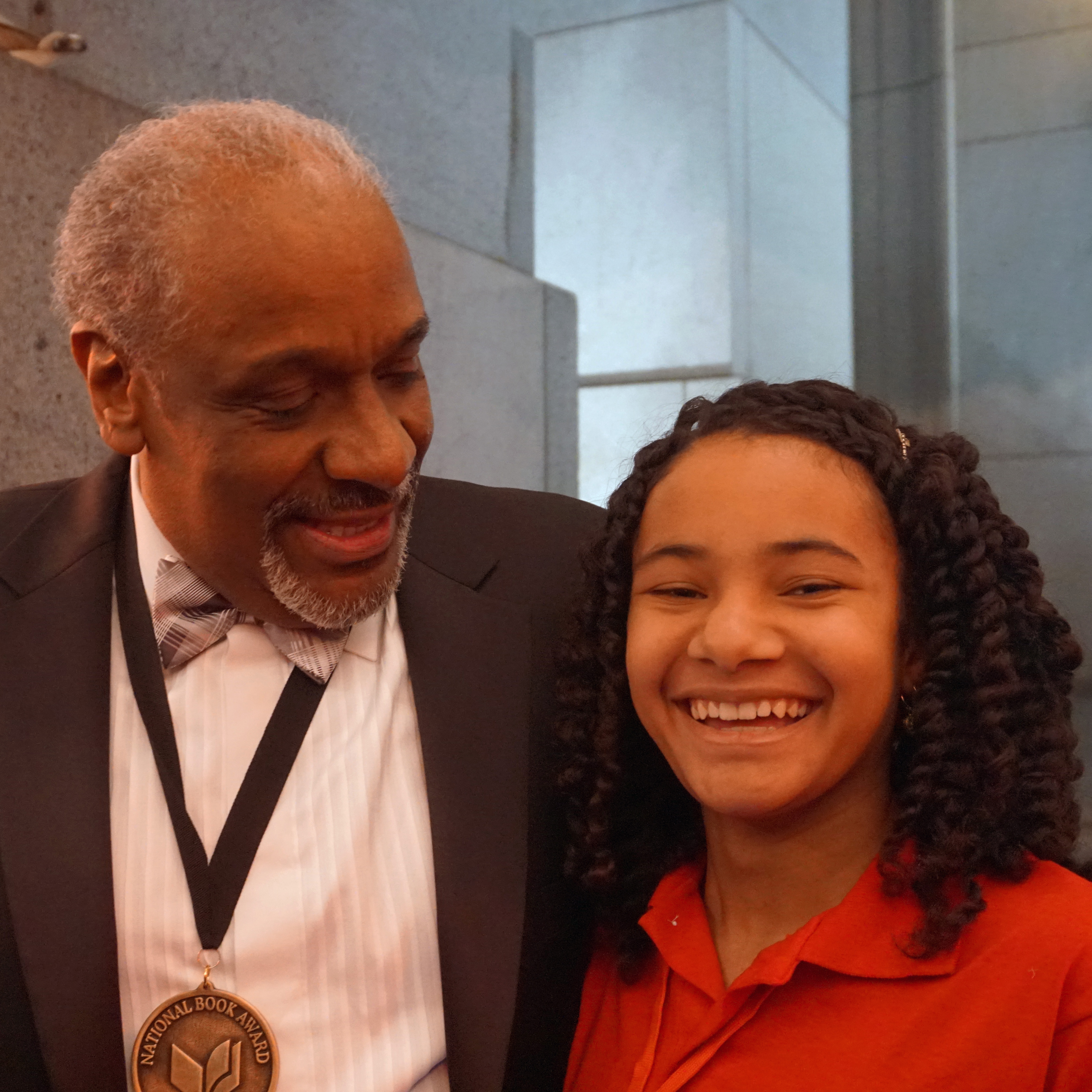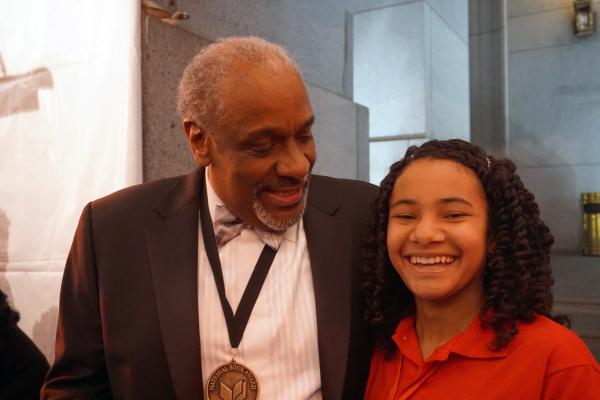 "For my writing, I don't need to invent much," said author Isabel Allende. "I draw on other people's lives, especially the strong and passionate women I meet everywhere."
The novelist received the 2018 Medal for Distinguished Contributions to American Letters at the National Book Awards ceremony earlier this month. Allende's books, which blend magic and realism, draw upon her experiences living under repressive governments in Latin America. She now lives in the United States.
"I believe in the power of stories," Allende told the audience at the awards ceremony. "If we listen to another person's story, if we tell our own story, we start to heal from division and hatred, because we realize that the similarities that bring us together are many more than the differences that separate us."
"YOU'RE ENOUGH"
The National Book Awards have been presented annually since 1950. They honor the year's most outstanding works in Young People's Literature, Poetry, Nonfiction, and Fiction. This year, an award was added for Translated Literature.
While at the event, I spoke with the nominees for Young People's Literature: Elizabeth Acevedo (The Poet X); Eugene Yelchin and M.T. Anderson (The Assassination of Brangwain Spurge); Leslie Connor (The Truth as Told by Mason Buttle); Christopher Paul Curtis (The Journey of Little Charlie); and Jarrett J. Krosoczka (Hey, Kiddo).
I asked Acevedo, who won the award, what she wanted to convey in her novel-in-verse about an Afro-Latina heroine. She hopes to inspire "all young people," she said, "especially young women, to speak up, to take up space, and to believe in the story you have to tell."
Readers of all ages have told Acevedo that her book has helped them feel more understood. "Literature should make you feel heard," she told me. "It should make you feel like you are not alone in the world. I hope that this book and any others I write show readers that you're not alone, you're here, and you're enough."
Acevedo, who grew up in New York City, is the only daughter of immigrants from the Dominican Republic. "As the child of immigrants," she said in her acceptance speech, "as a black woman, as a Latina, as someone whose accented voice holds certain neighborhoods, whose body holds certain stories, I always feel like I have to prove that I am worthy enough."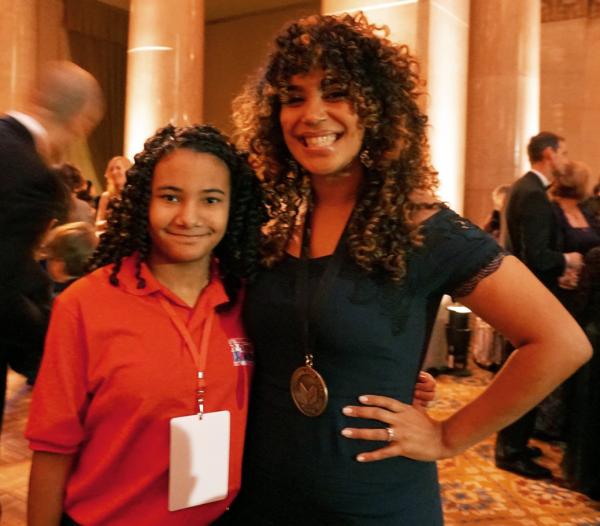 "I'M BUSY INVENTING"
This year's ceremony was held at Cipriani Wall Street. Each table was decorated with flowers and the books of the evening's nominees. Towering Greek columns and dim lighting gave the venue a feeling of serenity, while bustling waiters clad in white coats and distinguished guests in fancy clothing added to the excitement. Everyone was eager to find out who would win the $10,000 prize and bronze sculpture for each category.
I watched the events unfold from the press box with other reporters, focusing my interviews on the authors of Young People's Literature. Here are highlights from my conversations with the nominees:
Why are you here today?
Yelchin (smiling): I so rarely have the opportunity to wear a tuxedo. This is an excellent opportunity, so I took it.
Where did you get the idea for The Assassination of Brangwain Spurge?
Yelchin: I met with Tobin [M.T.] for lunch in Los Angeles, for about 30 minutes.
Anderson: It was the only time we met. We admired each other's writing.
Yelchin: Although we live in different cities, I said to him that I'd be interested in working on a book in which illustrations, instead of helping readers understand the text, make it incomprehensible and tell a very different story.
Anderson: So, the text and illustrations disagree.
Yelchin: They completely disagree, and I couldn't find a better writer to do this with than M.T. Anderson.
What is your favorite thing about The Truth as Told by Mason Buttle?
Connor: I think the part that appeals to readers the most is the emotional heart of the story. That's a broad thing to say, but that's what draws you in. Mason [the 12-year-old narrator] also has an interesting, quirky voice. Once your ear picks it up, hopefully you want to follow it. That's how it was for me as the writer.
Was Mason inspired by anyone?
Connor: My characters are usually a composite of people I know, or have met, or have read about, or that I can imagine. Mason's story came from bits of nonfiction, which is what I'm always after. I'm looking for nonfiction that inspires me to write fiction. When I read nonfiction, my imagination begins to take off. I have all kinds of ideas, and I begin to build a story. I don't really care what the true story is after that because I'm busy inventing.
This was a sad story about some kids who made a big mistake and hurt another kid. That was the seed of the idea, and then I thought: What happens to the rest of the community because of this incident, and what happens to someone who may have been, or may not have been, an innocent bystander to the whole thing?
What message do you hope to convey in The Journey of Little Charlie?
Curtis: One thing I don't want to do is convey messages. I want to tell a story, and I want both young readers and old readers to be able to draw from it. The thing that I'm trying to do with The Journey of Little Charlie is talk about tolerance and about the fact that even though we're brought up a certain way, we don't have to stay that way. We can change. I think that there's an innate goodness in all of us.
Why did you decide to write children's books?
Curtis: I actually didn't decide to write children's books. My first book, The Watsons Go to Birmingham, had a 10-year old narrator, but I didn't think of it as a children's story. I just thought it was a story told by a 10-year-old boy. So I was surprised when I found out that it was a children's book. One thing hits, and you keep going back again.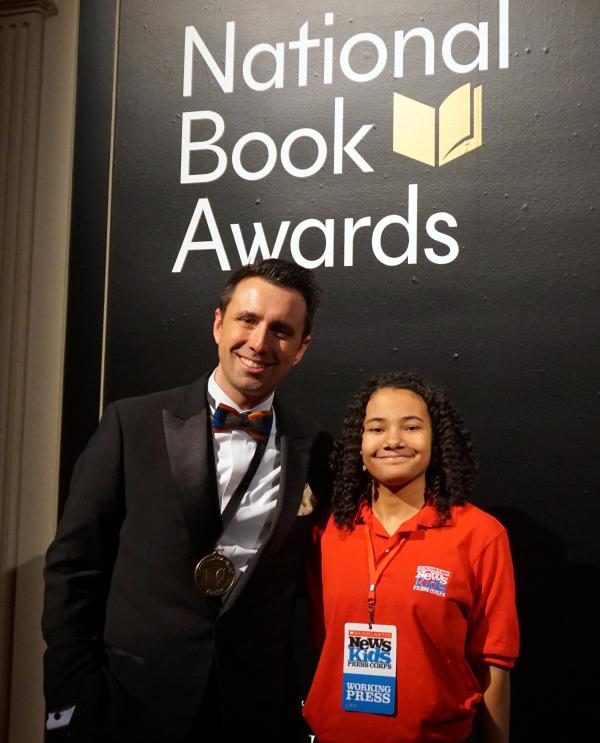 Why did you decide to tell your story in Hey, Kiddo, a graphic memoir?
Krosoczka: I delivered a TED talk, where I spoke a little about my past and my mother's addictions and troubles. I met so many young people across the country who are dealing with a similar plight at home, and that's what motivated me to write this.
What are some of the responses you've gotten from readers who can relate to family struggles with addiction?
Krosoczka: I've heard from a lot of people who've said that this is the first time they've seen that situation talked about in a book for young people. And so, they're seeing their story on the pages for the first time.