A Night to Celebrate Harry Potter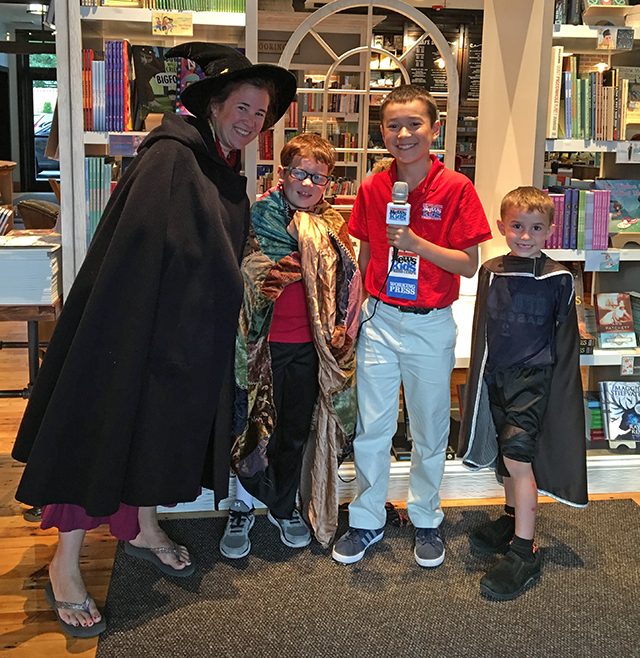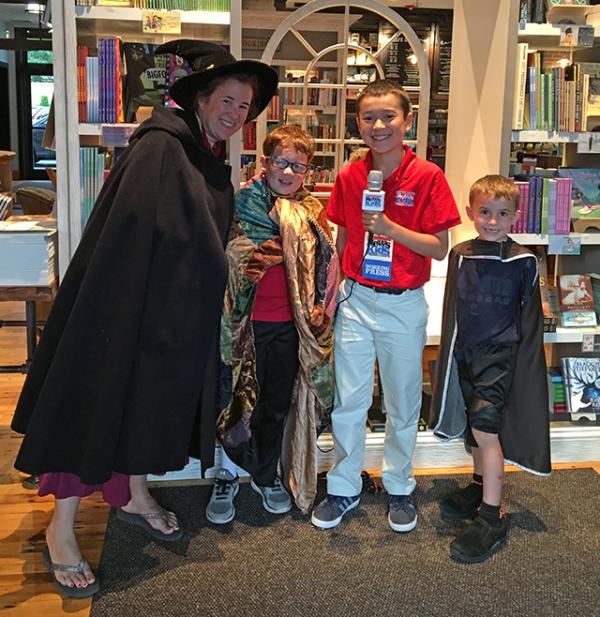 On July 31, wizards, witches, magical creatures, and Muggles in my home state of Massachusetts celebrated the release of the eighth Harry Potter book, Harry Potter and the Cursed Child, Parts One and Two. Bookstores across the country held midnight release parties and other Harry Potter-themed events. As a big fan myself, I enjoyed party hopping at three independent bookstores in the Boston area. There was a festive atmosphere at all of the stores, with costumed fans, themed decorations, refreshments, and fun activities.
My first stop to celebrate British author J.K. Rowling's latest book was An Unlikely Story in Plainville. The store which is owned by Jeff Kinney, author of the Wimpy Kid series, hosted a Harry Potter Trivia Contest. I entered with a team of three people, and we called ourselves "The Triwizards." The questions were challenging. For example: "What are the three ingredients needed to bring Voldemort back to his human form?" The answer: Bone of the father, flesh of the servant, and blood of the enemy.
I met James Cremens, 7, from Easton, who was dressed as his favorite character Harry Potter. He was wearing an invisibility cloak and accompanied by his little brother, Kieran, who was dressed as his favorite character, Severus Snape. I asked James how he felt about the trivia contest. "We just really want to do it for fun," he said. "It will be fun to know the answers most of the time."
GOOD AND EVIL
My second stop was The Blue Bunny Bookstore in Dedham, where there was a cake in the shape of a sorting hat and butterbeer. Kids and adults worked on a Hogwarts 3-D puzzle, answered trivia questions, enjoyed drawing and coloring, and read books as they curled up between the shelves.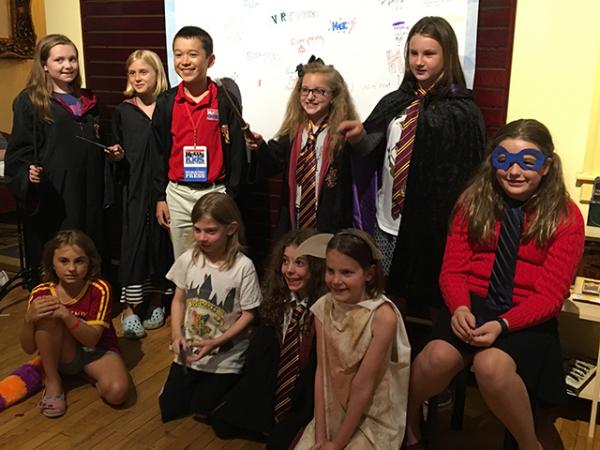 There, I spoke with author Paul Reynolds, co-owner of the Blue Bunny. He recalled warm memories of reading the Harry Potter books with his three children. Why does he think that the books are so popular? "They allow kids to transport themselves into another world," Reynolds said. "The issues of good and evil and light and dark are as important today as ever."
I also talked with 10-year-old Emily Perron and her aunt, Michelle Perron. Emily said that her favorite character in the Harry Potter series is Malfoy because "he's sneaky." Then she smiled and admitted, "I'm very sneaky, too."
Emily and her aunt had pre-ordered their book. When I asked if they would read it that night, Emily shouted, "Yes!" Michelle added, "If we can stay awake."
TEN, NINE, EIGHT . . .
Author Peter H. Reynolds, co-owner of the Blue Bunny and Paul's brother, then led the enthusiastic countdown to midnight. The sight of the brand new hard-cover books brought cheers from the crowd. I was the first to get my book and found a quiet spot in the corner to start reading.
The next day, I went to nearby Wellesley Books. I enjoyed looking at the display of potions and participating in the wand-making station. Lauren D'Alleso, the children's book buyer, said that the store had sold "easily over 100 books,"  adding, "Today is not just a day for buying books. It's also a day to celebrate Harry Potter and being in the world." 
See Maxwell's interviews with young fans at midnight release parties for Harry Potter and the Cursed Child, Parts One and Two.
Photos courtesy of the author