A New Statue Honors a Civil Rights Hero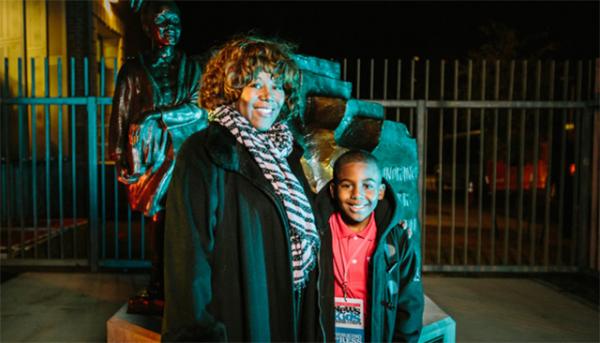 On a cold, crisp afternoon in New Orleans, a wrapped statue stood in a school courtyard, waiting to be unveiled. It was November 14, exactly 54 years since Ruby Bridges first walked up the steps of the William Frantz School.
In 1960, when Ruby enrolled at the all-white school, she faced angry protesters. Now, decades later, the civil rights hero was being honored for her bravery.
"The only way to make the world a better place is by learning something new every day," Bridges said at the ceremony.
The bronze statue was unveiled during the ceremony. It shows 6-year-old Ruby climbing the front steps of the school, which has since been renovated and turned into a charter school. This statue is "not about me," said Bridges, who still campaigns for civil rights. "It's about preserving history and giving kids something to look up to."
When I asked Bridges how she wants young people to feel when they see the statue, she said, "I think kids will look at it and think to themselves, 'I can do something great too.' Kids can do anything, and I want them to be able to see themselves in the statue. Hopefully that will remind [them that they] can change the world."
"A WELCOMING GROUP"
When Ruby attended first grade, she was the only child in her classroom. White parents wouldn't let their children be in the same room with her. But she was still able to learn, thanks to her caring teacher, Barbara Henry.
"What a difference to be here with a welcoming group," Henry said at the ceremony. Other attendees included Bridges' mother, Lucille, and Charlie Burks, the only surviving U.S. Marshal of the four who protected Ruby when she was a student at Frantz. It was the first time that all of them had been together since 1960.
Henry spoke about how she and Ruby survived the many threats made against them. Their classroom, which has been preserved for history, became their refuge.
"As much as I was here for her, she was here for me," Henry said. "Together, we had a wonderful bond."
"A NEW SEGREGATION"
When Ruby enrolled at William Frantz, it and other schools in the South were segregated. Today, the charter school that took the place of Frantz, Akili Academy of New Orleans, is all black, as are many public charter schools in New Orleans. For Bridges, this points to a "new segregation."
"You almost feel like you're back in the '60s," Bridges told the Associated Press. "We all know that there are schools being segregated again."
But the civil rights pioneer also believes that "racism is a grown-up disease" and that young people can lead the way toward true integration.
"Kids come into the world with clean hearts, fresh starts," she said. "If we are going to get through our differences, it's going to come through them."
Photo courtesy of Scholastic News Kids Press Corps