A New Mardi Gras Tradition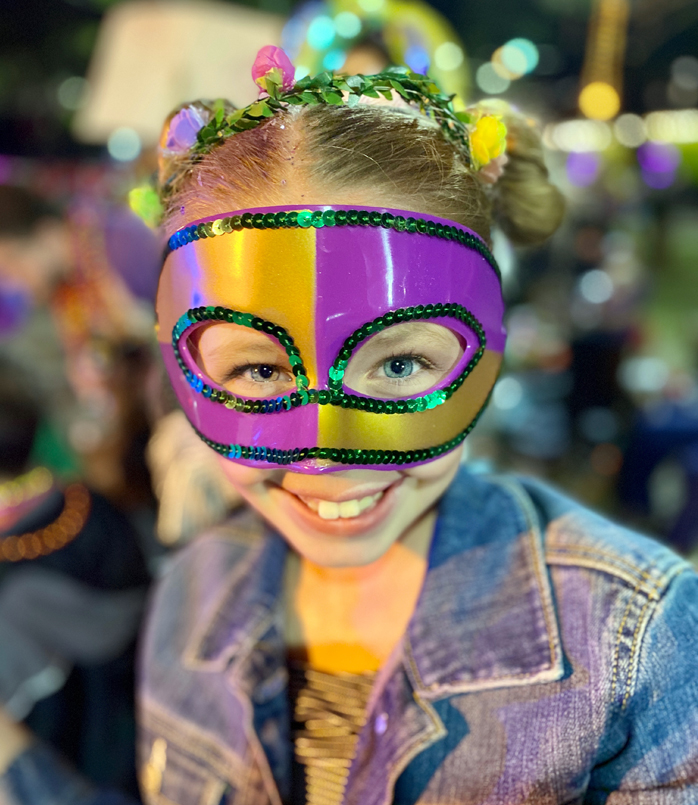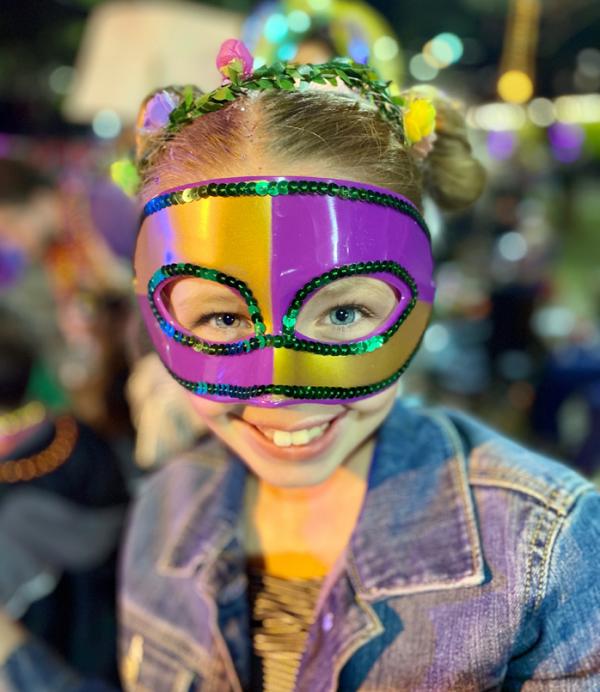 "Loud." "Colorful." "Exhilarating." Those are the words that Sophia Marcotte uses to describe Mardi Gras. The 11-year-old lives in Metairie, Louisiana, near the city of New Orleans. She loves to celebrate this festive season, which begins on January 6, the feast of the Epiphany, and ends on the Tuesday before Ash Wednesday, which is the start of Lent in the Christian calendar.  
Mardi Gras, which is French for "Fat Tuesday," is traditionally filled with formal balls, parades, marching bands, and lots of beads tossed into the crowd. Families and friends spend the entire day on the parade route trying to catch as many beads as they can.
"I bring my ladder," Sophia says. "It has a seat at the top because I love sitting in the seat above everyone to catch the beads. My mom, my sisters, my aunt, and my cousins all dress up for Mardi Gras day." 
Typically, float builders would be creating elaborate floats for the big parade. But this year, there won't be an official parade due to the pandemic. Instead, people are spreading joy and creativity by decorating their houses to resemble Mardi Gras floats. 
"The idea grew organically from the community," says New Orleans Mayor LaToya Cantrell. "We have house floats popping up all around the city."
"BE AS CREATIVE AS POSSIBLE"
Although families won't be able to celebrate like years past, Mayor Cantrell has advice for those who would like to mark the occasion. "Cook up a good meal, eat some crawfish, or decorate a house float," she says. "Just be as creative as possible." Louisiana is famous for crawfish, a type of shellfish.
Mardi Gras 2020 was the last big event in Louisiana before the state shut down because of the pandemic. Celebrations proceeded without people realizing that COVID-19, the contagious disease caused by the virus, had already begun to spread in the community.
"We became a hot spot not just in the state, but we were a hot spot in the country," Mayor Cantrell says. She has since had to make some unpopular decisions in New Orleans to ensure public safety. 
Several virtual events are planned for this year, including virtual pet parades, online cooking demonstrations, and a Zoom Bingo game with music. Although it won't be the same as catching beads tossed from a float, the plan is to keep people safe and the Mardi Gras spirit alive.  
Top photo courtesy of the Marcotte family; bottom photo courtesy of Amy Winchester