A New Look for a Young Wizard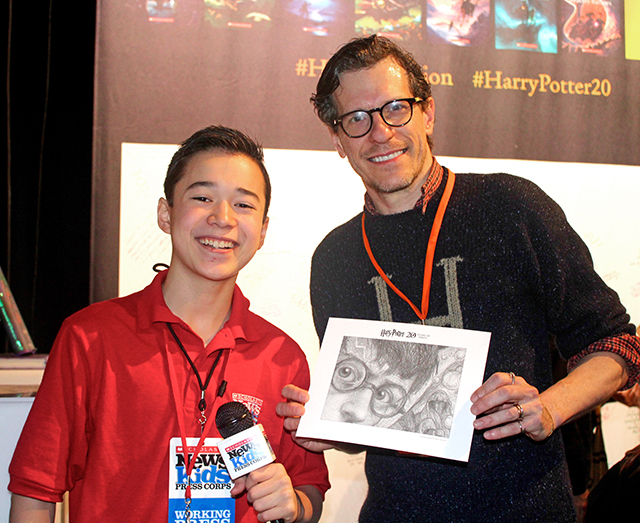 WATCH THE VIDEO
Click below to see clips from Maxwell's interview with artist Brian Selznick.
It has been 20 years since a fictional wizard named Harry Potter took the United States by storm. To mark the milestone, Scholastic is releasing new editions of the best-selling book series by British author J.K. Rowling. Author and illustrator Brian Selznick will design the cover art for the new paperback editions, which will be published in July.
Selznick has written and illustrated several books of his own for young people, including The Invention of Hugo Cabret, which won a Caldecott Medal in 2008, Wonderstruck, and The Marvels. I had the opportunity to talk with him at a recent Harry Potter expo in Orlando, Florida. Below are highlights from our conversation.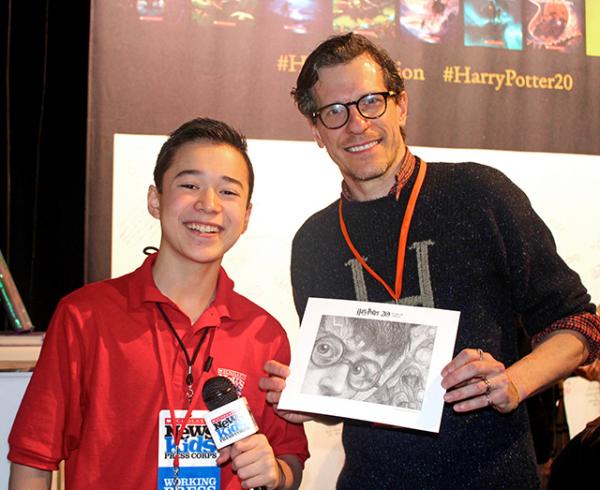 How do you feel about designing the new Harry Potter covers?
I'm incredibly excited. It's a huge honor to be asked to be part of the Harry Potter world and to be here at the Celebration of Harry Potter with 75,000 fans. It's a little overwhelming, but it's really fun and thrilling.
How does this assignment differ from anything you've done?
[Selznick laughs.] Well, Harry Potter differs from anything else in the world. You know that when you're asked to do the covers of the Harry Potter books, more people on Earth are going to be seeing what you're doing than anything else you've done. So let's just say, you're aware that there's a little bit of pressure.
What do you like the most about the Harry Potter books?
The characters and the big battle between good and evil. I've always found that to be the thing that really compels me. But really, ultimately, it's falling in love with all of the characters.
Who is your favorite character, and why?
That's very easy. It's Dobby. I fell in love with Dobby immediately. I've been trying to figure out why, exactly. I think it has to do with the fact that he has so many rules and constrictions being a house elf, and all he wants is to be free—and socks. You root for him so deeply. He and I have a strong bond.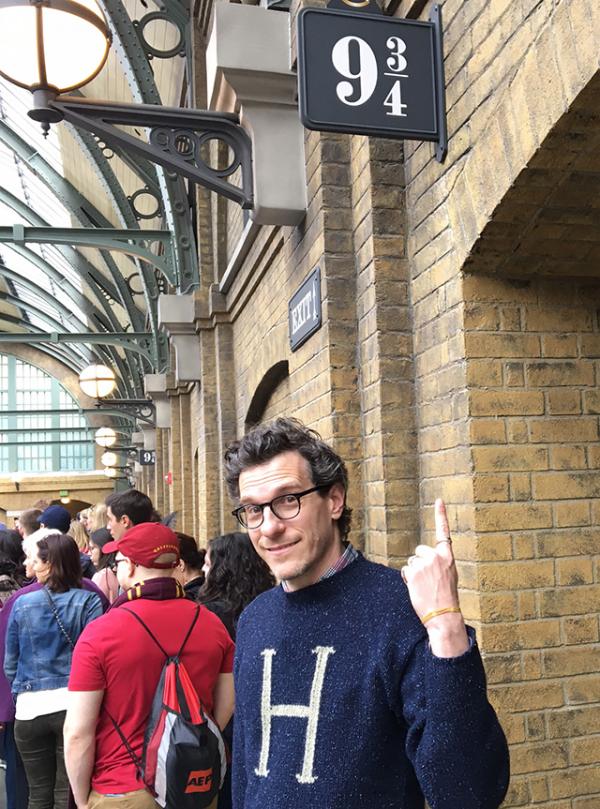 How would you describe your artistic style?
I work pretty realistically. I usually do cross-hatching, which is pencil drawings with lots and lots of lines. But even when I'm working in color, you can see lots and lots of lines going into building up the layers of the image. But it's not purely realistic. There's a little bit of my imagination that always goes into it, even if I'm drawing something that actually exists in the world and isn't an elf or a centaur or a dragon or anything. So, I would say mostly realistic with a little bit of imagination in it.
What materials do you use?
I usually use graphite. Sometimes I use acrylics for color. I've used watercolors, which I like. I've done a little bit of collage. Sometimes, I make sculptures to draw from so that I can see what something looks like from different angles. I like to use a lot of different materials.
What is your best advice for aspiring young illustrators?
Practice. Keep drawing. I've been drawing my whole life. When I was in kindergarten, my teacher wrote on my report card, "Brian is a good artist." I'm still practicing. You know, I've been drawing for a long time. I've got a lot of books. I'm about to do the Harry Potter covers, but I still think of myself as someone who is practicing and trying to get better and better. So my advice is: Keep drawing.
If you could have one wish, what would it be?
[Selznick laughs.] I have to say, I've been very lucky. I feel like I've gotten more things than I ever could have imagined. Like I never could have imagined that I could one day be at the Celebration of Harry Potter talking to you about making the covers for Harry Potter. I feel like I would be a little selfish if I was trying to wish for something else.