Muggle Mob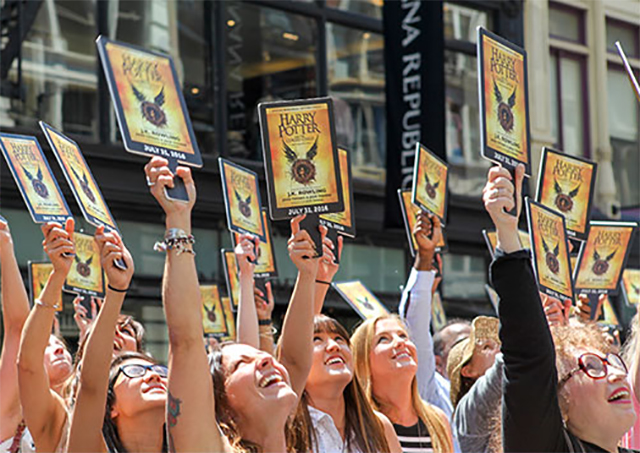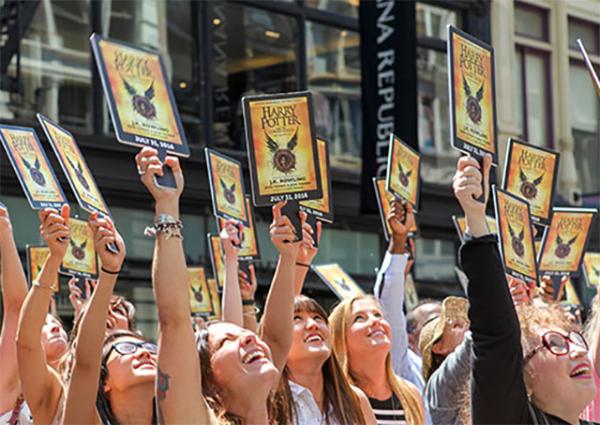 In New York City yesterday, Harry Potter fans stopped traffic! More than 300 people streamed out of Scholastic's headquarters onto Broadway, the street in front of the building. Scholastic employees and their children were part of a flash mob that was celebrating the July 31 publication of a new Harry Potter story, Harry Potter and the Cursed Child, Parts One and Two.
Scholastic is the United States publisher of the best-selling Harry Potter series. The seven novels in the series are by British author J.K. Rowling. The books chronicle the adventures of a wizard named Harry Potter and his classmates at the Hogwarts School of Witchcraft and Wizardry.
The eighth Harry Potter story is a script book based on a play that's opening in London, England, on July 30. The play is by Jack Thorne and is based on an original story by Rowling, Thorne, and John Tiffany.
SHARING THE MAGIC
I had no idea what to expect as I entered Scholastic in the morning. Scholastic editors and artists whispered excitedly as they flooded down the escalator. The only word I caught was Muggle. In the auditorium, we were each given a copy of one of the original books in the series and a paddle announcing the publication of The Cursed Child.
Billy DiMichele, vice president of creative development at Scholastic, said that we were about to become a "Muggle Mob." We would celebrate the upcoming release of The Cursed Child by doing a giant read-aloud in the middle of Broadway.
"This means that [we] can continue to share the magic with new generations of children," DiMichele said.
LUCKY READERS
Excitement continued to build as we rehearsed our movements and practiced reading aloud. Abram Chen, 10, said that he was thrilled "that there is going to be a new book to read." Abram considers himself to be a Hufflepuff, his favorite "house" at Hogwarts.
As for editorial assistant Patrice Caldwell, she is "absolutely Slytherin," she said. "It's kind of cool to be here and imagine what it felt like when the first seven books came out," Caldwell added. "This is a way to delve back into that world."
After a few run-throughs, we calmly strolled outside with our paddles hidden inside of our books, pretending to be tourists and typical passersby. Suddenly, music started playing and we rushed into our places in the middle of Broadway. (The street had been blocked off by the police for the event.) Then we read aloud from the Harry Potter books.
Our voices rose along with the music. Right on cue, we faced the Scholastic building and looked up. A giant, billowy banner began to drop, revealing the cover of Harry Potter and the Cursed Child.
We held up our paddles and cheered. Then we went into the crowd of observers and gave away copies of the original books to happy readers.
Lesley Little saw everything from the sidewalk. "This is fantastic," she said. "I can't wait to see the new play. I'm going to get to see it in London in September." Suzanne Lewis, a Gryffindor, added, "This was a lot of fun. I could tell, even from blocks away, that something wonderful was happening."
Photo courtesy of Scholastic