A Morning of Wonder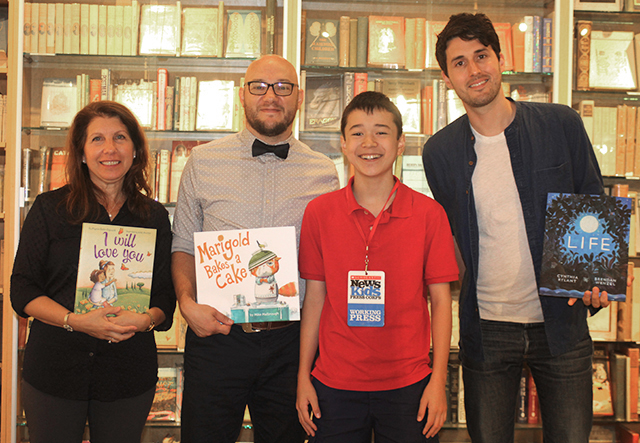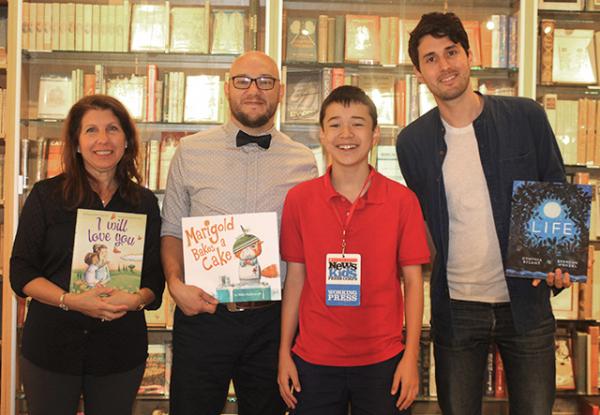 On the morning of August 6, kids and adults gathered at Books of Wonder, an independent bookstore in New York City. They were there to celebrate three new picture books and meet the creators: Alyssa Satin Capucilli, Mike Malbrough, and Brendan Wenzel.
Capucilli, who is best known for writing the Biscuit early reader books, presented I Will Love You (Orchard Books), which is illustrated by Lisa Anchin.
"It's a parent's love song," Capucilli said about a book that emphasizes to children that they are deeply loved.
Malbrough introduced his debut picture book, Marigold Bakes a Cake (Philomel Books), which he wrote and illustrated. The story is about a cat that tries to bake a cake, but pigeons and loons get in the way. It's a playful story that ends with a messy kitchen.
"The beauty of cats is that they are completely normal until they flip out," Malbrough said. "Baking is like that, too."
Wenzel, who won a Caldecott Medal for his book They All Saw a Cat, read Life (Beach Lane Books). He illustrated the book, which is written by Cynthia Rylant. Life conveys how nature's beauty can sustain us even through difficult times. "Sometimes, a manuscript falls on your desk just at the right time," Wenzel said of the book.
After the authors read aloud, they answered questions from the audience. Here are some of the highlights: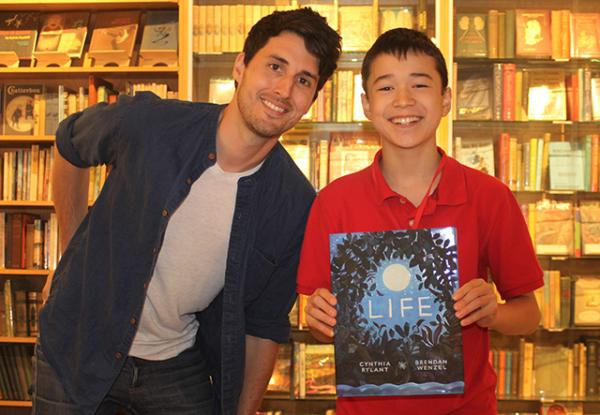 How did your parents support you becoming an author/illustrator?
Capucilli: I can remember Wednesday afternoons, and how my parents made sure we were dressed up to go to the library.
Malbrough: My parents always hung up my work on the refrigerator.
Wenzel: My father was an artist. I watched him sketch when we went on vacations. Once, when I was in the hospital for appendicitis, my dad sketched me. From watching him, I learned that illustrating would be fun, but it would also be work.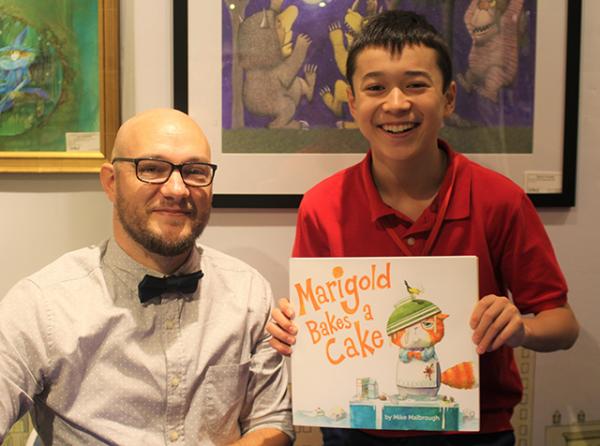 What is the most rewarding part of your job?
Capucilli: When I hear back from children—especially about a book like Biscuit, which teaches someone to read—that it's the first book that they've read or that they relate to the character in some way.
Malbrough: Getting to rub elbows with other talented people, whether it's sitting down with editors or your agent or art directors, and actually talking about something that poured out of your heart.
Wenzel: Being able to spend so much time learning about things that interest me. I really like animals, and when I work on a book, I get to read and draw animals. It sort of integrates all the things that I enjoy in one place.
How do you overcome creative doubt?
Capucilli: You have to have faith that it will work out.
Malbrough: Sometimes, it is the words of people that believe in you that pushes the doubt back.
Wenzel: I have to remember that I'll get through it. Forge ahead. Take a walk.
Photos courtesy of the author