Mia Love Goes to Washington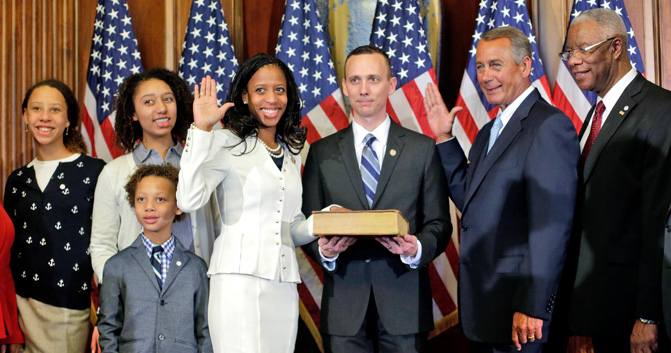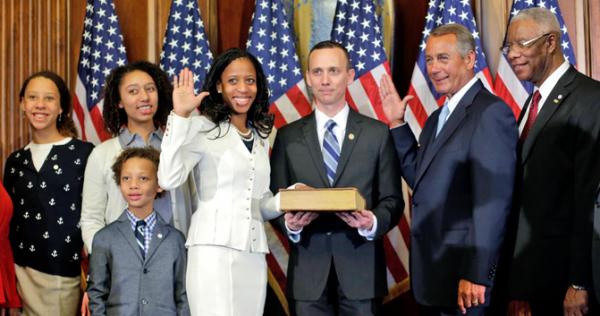 When Utah's Mia Love was sworn into the House of Representatives in January, she made history. She became the first Haitian American to serve in the U.S. Congress and the first black woman to represent the Republican Party in either the House or the Senate.
"My parents immigrated to the U.S. with $10 in their pocket, believing that the America they had heard about really did exist," Love said at the Republican National Convention in 2012.
Love, who represents Utah's Fourth Congressional District, says that she got into politics to set an example for her three children.
A NEED FOR MORE WOMEN IN POLITICS
The Congresswoman recently spoke to students at Herriman High School in Herriman, Utah. I had a chance to interview her before she addressed the students about their role in a democracy.
First, I asked Love what she enjoys doing in her spare time. She reads, hangs out with her family, and runs. "I'm an avid runner," Love said. "And that's fun—most of the time. It's fun when you're finished."
I also asked Love what advice she would give to girls who want to pursue a career in government. "There aren't very many women who are involved in politics, so it's difficult for girls to see themselves," Love said. "Make sure you're getting involved."
"MAKE YOUR VOICE HEARD"
Love decided to visit students at Herriman after learning about their "My Voice Matters" crusade. The effort, started by history teacher Ryan White, educates kids about political issues and government. "I want you to feel that I've got your back in Washington," Love told the students. Love also stressed the importance of young people becoming involved in issues that matter to them.
"If you're not making decisions, if you're not standing up and making your voices heard," she said, "then you run the risk of having someone inferior to you making those decisions for you. Get involved as early as you possibly can, and give yourself permission to sit at the table and make your voice heard." Do you think it's important to make your voice heard?
Photo by Pablo Martinez Monsivais / AP Image