Meet the New Babysitters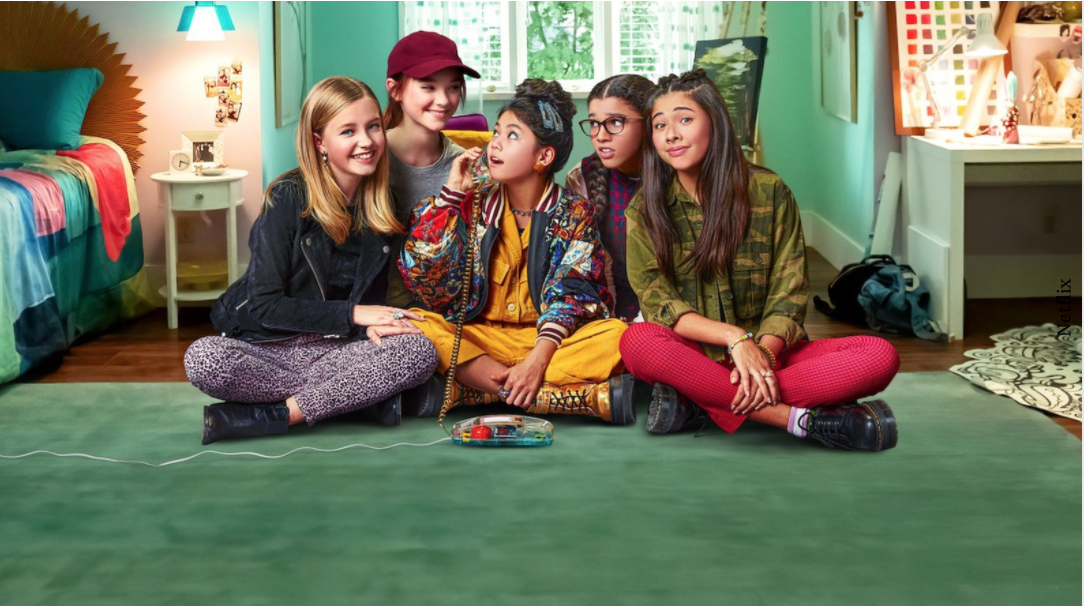 In 1986, Kristy's Great Idea by Ann M. Martin hit bookstores across the United States. It was the first in a planned series about middle school students starting their own babysitting business in the fictional town of Stoneybrook, Connecticut.
Published by Scholastic, The Baby-Sitters Club books were so popular with young readers that they grew to include the Little Sisters series and graphic novel adaptations by Raina Telgemeier and Gale Galligan. Today, the books have been translated into nearly two dozen languages, with 180 million copies in print.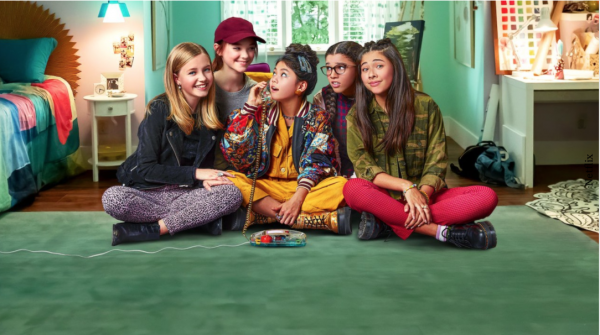 A new Netflix TV series revisits Stoneybrook in a contemporary setting—although the middle schoolers still use a vintage landline to get their gigs. The breakout stars of The Baby-Sitters Club, Sophie Grace (Kristy Thomas), Malia Baker (Mary Anne Spier), Momona Tamada (Claudia Kishi), Shay Rudolph (Stacey McGill), and Xochitl Gomez (Dawn Schafer), recently joined five of our Scholastic Kid Reporters for a conversation via Zoom.
Below are highlights from the interview, which has been lightly edited for brevity and clarity:  
Kid Reporter Laura Zhang: What did you enjoy the most about playing Kristy Thomas on the Netflix series?
Sophie Grace: My favorite thing about Kristy is what a strong and independent woman she is and how she was able to show that you don't really need anyone else, but it's always nice to have your friends and your family around.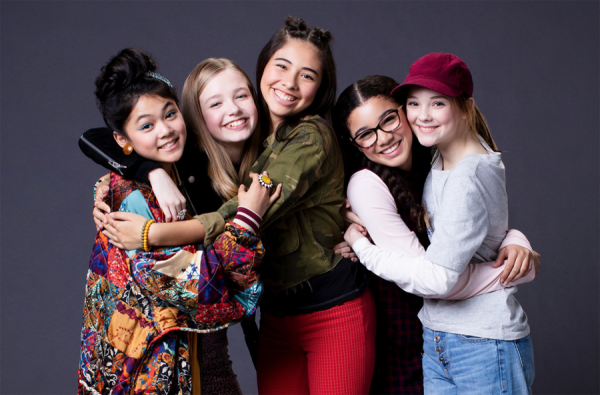 Kid Reporter Liset Zacker: How were you able to adapt the character of Stacey McGill to bring in some of your own personality?
Shay Rudolph: It never really felt like I was acting because these girls truly are my best friends. So it was super natural for me to just bring my own personality into the scene. It helped to relate to Stacey in as many ways as I could find. Maybe it was the fashion that I related to, or how she cares about her friends so much. Just finding those little bits and pieces in her character that I find in myself, too, was a great way to bring myself into the scene.
Kid Reporter Zhorie'l Tapo: What are some of the ways the Netflix show differs from the book series by Ann M. Martin?
Malia Baker: The TV show definitely is more contemporary than the book series. As you can see, we have a bit more diversity than the original books. I think that the portrayal of Mary Anne as being a Black girl and Dawn as being a Latina girl is so important because representation really does matter. Because of the setting, we have some cell phones on set, but of course the iconic babysitters phone is still there. We also have some new family issues and topics that I think people will relate to.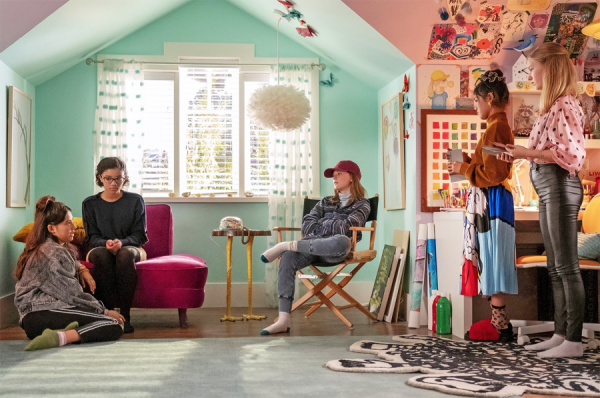 Kid Reporter Claire Olivia Handler: What qualities do you admire most about Claudia Kishi, the character you play?
Momona Tamada: I admire so many things about her. Growing up reading about her was such a big inspiration. But I would say how she's so bold, and she will do anything for her friends and the people she loves. She doesn't really think about it. Well, she does think about it, but she'll just do whatever is needed, which is something that I've always been afraid to do. She has been an inspiration.
Kid Reporter Alula Alderson: What was your favorite part about playing babysitter Dawn Schafer?
Xochitl Gomez: There is literally nothing I hate about playing Dawn. My favorite thing would probably be that she's so cool and that she's strong. I probably would be a little scared to be as strong as she is. But she definitely speaks her mind, and she loves kids. So do I. I love everything about her.
Kid Reporter Laura Zhang: What message do you hope young viewers will take from the show?
Momona Tamada: I hope they get a sense of the power of friendship and girl power, and how our characters go through their own issues, and how we solve our problems. And hopefully, the audience can take that and apply it to their lives because all of the problems the girls face are very real and relatable.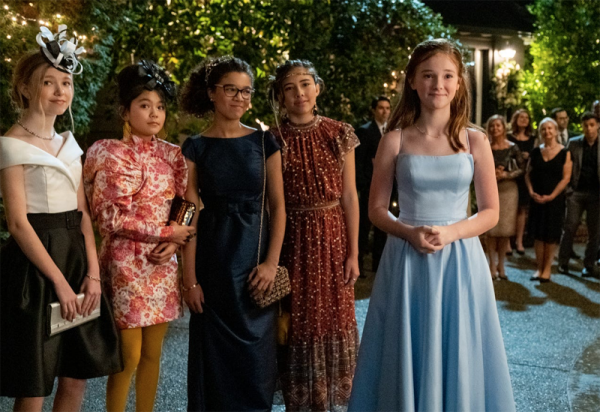 Kid Reporter Liset Zacker: What makes the babysitters' friendships with each other so special?
Xochitl Gomez: Everything! They're loyal to each other, and that's really important. They come to the rescue when something goes wrong. The "Dawn and the Impossible Three" episode is an example of that.
Kid Reporter Zhorie'l Tapo: Could you tell us what it was like to audition for the show?
Sophie Grace: It was kind of crazy to audition for the show because I just did a recording on my phone in my own bedroom, of me just playing out a scene or two, and I was not expecting it to go anywhere. A few days later, I was hanging out with my friends at the beach. I came back to reapply some sunscreen, and I checked my phone, and I got a text from my mom that just said, "You're going to L.A. tomorrow?" And I was, like, "What!" So I called her, and she was like, "I don't know. They want to talk to you about The Baby-Sitters Club." 
When I arrived on the set, we were all in a room together. There were a whole bunch of girls, and the five of us gravitated towards each other. We all ended up hanging out at our snack breaks. And I'm really happy that this is who the cast was because these girls are who I clicked with.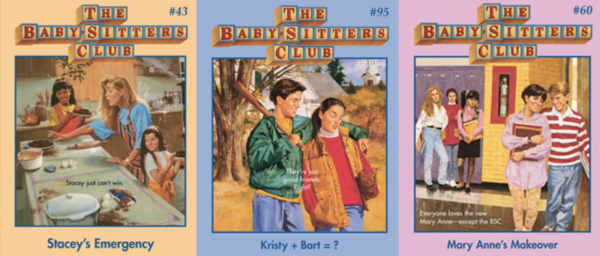 Kid Reporter Claire Olivia Handler: Which character did you identify with the most when you read the books, and why?
Malia Baker: I identified the most with Mary Anne because I'm a shy person deep down. Of course, I'm able to overcome that while I'm acting or doing my job. Reading about her while growing up, and seeing a shy person coming out of her shell, was really inspiring. But I do admit that I can be Kristy at times because I am bossy sometimes. I admit I'm a little. But I definitely think Mary Anne is the one I gravitated towards the most.
Kid Reporter Alula Alderson: Why is it so important for the babysitters to have a sense of humor?
Shay Rudolph: I think it's important, in general, to have some light during dark times. These girls' friendships are so important because they're there for each other through absolutely everything. It's really important to have friends that you trust that much, that you can tell all of your problems to, and that you know they'll be there to support you. Sometimes, when things get really heavy, maybe if it's family issues or some personal drama going on at school, it's important to know that you always have those people you can come to, who will cheer you up, make you laugh a little. I think this is a really great representation of that, and just having some light in some really close friendships. 
Photos courtesy of Netflix