Matilda on Broadway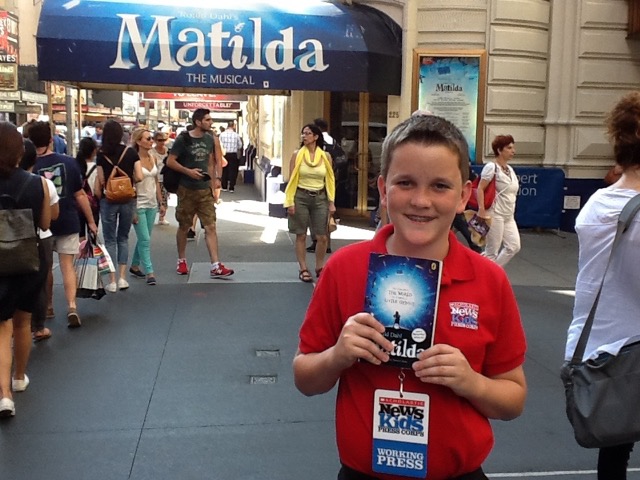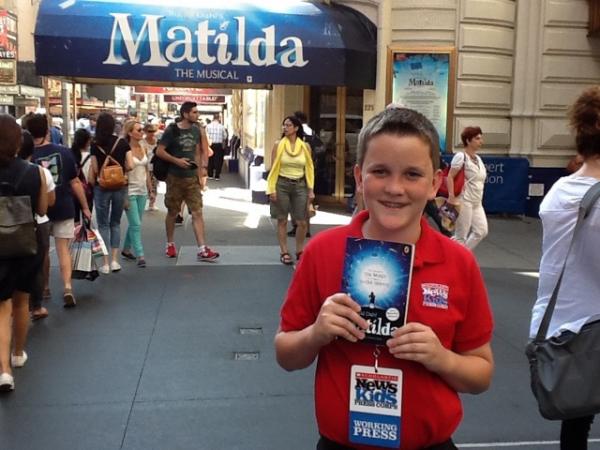 Roald Dahl's classic children's book, Matilda, is now a smash Broadway musical. While in New York City recently, I had the chance to interview two members of the production. What should kids take away from the show, I asked stage manager Michael Krug. "Be strong, be smart," he said. "Don't be afraid to stand up to a bully."
The musical tells the story of Matilda Wormwood, a bright little girl who immerses herself in books. Matilda is unappreciated and insulted regularly by her parents. Her father insists on calling her a boy and thinks that she is ridiculous for choosing to read instead of watching television.
Matilda's mom is completely self-obsessed and unable to recognize her daughter's talents. However, the musical adaptation does not follow that plot line completely. "In the book, Mrs. Wormwood doesn't go to dance competitions," said Krug. "She goes to bingo competitions. But that's kind of boring to see in a Broadway show.  So we made her into a professional dancer instead."
"FANTASTICAL WORLDS"
In the musical, Matilda finds little relief from her dismissive parents when she goes to school. Her hostile headmistress, Agatha Trunchbull, believes that  all children are stupid and worthless. Were it not for a caring and dedicated teacher, Miss Honey, Matilda would have no one on her side. Matilda dreams of a better life and uses her special intellect and magical powers to take her destiny into her own hands.
The role of Miss Trunchbull is played by Bryce Ryness, who believes that Dahl's book was a natural fit for Broadway. "He does a really good job of creating fantastical worlds," Ryness says about Dahl's writing. "The very nature of Broadway as a medium—especially musical theatre—is a fantastical world."
The musical is filled with ambitious choreography. During the show, performers swing on giant swings, ride scooters, dance on desks, and do flips.
Krug says that it can be physically grueling for the performers to do the show eight times a week. "A lot of the performers are always going to the gym to make sure that their bodies are in top shape," he says. "Keeping their mental health sharp is just as important."
FUN FOR EVERYONE
Moving the sophisticated set pieces into place requires a great deal of technical skill. "Everything is computer-controlled with millimeter precision." Krug said. "There is just as much choreography off stage as there is on stage."
According to Ryness, Matilda is a show that the entire family can enjoy: "It is for kids ages 5 to 95."
Matilda will be performed at the Shubert Theatre through January 1. A North American tour of the hit musical is underway. Will a show be coming to a city near you? Find out here.
Photo courtesy of the author