Lights, Camera, Sing!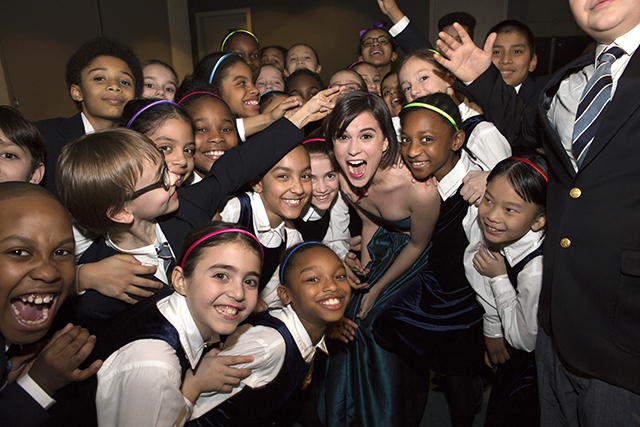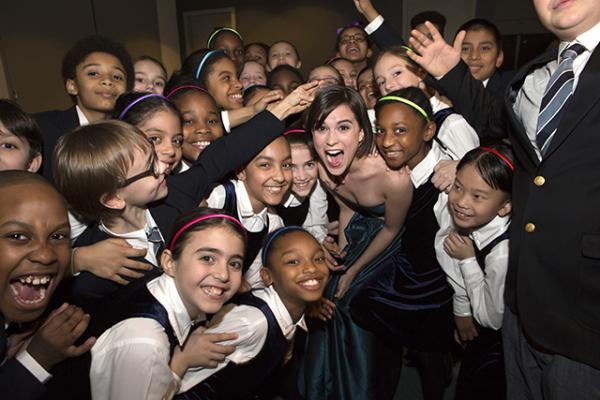 I am a member of the Young People's Chorus of New York City (YPC). The chorus is made up of children ages 8 to 18. I've been in the chorus for almost five years, and I love the diverse community of "young artists." Every year, we have a big gala to raise money for the organization. It's the biggest concert of the year and is held at Frederick P. Rose Hall at Jazz at Lincoln Center.
We get to sing with musical guests and perform dance numbers that seem as if they come straight from a Broadway show. A lot of work goes into the final performance.     
First, we begin learning our music. This year, it ranged from a mash-up of Rhythm is Gonna Get You and Conga by Gloria Estefan to The Bartered Bride, a song from a Czech opera. We usually start by learning notes through the solfège system, a singing exercise that emphasizes each syllable. Then we add words. Someone comes in to teach us the meaning and pronunciation of the lyrics if the words are not in English.
Next, we memorize the entire song, even if we're only assigned part of it. One of the hardest pieces we sang this year was Tjak!, a song inspired by a Balinese Monkey Chant. It has four parts, each with a different rhythm.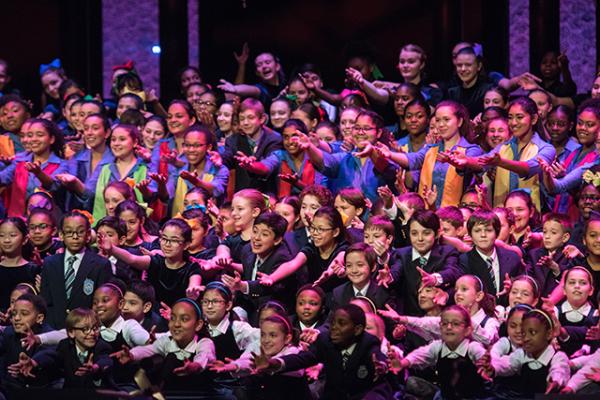 "MAKING SURE EVERYTHING FITS"

Once we add dynamics to our songs to give them life, it's time to add choreography. Jacquie Bird, the director and choreographer, tells us to connect the words we sing to our movements as we breathe and count in our heads. For Bird, the hardest part of her job is "making sure everything fits. I am concerned with timing between transitions, concert flow, lighting—transmitting my vision into the mix."
We practice until we get everything right. We review footwork, and then add arms, sweating and smiling. I feel so accomplished when I hit every move just right.
As we get closer to concert night, the rehearsals get tougher. We hold the rehearsals in the cafeteria of an elementary school in Chinatown, where staff and volunteers recreate the stage of the actual performance space. We practice entrances and exits. There are numbers on the floor so that we know exactly where to walk. Tape outlines the areas of the stage.
Sometimes, we do a quick review, and sometimes we sing the entire song. My knees and arms start to ache. But once we get a break and a snack, we come back feeling better. "We rehearse on weekends for almost a month beforehand for stretches of at least four hours," says Jenia, 14. "But every moment is essential and worth it."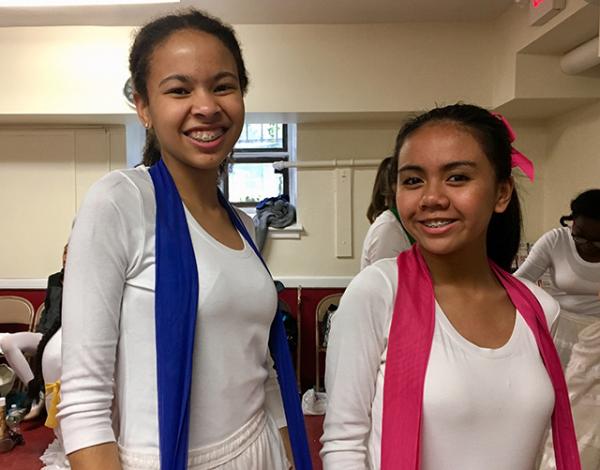 SHOWTIME!
The real excitement comes during the tech rehearsal, when we meet our guest artists. This year, YPC invited Mandy Gonzales, who is currently starring in the hit musical Hamilton, Alexandra Socha, who made her Broadway debut in the musical Spring Awakening, and the string trio Time for Three to join us.
My division, Cantare, got to perform with Gonzales. We accompanied her in Breathe, a song from the musical In The Heights, which was written by Lin-Manuel Miranda. We were so excited to be working with her that we jumped up and down backstage as quietly as we could.
Showtime! We sang our first two pieces, welcoming the audience as an entire chorus of more than 400, singing Be Our Guest from Beauty and the Beast. Then we ran offstage to line up for our next songs, including one costume change for Tjak! that had to happen in less than four minutes. We showed off our dancing in Conga Rhythm and ended with the song Anything Goes and the YPC anthem, Give Us Hope.
At the end of the night, we screamed with joy backstage. For Airi, 14, the best part of the concert was "watching the other divisions perform their pieces." For all of us, pulling off the biggest performance of the year felt great.  
Photos by Stephanie Berger