A Life-Changing Friendship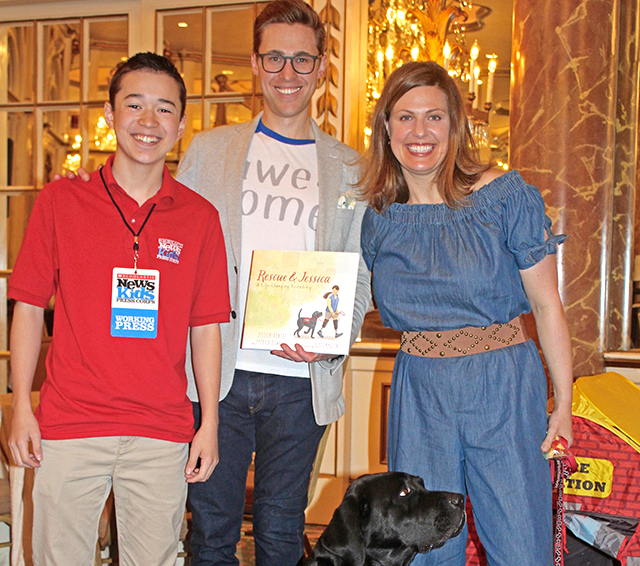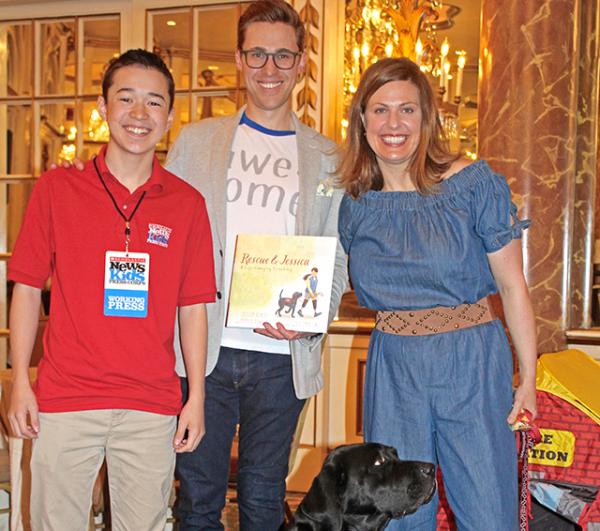 It's a book about friendship, loyalty, and teamwork. It will make you laugh and cry—and give you hope.
Co-written by Jessica Kensky and her husband, Patrick Downes, the new picture book, Rescue & Jessica: A Life-Changing Friendship (Candlewick, April 2018), tells the fictional story of a girl named Jessica who is coping with the loss of her leg. Rescue, her service dog, discovers that he can be a good companion and help Jessica overcome daunting challenges.
The book is illustrated by Scott Magoon, whose drawings show Rescue working alongside Jessica. "He can pick up the phone to bring it to her if she needs it," Magoon said. "He can even open doors for her or bark for help if she's in trouble."
The story does not discuss the bombing at the Boston Marathon in 2013. The attack, which took place at the finish line, killed three people and injured hundreds of others.
But readers learn in the authors' note that Downes and Kensky, who were newlyweds at the time, were among those injured. Kensky lost both legs, and Downes lost his left leg.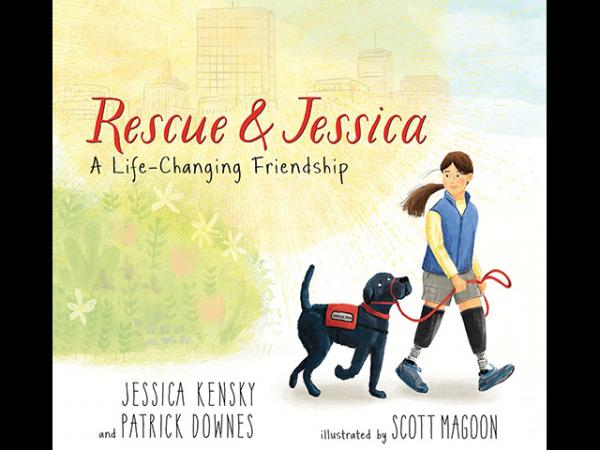 "LOOK WITH AWE"
On April 14, two days before this year's Marathon, I talked with Downes and Kensky at the Fairmont Copley Plaza Hotel, which is not far from the Marathon route.
"I hope that kids who have a disability can see their situation normalized and see themselves as a hero in their own story," Kensky said. "For kids who haven't been exposed to these things, I hope it's a way for them to sit and stare. Instead of looking away from people who look different, they can look with awe and see what that person has to overcome just to get out the door."
It took two years to write Rescue & Jessica, and two more to publish it. "The best part was having a positive distraction from having a really hard time in my recovery," Kensky said. "It was fun to channel Rescue's thoughts and personality."
Rescue loves to play with other service dogs. "He's picky about who he'll play with," Kensky said. "But if he finds a good pal, he'll run like crazy."
Rescue is also playful at home. He uses his nose and paws to get treats out of a beaker. He can find Kensky's phone, which smells like vanilla extract, even when it's hidden.
A LOVING COMPANION
Downes described how Rescue has helped the couple. "When we're sad, he makes goofy sounds and makes us laugh," Downes said. "He's also there to help us celebrate good times. If you have a companion, things might be hard, but you can get through it together."
Downes and Kensky and their picture book embody "Boston Strong." Downes explained the slogan: "It rallied people together [after the bombing] and brought out the best in everyone. There's a beautiful legacy that came out of all of this. When people needed it the most, we took care of each other." 
Top photo courtesy of the author